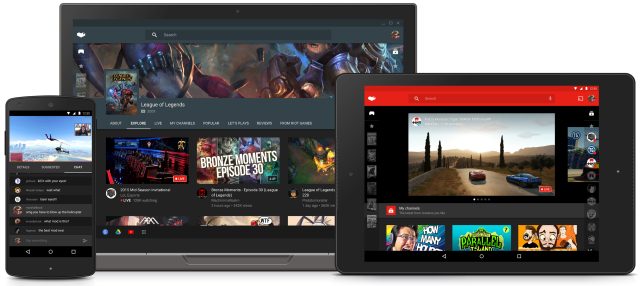 A year and a day after Google lost Twitch.tv to Amazon, YouTube Gaming goes public. Starting tomorrow, users can go to http://gaming.youtube.com (or download the app) to check out the new interface, see who's streaming, or start a stream yourself. We started work on a pre-release version of YouTube shortly after the June announcement, and the site will be ready for public consumption very soon.
YouTube calls YouTube Gaming the "go-to destination for anything and everything gaming." It not only shows who is streaming live, but also serves as a collection point for all gaming content on YouTube. YouTube Gaming automatically categorizes YouTube game content and sorts it by game and video content. This allows users to easily see the most popular content for their favorite game.
A beta version of the new live streaming dashboard will also be launched tomorrow. The new dashboard makes streaming less of a scheduled event and more of a casual thing streamers can do whenever they want. Streaming on YouTube Gaming is done on HTML5 and, unlike Twitch, streamers can enable a "DVR mode" that buffers the last four hours of a stream and allows viewers to rewind.
YouTube Gaming gives Twitch.tv its biggest competition ever in live streaming. Almost every Twitch streamer also uses YouTube for archiving purposes and as an additional revenue stream, and now YouTube is a one-stop shop for any kind of gaming video on the web.
Starting tomorrow, according to YouTube, gaming.youtube.com should work for users "in every country where YouTube is available." The app for Android phones and tablets will also launch tomorrow in the US and UK, with "other countries coming soon". The iOS app is available at this link and for now everything is in English only.