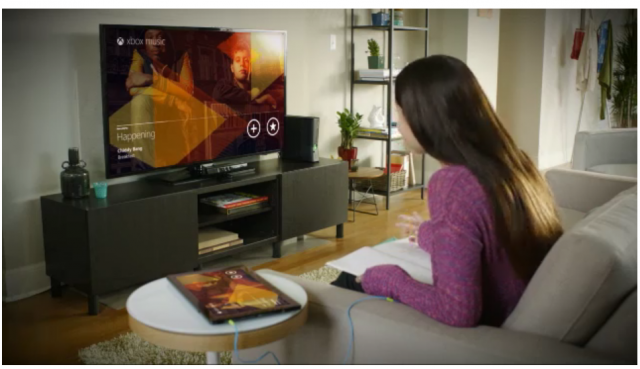 Xbox Music for the Xbox 360, Windows tablets and phones was unveiled by Microsoft today in a brief preview at E3.
With the Zune music brand de-emphasized, the Xbox Music service looks poised to be at the center of Microsoft's music ambitions with its 30 million songs, compared to 11 million in the Zune Music Marketplace. Microsoft promised Xbox Music for the Xbox 360, Windows Phone and Windows 8, but Gartner analyst Michael Gartenberg reports that the service will also run on iOS and Android. However, support for anything other than Microsoft platforms was not publicly announced by Microsoft.
Xbox Music will be the "music service we've always dreamed of building," with great ways to share and discover new music, Microsoft marketing and strategy manager Yusuf Mehdi said today at the E3 conference.
Xbox Music offers "access to your music collection from any screen, combined with unique social features," Microsoft said in marketing materials accompanying the announcement. "Xbox Music includes a music store for song downloads, music subscriptions, artist-based radio, and a great cross-screen client for your personal music collections."
While details about the music service (including an availability date) were scarce, Microsoft also announced several dozen new entertainment deals that will bring more video content to Xbox 360 owners. Content coming later this year includes NHL GameCenter Live, NBA Game Time, NBA League Pass, and 24/7 programming from various ESPN channels.
There will be about 30 additional content partners on Xbox over the next 12 months, many launching in just one or two countries. The US gets Comedy Central Stand Up, GameSpot TV, Nickelodeon, Paramount Movies, Rhapsody, Slacker Radio, The Weather Channel and more (full list is here).
The music and video deals will help cement the Xbox 360's position as a home media center that goes far beyond the capabilities of traditional video game consoles. With the "SmartGlass" technology also announced today, you can probably expect many cross-device scenarios, such as using your phone or tablet to control the music and video playing on an Xbox 360-equipped television.