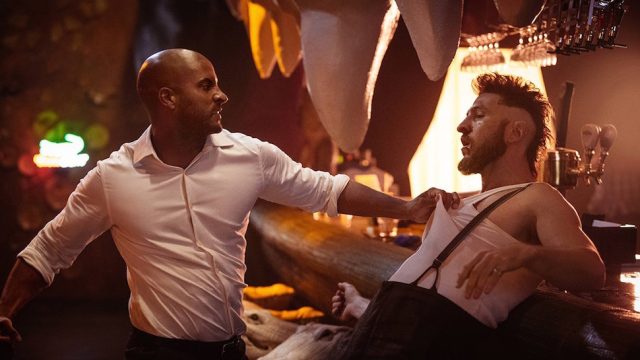 For five crazy days last week, San Diego Comic-Con unleashed the power of fandom on an innocent Southern California town. Along with brilliant cosplay, panels featuring creators and stars, and countless collectibles, Comic-Con is home to trailer launches. Visitors and those watching from home will get a first glimpse of upcoming sci-fi movies and TV. You can check out all the trailer launches if you want, but Ars has collected the best of them here.
Wonderwoman
Fans have been waiting for this movie since the 1970s Lynda Carter series went off the air. We will never, ever speak of David E. Kelly's depressing attempt at a Wonderwoman show in 2011, and I suspect we'll rarely discuss the mediocre Batman vs Superman film from earlier this summer that introduced this new version of Wonder Woman to the world. But if this trailer is any indication, director Patty Jenkins (Sample) can be really cool Wonderwoman movie. Wonderwoman will be the very first movie starring one of DC's oldest superheroes, whose adventures began back in 1941. Wonder Woman, a supernaturally strong Amazon from a secret island of warrior women, fought the Nazis in World War II and generally tries to resolve conflicts with nonlethal weapons.
Writer/producer Zack Snyder, famous for big-budget cult films such as Guardians and Suction cup (and notorious for batman vs superman), has ditched the peace-loving princess version of Wonder Woman for the sword-wielding, armored badass. Which isn't so bad. Gal Gadot plays Wonder Woman with grace and seriousness, and Chris Pine (Star Trek) is perfectly fine as the World War I soldier who washes up on the beach and in Wonder Woman's arms. I like that this film is set during World War I, a conflict our heroine has not explored before. If Jenkins can marry the powerful character development of Sample with Snyder's images of Suction cupthis movie is going to rock.
Publication date: June 2, 2017
American gods
Like Wonderwoman, American gods is a beloved setting that fans have long wanted to see on screen. Bryan Fuller (Star Trek: Discovery, Push daisies, Hannibal) is the co-creator of this miniseries adaptation of Neil Gaiman's epic novel about gods old and new battling for the soul of a man who has lost his wife (or did they?). This trailer hits all the right notes for fans of the novel. It has a tarnished, goth Americana look that evokes Gaiman's tone, and the gods themselves look great. Particularly exciting is Technical Boy's Commodore 64 style, the god you worship every time your attention is sucked into a computer.
Series premiere date: 2017
Doctor Strange
I must admit I was pretty dubious about the latest standalone hero movie coming out of Marvel's pantheon, but this new trailer sold me. Benedict Cumberbatch plays the virtuoso surgeon turned wizard who is nearly killed in an accident and discovers that a vast world of magic lurks beneath the gleaming skyscrapers of modern London. The visuals of the film, clearly inspired by the surreal cityscapes of Start, are a fantastic evocation of wizardry in our high-tech world. And Tilda Swinton is great as the bald, weird trainer who turns Doctor Strange into a powerful magician and sends him on his quest. I came away from this trailer actually caring about Strange as a character and wanting to know more about how magic will work in the Marvel movie universe.
Publication date: November 4, 2016
Justice League
Yeah, it's just the latest DC team movie, featuring Batman's Ben Affleck at the helm, and it looks exciting but not spectacular or ultra-original. Still, I was thrilled to get the chance to see Aquaman in action (Game of ThronesJason Momoa), and it was fun meeting the new Flash (although not quite as fun as his CW series counterpart). Zack Snyder is directing, which doesn't exactly bode well after the nothingburger of Batman vs Superman. But hope springs eternally, at least in this fan's heart.
Publication date: November 17, 2017
Star Trek: Discovery
Okay fine. This is just a teaser. Basically, it was released to match Bryan Fuller's announcement of the new web-only CBS series title. In addition, we get to see the new ship, the USS discovery. I'm sold. Really sold. Of course I would watch this even if it were mentioned Star Trek: Let's Take a Dump in a Hole. But still! This teaser looks great, and I'm glad we're flying around in a new ship.
Series premiere date: January 2017.
Fantastic beasts and where to find them
This is the second trailer for the Harry Potter spin-off movie, and thankfully it's given up on being called Harry Potter and is standing on its own. Without the burden of Harry and Co. feels like a hugely fun and original take on the monster hunter genre, set in the 1920s. A secret society, led by Colin Farrell, has been tracking magic in the Mundane world for centuries. And then a wacky wizard/magizoologist (Eddie Redmayne) visits New York City with a suitcase full of monsters. When some of his beasts escape, the magizoologist must save them from the evils of mankind, with some help from the gang of dieselpunk ghostbusters. I like the mix of humour, fantasy and history here, with the hints of proto-fascist politics floating in the background as the nation recovers from World War I. Erase from your mind that it is connected to the Harry Potterverse and enjoy it for what it is: a grown-up tale of magic and monsters in Jazz-Age New York.
Publication date: November 18, 2016