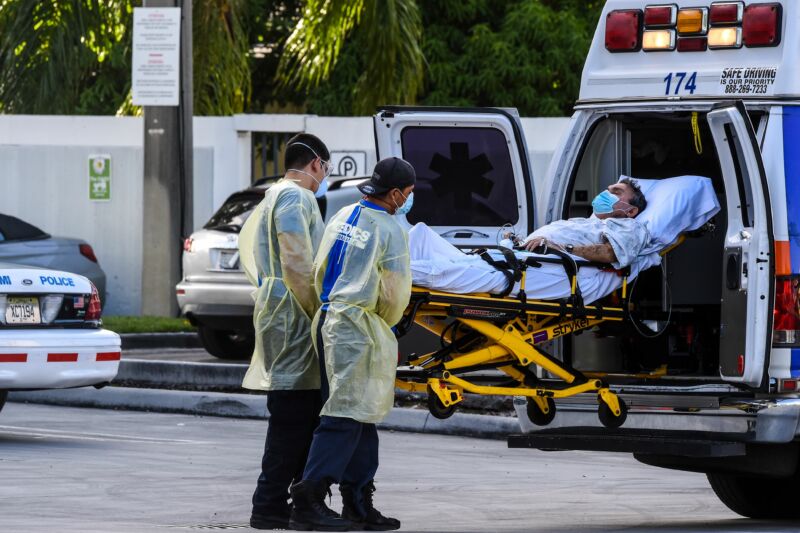 As the coronavirus pandemic spreads unchecked across much of the United States, a new study finds that nearly half of low-income areas are severely unprepared to handle severe cases of COVID-19, pointing to higher death rates in the future .
Forty-nine percent of the lowest-income communities in the country — with median incomes of $35,000 or less — do not have intensive care beds at the hospitals in their area. If we only look at the countryside, the picture is even worse: 55 percent had no IC beds. This is in stark contrast to the highest-income communities, defined by a median income of $90,000 and above. Of these, only 3 percent generally do not have access to ICU beds. The study, published by researchers at the University of Pennsylvania, appeared this week in the journal Health Affairs.
The findings raise concerns about how the pandemic is exacerbating gaping socioeconomic inequalities in the US. Low-income communities are already more vulnerable to contracting COVID-19 because of unavoidable work-related exposure, reliance on public transportation, higher population densities and less ability to quarantine if exposed, the authors note.
At the same time, these communities are also at higher risk of serious illness, often requiring IC treatment. Low-income communities tend to have more chronic conditions, which increase the risk of serious illness. They also have less access to testing.
The combination of these factors and lower access to intensive care could easily lead to higher death rates in these communities, the researchers warn.
This point is especially worrisome as the spread of the novel coronavirus, SARS-CoV-2, continues unabated across much of the US. While the pandemic largely started in coastal urban cities that have relatively good access to critical care, the pandemic is now reaching more rural and low-income areas in the South and West.
To try and prevent preventable deaths, the study authors suggest that state and local officials work to expand ICU capabilities in local hospitals, extending protocols for transporting critically-acquired patients to better-equipped hospitals rather than just reconsider nearest hospitals, and provide emergency funding to expected hospitals. under the most stress.
"As the COVID-19 pandemic continues to progress, coordinated policy responses are urgently needed to prevent pre-existing socioeconomic inequalities from exacerbating the damage already done by COVID-19," they warn.