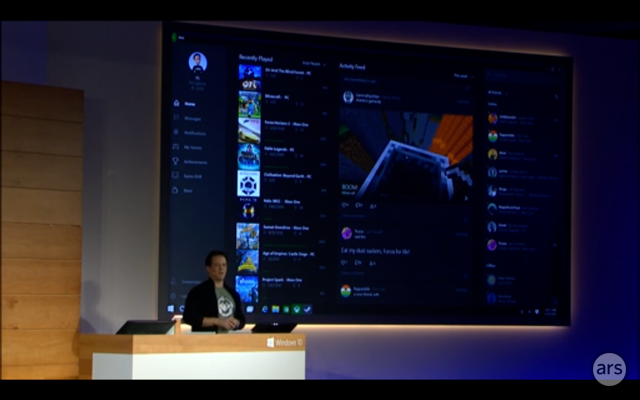 At a Windows 10 event today, Microsoft's Phil Spencer announced that Windows 10 users will soon be able to stream any Xbox One game to a Windows 10 PC or tablet.
After a one-time installation, an Xbox app on the Windows 10 device shows all the games available on the Xbox One, allowing users to stream those games over a local network. The demo showed a stream that started in seconds and used an Xbox One controller linked through the PC. Players can turn off the Xbox One from the PC when they are done.
The streaming feature is part of a new integrated Xbox app that will link PC gaming to the world of Xbox Live. The app, which comes preloaded on every Windows 10 PC and tablet, allows users to chat via voice or text across platforms between Windows 10 and Xbox platforms. Users can also follow their friends via gamertag across devices.
The Xbox app allows users to play video clips shared by friends and easily share their own clips from a Windows game. Game recording is even enabled ahead of time, so this functionality automatically captures the last 30 seconds before users choose to save a clip. Even titles launched before Windows 10 existed can be recorded and shared through the app.
Microsoft also vaguely teased the ability for app developers to create "universal apps" for Windows to run on the Xbox One. "We don't think we'll see millions of people using Excel on Xbox…but for developers looking to move apps to the TV screen, this will make it very easy to do so," said Microsoft's Phil Spencer.
Concluding his portion of the presentation, Spencer vowed to "treat gaming on Windows 10 with as much passion and energy as we have on the Xbox console" and told the audience to expect more Windows 10 gaming news at the Game Developers Conference in March.