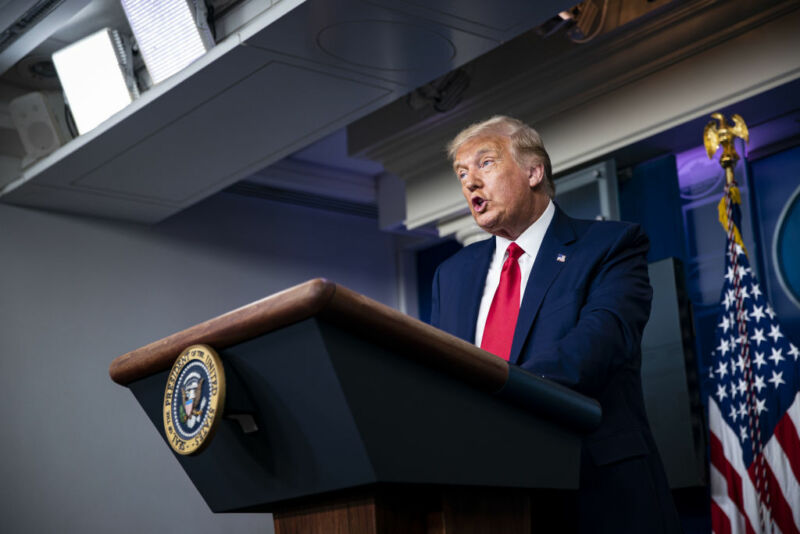 Yesterday there was good news and then bad news for public health expertise. In the wake of the increasingly riotous behavior of a President Trump-appointed communications director at the US Department of Health and Human Services, he and one of his key appointees have left their posts — one for two months, one permanently. But hopes that science would once again become the primary driver of US health policy were short-lived. Earlier in the day, CDC head Robert Redfield and other Health and Human Services officials testified before a Senate panel. By evening, the president himself called his own CDC director mistaken about everything from mask use to the schedule of vaccine availability.
At the end of the day, Redfield was… tweeting statements that balanced ambiguity against the appearance of supporting Trump's view.
A background of turmoil
There has been constant tension between the Trump administration (who wants the country to return to normal despite the medical consequences) and public health officials (who actually want to protect public health). But several things have brought those tensions to light recently, starting with last week's revelation that political appointees were trying to interfere with career scientists' reports at the CDC. That issue was seemingly resolved in the CDC's favor, as a key figure from the Department of Health and Human Services (HHS), Michael Caputo, took a two-month medical leave after shooting a video in which he spoke about armed insurgency and conspiracy. cliques of CDC scientists.
While Caputo's absence is temporary, one of his most troubled associates, Paul Alexander, was fired permanently. Alexander didn't do it quietly, telling Canada's Globe and Mail that the CDC staff scientists were "producing pseudoscientific reports."
"None of those people have my skills," Alexander continued, "I judge for myself whether this is nonsense." This comes after the leak of internal emails in which Alexander complained to prominent National Institutes of Health official Anthony Fauci and Dr. Fauci (incorrectly) said that children cannot transmit the SARS-CoV-2 virus.
All of this would have seemingly mitigated the problems and made it more likely that HHS officials would be better able to convey accurate health information. But the postponement turned out to be a very temporary one.
Even when the personnel changes were reported, several HHS officials (including CDC director Robert Redfield) testified before a panel of the Senate Credit Committee. Although they received a wide range of questions, some of them related to evidence-based public health policy and the possibility of an effective vaccine. And, unsurprisingly given the Trump administration's approach to evidence-based policy, the officials often contradicted their boss.
Politics and public health
Congressional Democrats often seize the opportunity to put public health experts who work for the Trump administration to the test. The Trump administration has clearly spread misinformation and made policy decisions that conflict with our knowledge of public health. Emphasizing these contradictions through the testimony of the government's own experts offers Democrats a golden opportunity to score political points. But it also serves a public health purpose by highlighting the best public health information.
While it's impossible to determine which of these two were the main drivers for the Democrats' questioning, the hearings revealed a number of key issues where the Trump administration and public health experts diverged. And to some extent, those who testified avoided as much as they could. When asked about Trump's decision to downplay the seriousness of the pandemic, Redfield replied that he would not comment on the president's decision, but will say that no one at the CDC has advised Trump to do so.
Something similar happened when wearing masks came up. HHS Assistant Secretary Brett Giroir said he would not comment on the president's frequent resignations of masks, but he did say masks are an absolutely critical tool. His fellow assistant secretary, Robert Kadlec, simply said that Trump is "a person who can exercise his rights".
But it was Redfield who worked the hardest to advance public health. Holding up his own face mask, he told the committee, "This is the most powerful public health tool we have." He reiterated an earlier statement that widespread use of masks for six to 12 weeks could bring the pandemic under control. "We have clear scientific evidence that they work," he testified, proverb they are "more guaranteed to protect me from COVID than if I take a COVID vaccine." His reasoning was that all vaccines fail to elicit a measurable immune response, while all masks provide at least some degree of protection.
Redfield also injected a big dose of reality as the subject shifted to vaccines. The Trump administration has appropriately begun planning the widespread distribution of a vaccine once safety and efficacy studies have been passed. But the fact that distribution is currently scheduled to begin just before the November presidential election has raised concerns about whether the timing might be politically rather than security-driven. And there will obviously be a significant gap between initial distribution and widespread availability.
Redfield decided it was time for the public to… hear about the size of that gap† He said the first availability in the area would be November-December, but would only go to high-priority populations, such as health professionals and the elderly. The majority of the American public would probably have to wait until the third quarter of 2021.
Not so fast…
This useful dose of realism was not to last long. Later that day, Trump held a news conference, and reporters were quick to keep an eye out between his earlier statements and what his own health experts had to say earlier that day. And Trump was basically trying to roll back Redfield's comments for him.
When asked about the use of masks, Trump said, "Number one, it's in no way more effective than a vaccine," before going on to say that Redfield really didn't know what he was saying: "I believe, if you ask him, he would probably say he didn't understand the question." This is despite the fact that Redfield was not asked to compare vaccines and masks – he simply did this to emphasize the importance of mask use. Trump later said he called Redfield, who reportedly told him, "I think I answered that question wrong."
But Trump was not content to simply address the relative value of masks and vaccines; he went on to reject the use of masks in general, saying, "I think there are [are] many problems with masks," noting that people tend to touch them. Later, after failing to answer a question about why he didn't lead by example by using masks more often, Trump spoke about Redfield's testimony the scientific evidence on mask use, saying, "The mask can help, and I hope it helps, and I think it probably does, but again, the mask is a mixed bag."
Atlas drugs
Vaccine distribution questions ended up completely confused. At one point, Trump brought one of his health advisers, Scott Atlas (who has some pretty questionable ideas) out to talk about the plans. Atlas has drawn up a timeline that largely resembles Redfield's. Distribution would begin within a day of FDA approval, the date of which is currently unknown. Assuming approval in mid-October, the plan was to have broad vaccination of the initial high-risk populations by the end of January. Sufficient doses should be available by the end of the first quarter of 2021, leading to widespread vaccination of the entire U.S. population by the end of the second quarter. Overall, it was just a bit sped up compared to Redfield's testimony.
Of course, Trump himself repeatedly said that Redfield didn't know what he was saying — literally. "I got the impression he didn't realize he was saying what he could have said," Trump told the press. At several points, he suggested that Redfield simply didn't have access to information about the distribution plans, even though the CDC produces them. At one point, Trump said of Redfield's testimony, "It's just misinformation."
Trump also took the time to say that Democrats' concerns that the vaccine could be rushed for political reasons was really just an indication that they don't want an effective vaccine before the election. "This is a phenomenon that only occurred when they realized that we may have the vaccine before a certain very important date, which is November 3," Trump said. "As soon as they heard that, the Democrats – to show you how bad the intention is – they started beating the vaccine."
Not just Redfield
Trump also often spreads misinformation about the usefulness of testing for SARS-CoV-2, stating that if we had fewer tests, we would have fewer cases. This is nonsense and HHS staff correctly identified it as such during his testimony. But Trump reneged on this position during the press conference. "If we didn't test, we wouldn't have any cases," Trump said. "You wouldn't have any cases. Other countries, they don't test, they don't have any cases."
Aside from the testimony, Trump also took some time to protest an additional public health piece of advice: managing the pandemic through restrictions on people-to-people interactions. After suggesting that the horrific U.S. pandemic numbers would look better if we cut out the statistics of Democrat-ruled states, Trump arbitrarily went on to complain about social distancing policies, saying, "It's very important that they open up their states." Mentioning three swing states run by Democrats (Michigan, North Carolina and Pennsylvania), Trump said their restrictions "hurt people more than the disease itself" before pleading with those states to "give your people freedom." following the previous complaints of Attorney General Bill Barr.
Again, Trump suggested that any restrictions were a political conspiracy rather than governments following public health advice. "They are closing it for political reasons," he said. "It will open on November 4 – it will open right after the election. But they want people… they want our numbers to be as bad as possible. The problem is, our numbers are so good."
The almost misleading insistence that the US numbers are good when we have the most COVID cases and deaths of any country returned towards the end of the press conference. That's when a reporter asked how we could trust Trump about the pandemic when he contradicts the head of the CDC. "Because of the amazing work we've done," Trump replied. "We've done a phenomenal job with COVID-19, as they like to call it."