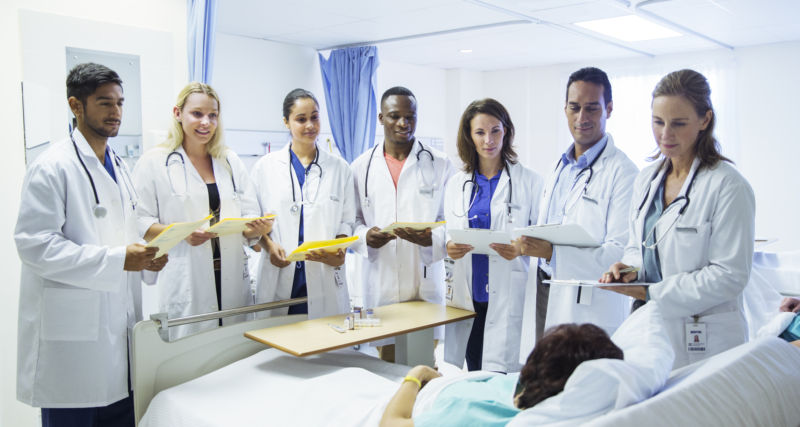 Even the best and brightest employees will slack off a bit if the boss isn't looking – after all, we're not machines. (Editor's Note: go back to work!) Perhaps a project is not progressing as smoothly as it could, or a protocol is not being followed exactly. In the working world, a little mediocrity once in a while might not be a problem – it's not like it's life or death, right?
But what if you are a healthcare provider?
According to a new study in JAMA internal medicine, doctors and nurses are unfortunately just like the rest of us. As inspectors roll into town, those health care providers are geared up and saving more lives. The effect is generally modest, researchers found, but it could make a difference to thousands of lives saved each year.
The study's authors, led by Harvard researchers, hope the findings can motivate us to figure out what angles can and can't be cut when no one's looking. In other words, the data provides "a window into quality improvement likely driven by a small number of key changes across surveys," the authors conclude.
To determine the level of slackness in hospitals, the researchers looked at the 30-day mortality outcomes of Medicare patients who were hospitalized before, during or after the week a hospital was given a routine inspection by the Joint Commission. This is the non-profit organization that accredits hospitals. The researchers searched the data of 1,984 general hospitals between 2008 and 2012. They selected data on 244,787 patient admissions during 3,417 week-long hospital surveys. They then compared that data with that of 1,462,339 admissions to the same hospitals during the three weeks before and after those study weeks.
Lifesaving corners
Overall, they found a 1.5 percent decrease in mortality during inspection weeks compared to normal surgery weeks. But the effect was greater in the big teaching hospitals, which have their elitist reputation on the line when they try to blind inspectors. The mortality rate in these hospitals fell by 5.9 percent. If that reduced rate extended over an entire year in those hospitals, it would mean about 3,600 fewer deaths, the researchers estimate.
The team couldn't pinpoint exactly what hospitals do differently during inspection weeks that caused the dips in mortality. They saw no significant changes in mortality rates from certain infections, cardiac arrests, or postoperative complications. Instead, the authors speculate that the improved mortality rates in general may be due to staff's heightened vigilance and stricter adherence to protocols and procedures.
To make some of those benefits of the study week play out year-round, the authors recommend that hospitals pay attention to the biggest changes taking place while their staff is mobilized and alert during inspections. "Observe which aspects of normal day-to-day operations change most dramatically in their facility to meet research readiness standards (e.g., clean environment and proper documentation)," the authors advise. "Those changes may be the best chances to determine whether more continued attention could improve patient safety."
JAMA Internal Medicine2017. DOI: 10.1001/jamainternmed.2016.9685 (About DOIs).