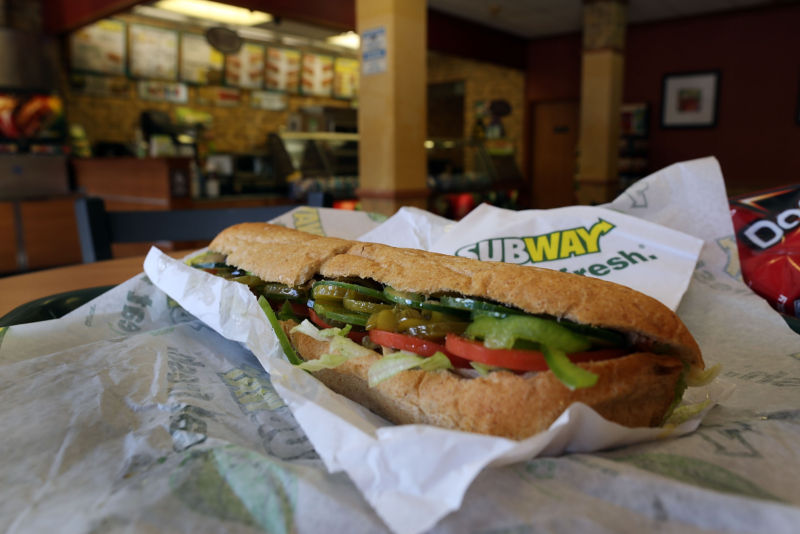 The chicken in Subway Restaurants' chicken sandwiches should only be about 50 percent chicken, according to a study by Canadian media outlet CBC. The rest: soy.
The research included DNA testing of chicken sandwiches collected from five popular fast food restaurants. The rest of the sandwiches contained largely chicken. But in testing, Subway's oven-roasted chicken and the chicken strips in its Sweet Onion Chicken Teriyaki sandwich came in with only 53.6 percent and 42.8 percent chicken, respectively. The results held after additional rounds of sampling.
Subway responded to the CBC in a statement:
SUBWAY Canada cannot confirm the veracity of the results of the laboratory tests you have performed. However, we are concerned about the alleged findings you cite regarding the share of soy. Our chicken strips and oven roasted chicken contain 1% or less soy protein. We use this ingredient in these products as a means to help stabilize texture and moisture. All of our chicken products are made from 100% white meat chicken that has been marinated, oven roasted and grilled. We recently tested our chicken products for nutritional and quality attributes and found that they met our food quality standards. We will review this with our supplier to ensure the chicken meets the high standard we set for all our menu items and ingredients.
A total of about 50 ingredients other than chicken were identified from all the chicken sampled. The chicken samples contained an average of 16 ingredients. Some ingredients are expected, such as salt and other seasonings. But many were commercial preservatives and fillers.
One similarity was that they all had a high salt content.
"People think they are doing themselves a favor and making themselves a healthy choice [by eating chicken rather than other meat]nutritionist and registered dietitian Christy Brissette told the CBC. "But from a sodium perspective, you might as well eat a big serving of poutine."
The full results on the percentage of chicken in the sandwiches are:
Subway Oven Roasted Chicken Sandwich: 53.6%
Subway Sweet Onion Chicken Teriyaki (chicken strips): 42.8%
McDonald's Farm Chicken – Grilled: 84.9%
Wendy's grilled chicken sandwich: 88.5%
A&W Chicken Grill Deluxe: 89.4%
Tim Hortons' Chipotle Chicken Grilled Wrap: 86.5%
Update (3/1/2017): In a new statement to Ars, a Subway spokesperson now says the company wants a full retraction of CBC's findings, calling them "definitely false and misleading." The statement continued:
Our chicken is 100% white meat with spices, marinated and delivered to our stores as a ready-to-eat product.

We have pointed out our strong objections to them. We don't know how they produced such unreliable and factually inaccurate data, but we are urging a full retraction. Producing high quality food for our customers is our top priority. This report is incorrect and needs to be corrected.
The restaurant chain declined to answer Ars's question about what actions it might take against the CBC or to refute the report's conclusions.