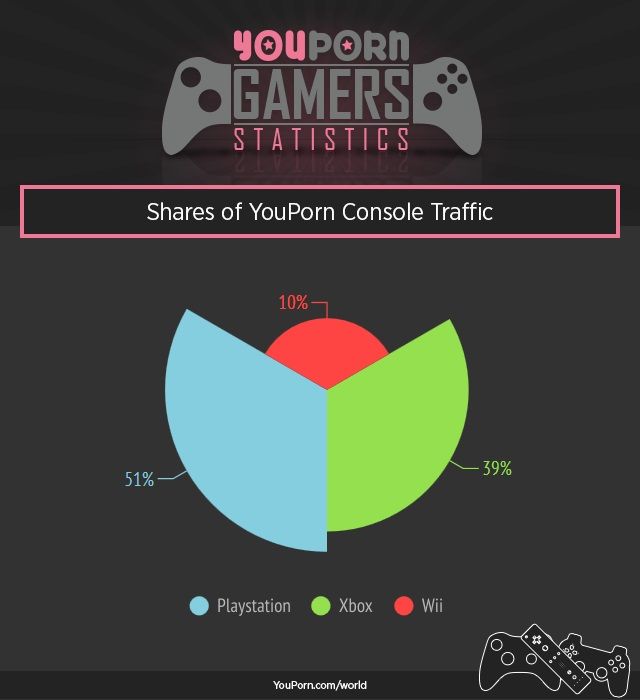 Determining which console maker is moving the most units globally isn't that hard when you analyze quarterly financial reports. But figuring out how those relative sales are distributed within specific countries is much more difficult.
Console manufacturers' financial reports often don't provide regional breakdowns for hardware sales; when they do, the numbers are usually grouped not by country, but by region such as North America, Europe, and Asia (with Australia and/or "Rest of the World" broken out separately if you're lucky). While public sales estimates from outfits like Chart-Track and Media Create in Japan and the UK can help, console popularity by country can be difficult to gauge for most of the world.
That's why our ears pricked up this week when we got some interesting data on national game console usage. It came from a porn site, mind you: YouPorn's Gamers Statistics breakdown (link generally safe for work, but with some naughty words in images). The site provides a host of server and search statistics derived from visitors accessing it through a console's built-in web browser.
While it's fascinating to hear that porn hunters search for "zelda" and "pokemon" far more often than others on Nintendo systems, it's the regional breakdowns that really interested us.
First, the obvious disclaimer; YouPorn viewing stats are not a perfect analog for console popularity. It is possible (and maybe even probable) that the user base for one system or the other will more or less use their console to surf porn. And it says nothing about whether they're more likely to use the console for, you know, actual games.
Still, the YouPorn stats seem to bear some resemblance to the overall popularity of consoles worldwide. Overall, YouPorn's stats show that 51% of visits come from PlayStation, 39% from Xbox, and 10% from Wii consoles. That's pretty close to the 50%/29%/20% split for PS4/XB1/Wii U sales in our latest analysis. The poor representation of the Wii makes sense when you consider that the younger demographic of the Wii may be underrepresented in porn site stats (the stats also seem to lump outdated systems with their current generation counterparts, so visits from the limited browsers on the Xbox 360, PS3, and original Wii could throw off current generation numbers).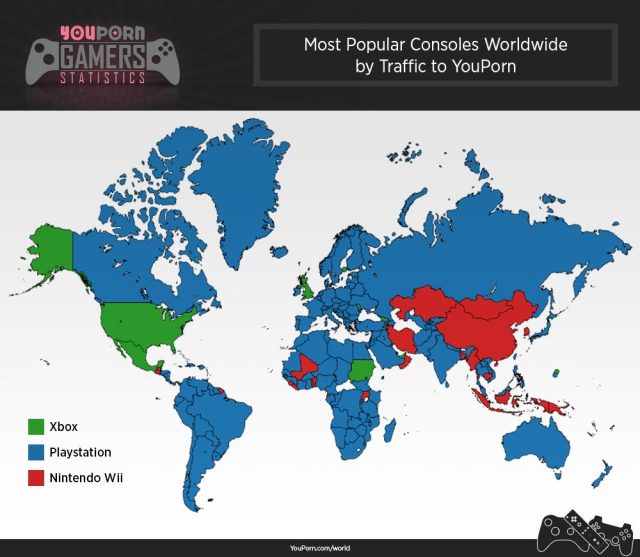 Even with all that said, YouPorn's breakdowns by country are quite interesting. PlayStation is the most popular console for porn viewing in the vast majority of countries following YouPorn — not too surprising, given Sony's head start in the race of current generation console sales. But the Xbox manages to take the bulk of YouPorn traffic in a few key console markets: the US, UK, and Mexico (plus Sudan for some reason). According to the site's stats, those are the first, sixth, and seventh largest markets for console porn viewing, respectively.
The Wii makes its strongest YouPorn stats in Asia, where owners in countries like China, Singapore, Bangladesh, Kazakhstan, and Iran all generally prefer using the Wii over other consoles to access the site. We'd wager that a combination of import restrictions on high-end electronics and the relatively low cost of Nintendo's systems will make Wii a more important player in these countries than others, but it's hard to say for sure.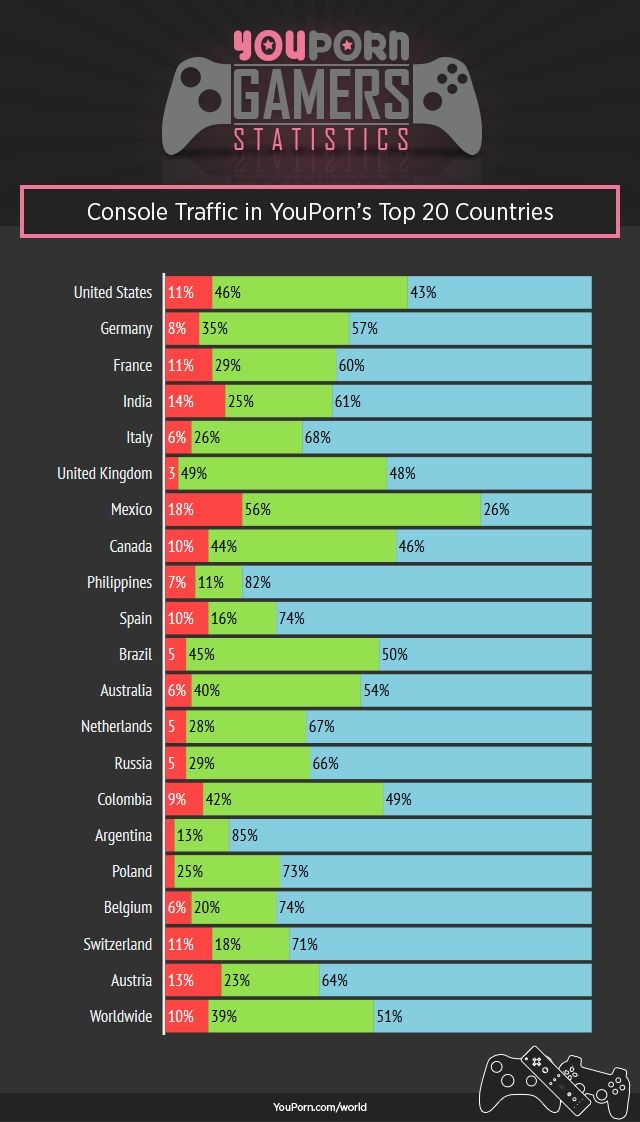 Even in major porn viewing countries, where the PS4 is the most popular console, the specific YouPorn traffic jams show a wide variation in the extent to which the PS4 dominates. Sony shows particularly strong numbers across continental Europe, from a 57/35 percent Xbox share in Germany to a whopping 74/20 percent in Belgium. That echoes recent comments from SCEE president Jim Ryan, who told VG247 that the PS4 commands at least 70 percent of the two-console market in every European country, and "often more than 90 percent."
But Microsoft is much more competitive in other major countries, according to statistics from YouPorn. That's especially true west of the Atlantic, where it surpasses the PS4 by 46 percent to 43 percent in the US and an impressive 56 percent to 26 percent in Mexico. Where the PS4 has an edge over major North and South American markets, it appears to be small overall: a PS4 advantage of 46/44 percent in Canada, a 50/45 percent advantage in Brazil, and an advantage of 49/42 percent in Colombia (Argentina is a huge exception, with an 85/13 percent lead for the PS4).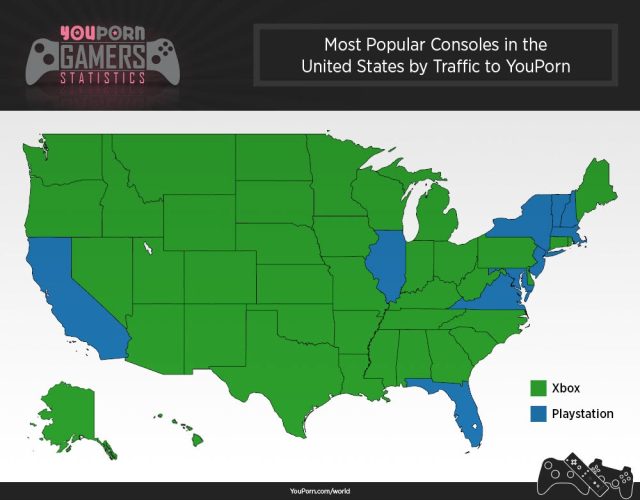 YouPorn also broke out its console data at the state level in the US, a statistic slicing we almost never see in official numbers or analyst reports. Here, the Xbox is utterly dominant, winning the relative battle in 40 of the 50 states. However, Playstation takes the lead in some of the country's most populous states, including California, Illinois, New York, New Jersey, and Florida, plus much of New England to boot.
Those also happen to be the states with some of the largest urban centers in the country (the PS4 also seems to be more popular in the Washington DC suburban states of Maryland and Virginia). We'd like to see a breakdown by metropolitan area to confirm whether Sony is actually relatively stronger on the more populous side of the urban-rural divide, but the breakdowns by state certainly support that hypothesis.
As a result, if Microsoft and Sony somehow ran for president, and the election votes were based on how many people used each company's consoles to visit YouPorn, Xbox would win the electoral college 347 to 191 (assuming that DC is going to PlayStation like the surrounding states). While it seems somewhat unlikely that that particular presidential race will actually happen, all of the PlayStation-dominant states in YouPorn's data are Democratic "blue states" or more middle-of-the-road "purple states" like New Hampshire, Virginia, and Florida .
Even if YouPorn's data isn't perfect, it's a good reminder that global sales figures in the console wars are likely masking some deep country-to-country and state-to-state variations in popularity. Keep that in mind the next time the console makers release a new global sales report or you see developers focusing on different consoles in different parts of the world.