LAS VEGAS—Networking, chatting, and schmoozing were the order of the day at the 2015 DICE Summit, as this is the industry's rare annual show to informally ban all issues of announcements. No new games, systems, peripherals, engines, or even DLC packs emerged, meaning higher-level conversations took the lead.
The dark gateway to DICE's free attendee arcade.

Shuffleboard!

Pins!

NFL Blitz was the show's least popular game.

Mmmmm, glove.

The room had a few TVs that had a "no glasses" 3D effect, but honestly that was the pits.
The DICE 2015 keynotes regaled attendees with stories of better recruiting practices and decades of changing consoles. The talks and panels were hosted by a wide variety of industry veterans, and the advice they gave ranged from maximizing profits to maximizing fun. But the most surprising similarity between the panels, which were intended for a largely triple-A audience, was how gaming and education are becoming increasingly inextricably linked.
"What's interesting about video games from a government perspective is usually not about the games themselves, but about the outcomes," former White House senior gaming adviser Mark Deloura told Ars Technica. The decades-long gaming industry veteran had just hosted a panel on his work at the Office of Science and Technology Policy, where he had just spent a year and a half helping other government agencies source and fund educational games (including Budget Hero, Reach For The Sun and NASA Moonbase Alpha) and host of the first-ever White House maker faire and game jam.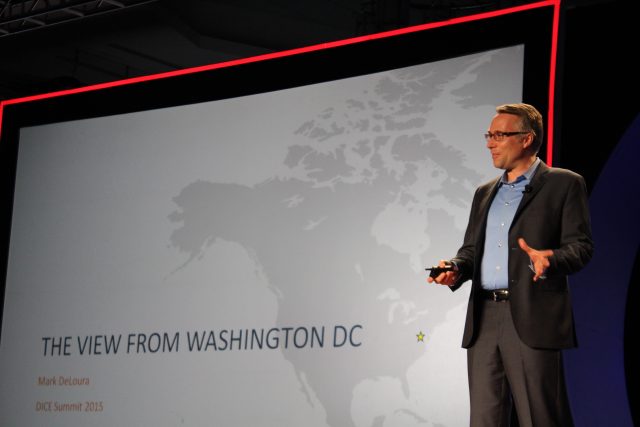 Deloura said his experience of his tenure in the White House was that gaming had entered the cultural lexicon so strongly that even President Obama couldn't ignore it, and that the events he hosted, filled with eager children learning about programming, created a had a major impact. Still, in terms of the current state of gaming, Obama's office cared about titles with hard, measurable impact, especially Foldit's. If state and federal agencies were more concerned with the cultural impact of gaming in general, Deloura said they would need more data.
"The challenge is that the government is evidence-based," Deloura told Ars. "There's not a lot of evidence for game-related things. The field is young, there's not a lot of research being done — no peer-reviewed, randomly controlled research. That's what moves the mind and sparks programs within government."
"We benefited from the right"
Tracy Fullerton, USC's video game division director, opened her DICE panel with a relatively common claim at events like this: that the notion of a "non-gamer" will soon disappear. But she quickly escalated to a much bolder, more compelling claim: that video game design and public education will become synonymous.
"Imagine a world where a game designer is also a teacher, and vice versa," said Fullerton. "They will guide students through testing and failure, through theory and strategies. [This idea is] not about software taking the place of teachers. Games don't solve problems like the student-teacher ratio, but they do solve problems related to engagement. A teacher without expertise in game design will one day be considered unsuitable for the classroom."
After speaking at length about the ways that gaming systems are already improving public works like transportation systems, Fullerton also spoke about modern efforts, such as Girls Make Games camps, to get more women involved in game design. She then challenged the industry professionals in the audience to extend such efforts to Latino, African American, LGBTQ and other "missing" game designers.
"We need to protect ourselves from our own hardcore, dedicated audience," Fullerton said, referring to recent high-profile waves of online harassment within the gaming community. "People who see form progression as a threat to their identity and rights. We really benefited from that right. That perspective is unique to digital gaming. Before the 90s, games were a pastime for everyone. Families, boys, women, men. We were all gamers. We all need to take that sense of play back for everyone."
Alexey Pajitnov and Henk Rogers, The Tetris Company

Sam Machkovech

Richard "Lord British" Garriott (R) spoke to MANY people on the red carpet about his interest in building rockets.

The son and grandson of Pioneer Award winner Ralph Baer

The team at Supergiant Games (creators of DICE Award winner Transistor)

Yacht Club Games, the team behind Shovel Knight

They didn't win a prize, but still gave a high five.

Keep it up with those five.

Nathan Vella (Capy Games) and Robin Hunicke (Funomena)

Stoic Studio (The Banner Saga)

Asher Vollmer, developer of Threes

John and Brenda Romero

Rich Hilleman, Chief Creative Director, EA

Ru Weerasuriya (R), CEO of Ready at Dawn Studios (The Order 1886) wanted everyone to see his Order mini.

Chris Roberts, CCO of Cloud Imperium Games (Star Citizen)

Blizzard Entertainment representatives
Interestingly enough, Fullerton's statement came a day after Tom Kalinske, former CEO of Sega America, took partial credit for fueling the gaming industry's first fanboy wars in the '90s. "We're going to joke [Nintendo]Kalinske said to the DICE crowd as she stood in front of a 1990s ad strategy list. "We're going to position them as the little childrensystem."
Today, Kalinske leads the Global Education Learning group as executive chairman, which produces the Leapfrog line of edutainment gaming devices, among other things. He told Ars Technica that if he ever returned to the console gaming industry, he would be inclined to create an education-focused startup, possibly working on more interactive, vibrant versions of MOOCs. "When I was running Sega, we had the Pico, and it was a really good educational device," Kalinske said. "It made $100 million – that wasn't chicken feed, but our board said stop wasting your time on this. It takes too many people, it's too hard to do, and we're not making enough profit from it. Sonic 4 and quadrupling sales, a lot easier and more profitable, they said."
Frame image by Sam Machkovech