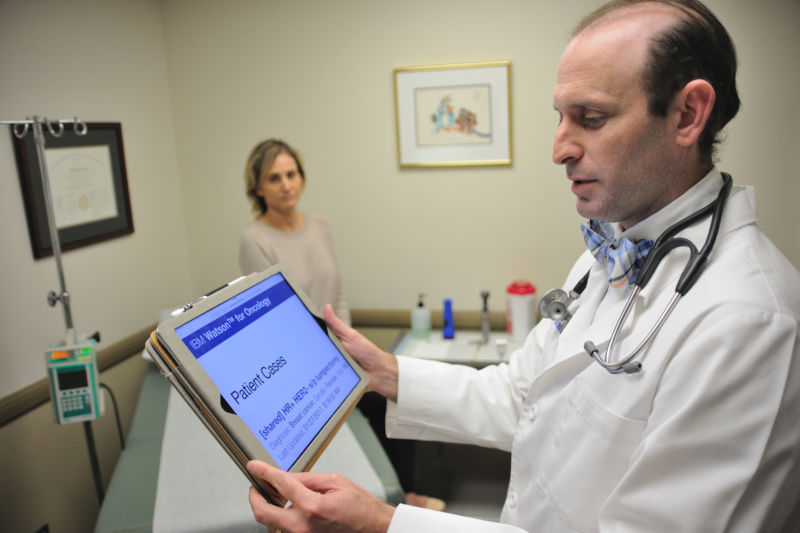 IBM's Watson is on the move. With the new ability to rapidly develop smart personalized treatment strategies for cancer patients, Watson is making its debut in hospitals around the world – from the US to India, Korea and China. Earlier this month, a medical center in Jupiter, Florida announced it would also welcome the famous, Jeopardy-winning computer system into its hospital rooms.
But there's one place Watson won't move: The University of Texas MD Anderson Cancer Center at Houston. In fact, Watson is frozen there. And it's more than just a computer glitch.
The cancer center has grossly mismanaged its smash program with IBM, which began in 2012, according to a blistering audit by the University of Texas System. The program was designed to teach Watson how to treat cancer patients and match them with clinical trials. Watson initially achieved goals and impressed the doctors at the center, but the project hit the rocks when MD Anderson officials denounced their own IT experts, mishandled about $62 million in funding, and basic procedures for overseeing contracts and invoices did not follow, the audit concludes.
IBM withdrew support for the project last September. Watson is not currently allowed to be used on patients there, and the fate of MD Anderson's partnership with IBM is up for debate. MD Anderson is now seeking bids from other contractors who could take IBM's place.
Meanwhile, a similar project that IBM started with New York's Memorial Sloan Kettering Cancer Center has already been completed around the same time frame. It resulted in a commercial product that is currently making its way to hospitals around the world, including in Jupiter.
"I'm incredibly excited about where we are at this point in our history," Rob Merkel, vice president of Oncology and Genomics at IBM Watson Health, told Ars. IBM is working on several projects to help Watson with clinical trials, cancer patients and genomics. "I think it's very important that you [UT audit report] and keep that in mind," he said. But in terms of the broader view of Watson's oncology work, "I'm very, very excited."
So what went wrong with MD Anderson?
First, the cancer center is not new to controversy. The center's president, Dr. Ronald DePinho, and his wife, Dr. Lynda Chin, have faced several scandals since they both joined the cancer center in 2011. Before moving to Ars, Eric Berger covered the scandals extensively The Houston Chronicle, along with his colleague at the paper, Todd Ackerman. DePinho was criticized, among other things, for his ties to pharmaceutical companies and hype therapies.
Chin, who was formerly chief of MD Anderson's division of genomic medicine and co-director of the Institute for Applied Cancer Science, has been repeatedly accused of profiting from nepotism. She was involved in a controversial $20 million incubator grant awarded in 2012 by a state cancer agency without scientific review. The grant was withdrawn after sparking widespread controversy, plus high-profile layoffs. State legislators even wrote legislation to overhaul the grant-making agency after the fiasco. Then, in 2013, Chin drew fire for a lavish office renovation, which some say cost about $2 million at a time when budgets were tight.
Chin left the position in 2015 to become an associate vice chancellor in the University of Texas system. But before she left, she was personally in charge of the Watson project.
According to the audit, Chin established contracts and service agreements with IBM and PricewaterhouseCoopers (PwC), which were to develop a business plan for all of the Watson-based oncology products MD Anderson created. However, most agreements were not obtained through competitive processes, some were not formally justified or approved, and some were not properly authorized, the audit found.
Nevertheless, by September 2016, MD Anderson had paid out about $39 million to IBM and nearly $23 million to PwC.
As the collaboration progressed, Chin also failed to get the Watson program approved through MD Anderson's information technology development policies and processes. Chin aggressively argued that the Watson project was a research project, not an IT project. However, the project relied on IT professionals.
Human species glitches
While there is ambiguity in MD Anderson's rules on IT involvement, the auditors concluded that the IT department should have overseen the work. They even hinted that Watson's integration with the hospital's software was a bottleneck to progress – something IT leaders could have helped with.
In their report, the auditors noted that:
"Oncology medical staff also told us that internal pilot testing of [Watson's work with lung cancer treatment] achieved a forecast accuracy of nearly 90 percent, but advised that a significant update is needed sooner [Watson] can be further tested. That's what we were told [Watson] must be integrated into the current medical record system and drug protocol and clinical trial data updated before internal pilot testing can resume…"
That is, the hospital had updated the software it used for electronic health records. But the new software wasn't compatible with Watson's configuration, and project leaders failed to make updates that would have allowed the systems to work properly. This prevented Watson from getting any new information. Without up-to-date updates on a patient's medical records, new medical studies and drug data, Watson simply cannot come up with the best treatment options.
In a fiery response, Chin accused the auditors of trying to undermine her authority by disagreeing with her decision not to follow standard IT policies. She also argued that because IT leaders had not specifically asked her to follow their policies, they tacitly agreed with her decision.
She concluded:
"Your dismissal without justification of my expert advice in my role as the [principal investigator] who conceptualized, designed and led the project, coupled with your disdain for the obvious interpretation as inferred by the actions of IT leadership as noted above, questions the objectivity of your findings.
Finally, auditors found that invoices were paid whether or not services were rendered, but were not paid consistently or on time. Some fees were suspiciously set at rates just below the amounts that would trigger review and require approval by the Board of Regents. And MD Anderson paid money from donations that had not yet come in, leaving the project with a shortfall of $11.59 million.
After several stalls, IBM walked away from the project in September 2016.
In a statement to Ars, MD Anderson said:
"When it was appropriate to do so, the project was put on hold. As a public institution, we have decided to go to market for competitive bidding to see where the industry has progressed… MD Anderson remains committed to exploring how digital solutions can accelerate the translation of research into advanced cancer care for patients. "
Editor's Note: The post has been updated to provide more information about Watson's compatibility with MD Anderson's medical record software.