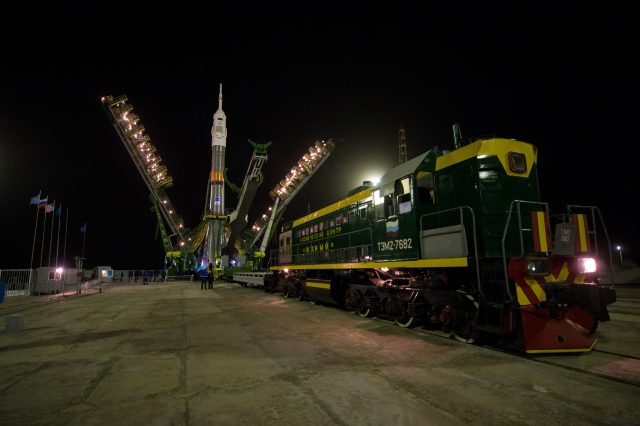 Update: As usual with the Russian space program, the Soyuz rocket and spacecraft launched today right on time. Everything went nominally and it takes about six hours for the spacecraft to catch up with the International Space Station, before the crew docks and then opens the hatch.
Original story: A Russian rocket will today launch two cosmonauts, Alexey Ovchinin and Oleg Skripochka, and NASA astronaut Jeff Williams into space from the Baikonur Cosmodrome in Kazakhstan. Launch is scheduled for 5:25 PM EDT (9:25 GMT), with live NASA TV coverage of the launch starting at 4:30 PM in the video below.
Williams will make his third visit to the International Space Station and become the first astronaut to complete three revolutions of the orbiting laboratory as a crew member. He previously lived at the station in 2006 and 2009. This has given Williams a cumulative time in the space of 362 days.
He currently ranks 6th among NASA astronauts in cumulative time in space and 35th among all spacefliers on a list populated mostly by Russian astronauts. Before the end of its current mission (after 158 days, specifically), Williams will surpass Scott Kelly for the US record for total time in space (520 days). By the scheduled end of its third station mission in September, Williams will have spent 534 days in space.
The weather for today's launch in Baikonur is cold and windy, but the robust Soyuz launch system is designed to launch in almost any weather. There are no known technical problems with the vehicle itself. After launch, the Soyuz spacecraft will take about six hours to reach the space station, and the hatch is scheduled to open at 12:30 p.m. ET on Friday.