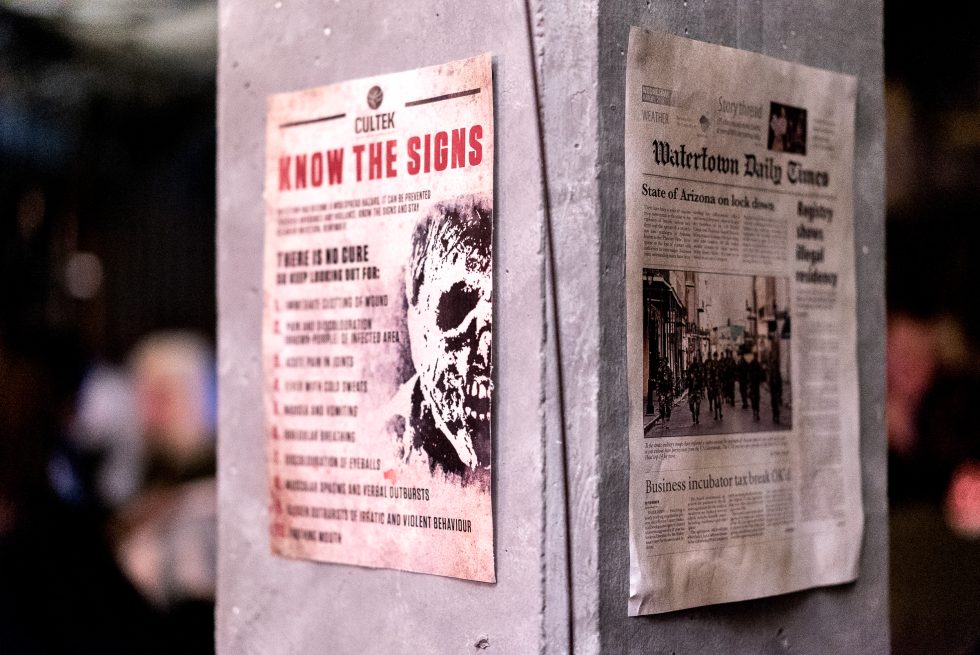 A soldier approaches under an old railway bridge in Hackney, London. "Are you ready for your training, recruits?" he asks as I, along with several other stunned journalists, line up in a perfectly straight, single-line row. The soldier, supposedly from an organization called Cultek, starts drilling us. We do jumping jacks. We do push ups. Our intelligence is questioned. Then we are bundled into the bed of an army truck where there are no windows and no lights. All we hear is the roar of the engine and Linkin Park's grating nu-metal riffs from a cranked-up stereo as we're whisked at great speed to an unknown destination.
This is how Virtually dead begins. For the guns. For the zombies. For the yelling.
Immersive theatrical productions – where the audience plays an active role in the show – are nothing new. They range from Punchdrunk's brilliance Don't sleep anymorea retelling of Shakespeare's Macbeth takes place in a five-story hotel in New York, to hugely fun Secret Cinema events, reenacting scenes from a movie.
Virtually deadhowever, stands out for being the first immersive theatrical production to incorporate the HTC Vive VR headset – a marketing ploy that turns the show into a slick piece of promotion for the upcoming virtual reality revolution. Still, despite the proliferation of the technology, it's hard not to be impressed.
Noma Labs, who unfortunately describe themselves as 'Millennial Experience Experts', and production company Bearded Kitten have created a highly detailed military research facility in the ruins of an old East London factory, populating it with more than 30 actors. There are blasphemous soldiers – one of whom was kind enough to "put that goddamn camera away" before threatening to "shove it up my ass" during our briefing – generals, scientists, and plenty of horrifically convincing drooling, blood-covered zombies .
Why so serious?

Mark Walton

This is true Virtually dead begins.

Mark Walton

Our drill Sargent gives us a call.

Mark Walton

We are then bundled into the back of an army truck and told to hang on.

Mark Walton

I wasn't allowed to take pictures, and this soldier was only too happy to tell me.

Mark Walton

A sniffer dog was deployed to check for contraband.

Mark Walton

The tunnel everyone comes out of when the fright is over. Luckily it's right next to a bar that serves liquor.

Mark Walton

Zombie!

Mark Walton

Even when mingling at the bar, actors stay in character.

Mark Walton

There's a whole backstory to read into.

Mark Walton

At the end of the experience, there is an opportunity to give the HTC another try.

Mark Walton

The HTC Vive.

Mark Walton

Soldiers who look a little less intimidating.

Mark Walton

Mark Walton

Pop!

Mark Walton

Food rations are available.

Mark Walton

Mark Walton
Like any compelling theatrical production, Virtually dead only really works if you're willing to suspend your disbelief and go along with the story and the actors. It helps, though, that those actors are some of the most convincing, or maybe they are certain I've seen it in a regular production. Even the mighty Secret Cinema suffers from its fair share of am-dram goofs and sputters – and those actors have never had such dense dialogue, or a group of skeptical journalists to work with.
It's wonderfully schlocky, like starring in a so-bad-it's-good b-movie. Even the VR part is expertly done, the shooter Arizona sunshine be part of a "VR training" section that ramps up the panic level before pushing you into a virtual dark underground tunnel filled with zombies and nothing but a torch and gun to guide you. Even with the sound of gunfire ringing in my ears, I couldn't miss the screaming and surprising amount of profanity coming from the other rooms.
If there is criticism Virtually dead, it's that the VR part is a bit short. If you're hoping for a really good dose of Vive, you might be disappointed. But for my money, the overall experience is more than worth it. The scares come thick and fast as you're made to mingle with corpses and come face to face with a zombie. You may even be splashed with a little blood. That the Vive integrated so seamlessly into the experience – aside from the actual fiddling with the headset – is a testament to how well its "room scale VR" works. I have no doubt it will be used a lot for public installations.
With the price of the Vive and a suitable gaming PC making it inaccessible to many, experiences like Virtually dead or the upcoming Derren Brown-designed VR ghost train at Thorpe Park are hugely important to the future of technology. Attendees may not be buying Vive just yet, but if the price is right and the world's early adopters and gamers have put it through the wringer, they may decide to join the revolution.
And hey, even if you don't care about VR, £30 is a small price to pay to scare yourself and get covered in zombie blood.
Virtually Dead runs until Tuesday, April 5 at an undisclosed location in Hackney, London. Tickets cost € 30 + reservation costs.
Frame image by Mark Walton