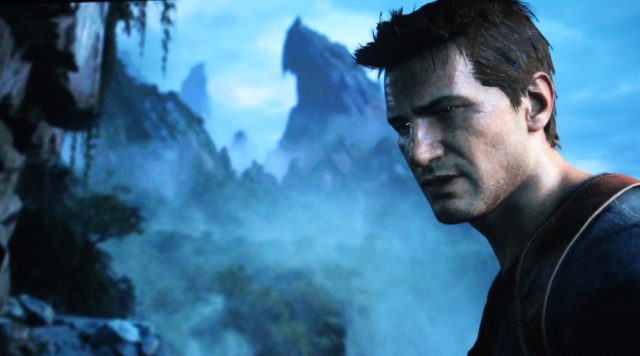 On Saturday, Sony opened its first-ever PlayStation Experience expo showcasing world premiere footage from favorite game series such as Not charted And Final fantasy and brand new IP. The expo launched with a show-of-force keynote presentation that reveled in its Sony-first status, complete with a proclamation that the PlayStation 4 was the "fastest-selling game console of all time" and took a whopping 25 minutes to Uncharted 4: The end of a thief game.
That demo was the longest fans had seen yet, and featured amazing visual effects like dense foliage and surprising blur effects (the latter made all the more impressive by how tiny particles shimmered in hero Nathan Drake's flashlight). The core gameplay, incidentally, was typical Not charted stuff: climbing rock walls, shooting bad boys, sneaking through foliage, only it looks way better and with tweaks like a grappling hook and melee-specific features that reflect developer Naughty Dog's brutal combat The last of us.
The crowd erupted when a Final Fantasy VII logo appeared. Square Enix exec Shinji Hashimoto played a lengthy reveal video of the game's original PlayStation form and a comment stating "coming to PlayStation 4 in Spring 2015," but based on the video and Hashimoto's comments in broken English, we got the impression that it won't be remastered, but rather made from the PC version of the original game. So no, don't expect updates to the classic's dated CGI cutscenes.
"We never showed how big Nobody's Heaven is rather, and we want to show that today," the team at Hello Games stated before loading up a chilling, eight-minute gameplay demo of the procedurally generated spaceflight sim. The game's pilot descended from planet after planet, discovering rich worlds full of breathtaking vistas and bizarre creatures at every turn. The footage only confirmed our hopes of getting our hands on the game sometime next year.
The most impressive new IP came from long-time Sony developer and God of war co-creator David Jaffe, who thanked the audience for "taking care of my family for 20 years" before breaking the wraps of Drawn to death, "a third-person multiplayer shooter that lives in a high school student's sketchbook." Weapons included a pet dragon with gasoline in its mouth and a super-charged dodgeball, and the aesthetic was all notebook paper and dirty pen lines, so Jaffe seems to take high school conceit to an extreme. (Your teenage overseer's hand will even drop into the action to assist fighters in the game's standard four-player deathmatch battles.) No release date has been set yet, but the game will be playable in the PSX weekend. pre-alpha status .
A representative from Sony's game studio in San Diego introduced a brand new IP address Kill Tribe, which is coming to PlayStation systems in beta form "early next year", but it was one of the few games shown without gameplay footage – presumably because the early game is already live on the PlayStation Expo floor. This weekend, fans will be able to test the "five vs. two vs. five" top-down combat on a show floor packed with over 800 playable kiosks.
Seriously, a lot of lists on PSX
That was just one of many expo announcements that will be "launching first on PlayStation," accompanied by a surprising number of known and unproven series. Take a deep breath: Darkest dungeon (a side-scrolling RPG), The forest (A Rust-like survival crafting first-person thriller, which looked stunning and terrifying), Person 5 (a PS4 and PS3 exclusive in both Japan and the West), Orcs must die unchained (a free-to-play update of the active-tower-defense series), Dungeon Defenders II (the sequel to another great active tower defense series), Skytorn (a side-scrolling, retro-looking blaster), divorced (an old fashioned RPG from the makers of Guacamelee), Kill floor 2 (a co-op zombie blaster that looks like a Demise fanboy's wet dream), and Enter the dungeon (a top-down shooting game that draws inspiration from, among others Gunstar heroes).
Do you want a different list? Sony also announced a slew of already-released games coming to PS4 and PS Vita by summer next year. Tweaked versions of Shovel Knight And Super Time Force will feature Sony-exclusive characters (Kratos and, er, Sony exec Shuhei Yoshida, respectively), and other games will feature beloved Japanese games Yakuza 5 And Suikoden II and the Double Fine point-and-click trifecta from Broken age, Grim Fandangoand – announced on PSX – a remastered version of Day of the Tentacle (which will also launch on PC/Mac/Linux, though no release date was mentioned for that).
February 2015's biggest PlayStation 4 exclusives, Bloodborne And The Order: 1886, each got their own meaty demo presentations. The first, created by the creators of the notoriously difficult Dead souls series, received an announcement of a new co-op battle mode called Chalice Dungeon, in which friends can team up in procedurally generated dungeons filled with boss-sized, super-tough bad guys. The latter has a playable 30-minute demo on the show floor, full of cinematic bravado and never-before-seen melee combat.
Already revealed titles such as Batman: Arkham Knight And Destination also enjoyed some screen time with reveals of their PlayStation exclusive content. Sony hopes to surprise PSX participants with one Street Fighter V announcement was blown thanks to leaks, but the show made up for it with a world premiere gameplay reveal. Admittedly, the new gameplay didn't look much different from what we'd seen before Street Fighter IV's ink-inspired designs, while series favorites Ryu and Chun-Li threw punches and used their usual attacks of fireballs and rapid-fire kicks, respectively.
On the weirder, indie spectrum, Sony Santa Monica revealed follow-ups from the creators of Katamari Damacy And The unfinished swan. Those games, titled Wattam And What remains of Edith Finch, receiving vague teasers; the former was whimsical and cartoonish, with nothing resembling real gameplay, while the latter showed off a dark, atmospheric dive into a seaside lighthouse town. Sony Santa Monica also took the opportunity to reveal Fat Princess Adventureswhose brief gameplay reveal looked like a four-player co-op action RPG with the same control scheme as the original on the PS3.
The keynote was loaded with love for Sony fanboys, particularly a look back at "20 Years of PlayStation" that recreated scenes from classic Sony games within the LittleBigPlanet3 engine (the papercraft Shadow of the colossus was a nice touch). At the end of the keynote, Sony opened the floodgates to a giant room of playable games, so we're rushing over there to play the weirdest and newest things coming to PlayStation next year. Expect a lot of screenings this week.