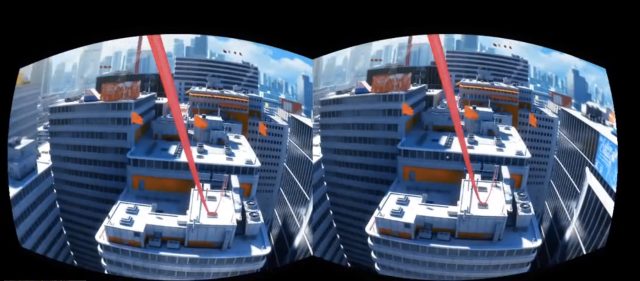 Until now, the burgeoning virtual reality space has been dominated by independent developers willing to experiment with the early, unproven hardware. Only a few major publishers are willing to be wary of prototype VR modes that are often hidden or pasted. That's starting to change, however, with Ubisoft announcing it's working on a "number of games" for virtual reality platforms to be released in the first half of 2016.
"We believe strongly in virtual reality because we see it really gives gamers a chance to become more immersed in worlds, and we are developing a number of games that will take advantage of these new possibilities," said Ubisoft's CEO. said Yves Guillemot during a Q&A following yesterday's earnings call. "We're working on the different brands we have to see how we can take advantage of those new capabilities, but we're also making sure we're not bothered by what's involved, which is the difficulty of playing those games for a long time ."
Concerns about being "difficult to play for a long time" seem to have other major publishers (and even some indie developers) wary of committing fully to virtual reality right now. Last November, Take-Two President and CEO Strauss Zelnick said of VR games: "We're concerned that you'll be playing our games for a long period of time – we don't want people to get sick of the experience, I'm not sure how long you want an immersive headset on your head." Around the same time, EA CFO Blake Jorgensen told the UBS Global Technology Conference that VR technology needs to be improved "to make sure people enjoy it but don't get sick of it too quickly."
Despite those concerns, Ubisoft seems to see potential value in developing headsets like the flip-powered HTC Vive (expected later this year), the Oculus Rift, and Sony's Project Morpheus (both due in early 2016). "We are very optimistic about the potential," said Guillemot. "We think it will bring more players to the video game universe, and we're going to come up with our brands. We'll have a few titles in the first year, and games will come on a regular basis after that."
Last March, Ubisoft Vice President of Creative Lionel Raynaud told Gamespot that he thought a VR headset should "sell at least a million units to be viable for development." That suggests Ubisoft sees enough market from early adopters of VR hardware to make its software plans viable for the foreseeable future. Oculus CEO Brendan Iribe told Ars last June that the company hopes to sell "north of a million units" of the first consumer version of the Rift headset. That's just a start toward what Facebook CEO Mark Zuckerberg sees as 50 to 100 million units over the next decade. When that happens, we expect one lot more major gaming publishers on board.
Elsewhere in the earnings call, Ubisoft announced that it was halting development for the Xbox 360 and PS3 going forward, and that The division has been postponed to the first quarter of calendar year 2016. Overall, the company saw sales increase 45 percent over last year and a profit of €112.7 million ($125.8 million) after significant losses the previous year .