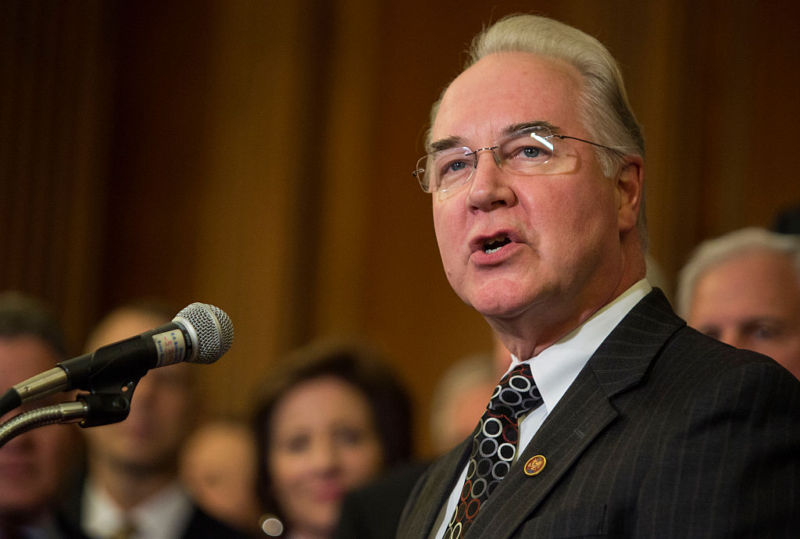 President-elect Donald Trump's appointment of six-time Congressman Tom Price (R-Ga.) as Secretary of Health and Human Services has sent a huge blow to the medical community this week, sparking widespread and bitter infighting.
Price isn't a particularly shocking choice from Trump — the congressman is one of the fiercest Obamacare critics, and Trump vowed during his campaign to quickly repeal and replace the mammoth health bill. In addition, Price, a former orthopedic surgeon, has taken strong conservative stances on health care policy. For example, he is against abortion rights and tobacco regulation. But he also belongs to a small, fringe, ultra-conservative, and conspiracy-laden group called the Association of American Physicians and Surgeons (AAPS). This group denounces evidence-based medicine, Medicare, and Medicaid, among others, plus it has spread discredited, dangerous ideas, including that vaccines cause autism.
In light of some or all of these facts, many in the medical community were stunned and enraged by the support of Price's nomination from leading medical associations, namely the powerful American Medical Association (AMA) and the Association of American Medical Colleges (AAMC). In recent days, thousands of doctors have signed letters and petitions, condemning the groups' support and publicly leaving the AMA. On Twitter, the hashtag #NotMyAMA has become popular.
An online letter of protest, titled "The AMA Does Not Speak for Us," was signed by more than 3,800 doctors on Friday. In it, the doctors briefly break down Price's clear track record of supporting the dismantling of Medicare and Medicaid, not supporting the Children's Health Insurance Program, and opposing the ACA, which provided coverage to 20 million Americans.
It concludes:
The AMA's vision statement includes "improving health outcomes" and "better health for all," yet the AMA's candidacy of Dr. Price – and thus his views – are not aligned with the well-being of patients. As physicians, we challenge the AMA's position by reaffirming our commitment to our patients above all else.
The National Physicians Alliance and the American Medical Student Association also opposed Price's nomination. In the NPA's opposition statement, it noted, "We are dismayed that other major physician organizations have endorsed Dr. Price without regard for the harm his policies would cause to our collective patients."
Amid the backlash, the AMA, which praised Price on Tuesday as "a leader in health policy development to advance patient choice and market-based solutions," doubled its support. In a longer position statement released Thursday in response to protests, the association explained that it appreciated Price's nomination because he is a former physician and has been open to discussion with the AMA in the past.
"We have to be realistic," the AMA said in a Facebook post linking its second statement of support. "The elections are now over, and as with every election, one candidate has won and must now choose his cabinet. And as an impartial organization, the AMA has a duty to work with the incoming administration and strive to find common ground.
In its endorsement of Price's nomination, the AAMC expressed similar sentiments, saying, "Rep. Price understands firsthand the work and challenges faced by our nation's medical schools and teaching hospitals… We are confident that Rep. Price will provide a thoughtful, measured approach to addressing the wide range of issues impacting the health of the nation…"
Executive director of the fringe AAPS Jane Orient — who was largely behind conspiracies about Hillary Clinton's health during the election and has written for Breitbart news — told Ars the organization also supports Price. "It's good to have a nominee who understands how Medicare rules affect patients and physicians and who supports free markets," she said in an email.
The Trump administration did not immediately respond to Ars' request for comment.