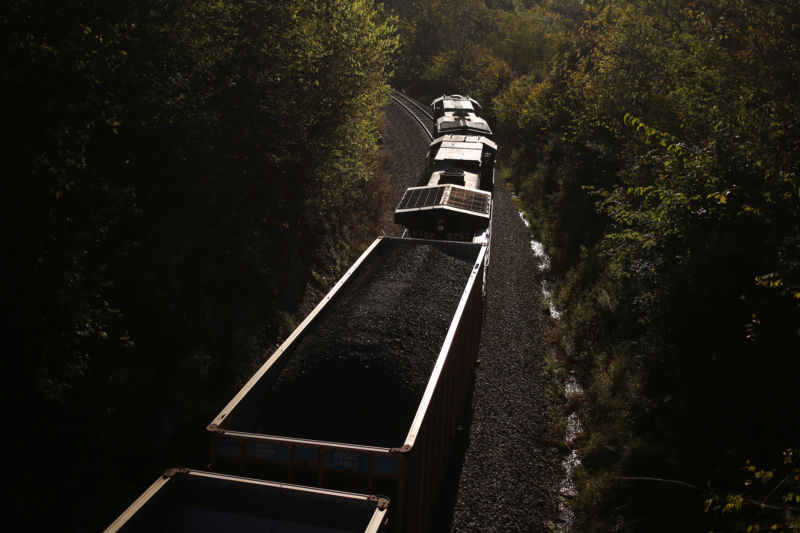 According to four people who spoke to Politico on terms of anonymity, the Trump administration's plan to save coal and nuclear power plants has reached a speed bump in the White House itself.
The Department of Energy's (DOE) most recent plan involved invoking the Defense Production Act of 1950, a wartime rule that allows the president to encourage purchases of U.S. industries deemed vital to national security. and to prioritize.
Another potential plan was to invoke Section 202(c) of the Federal Power Act to require that struggling coal and nuclear power plants remain open, either through mandatory purchases by grid operators or through subsidies. FirstEnergy, an energy company whose coal and nuclear power plants are going out of business under Chapter 11 bankruptcy, filed a petition with the DOE in April to use this power.
In June, President Trump reportedly told Energy Secretary Rick Perry to "prepare immediate steps" to halt the retirement of coal and nuclear power plants in the US.
But since then, the shutdowns of coal-fired power plants have not been reversed and some coal-fired power plants have been added to the list of planned shutdowns.
An economic problem
Citing four anonymous sources, Politico reports that White House advisers on the National Security Council and National Economic Council have opposed invoking either the Defense Production Act or Section 202, ostensibly on the basis that someone will have to pay for a rescue operation for coal and nuclear power. and no one wants to do it right now.
Utilities, grid operators and consumer groups have resisted a coal bailout as the switch from coal to natural gas has kept prices reasonable for electricity rate payers. Forcing utilities to pay for relatively more expensive coal generation to keep it alive would lead to higher tariffs for their customers with no added benefit (and additional pollution and emissions).
While nuclear power would also receive a rescue package under many of the plans proposed by the DOE, the Trump administration has mainly focused on rescuing the faltering coal industry. American coal companies such as Murray Energy have been major contributors to Trump's campaign.
"It is unclear whether Trump himself has decided not to follow Perry's proposal," Politico wrote. "Even if he did, the sources warned that Trump often changes his mind, and the idea could resurface ahead of the president's re-election campaign."
Some of the factors that frustrated a coal bailout included the vagueness of the DOE's May memo recommending the use of the Defense Production Act, as well as an earlier decision by the Federal Energy Regulatory Commission (FERC) declaring that the closing of coal and nuclear power plants did not threaten the reliability of the grid. Politico wrote that two sources cited Larry Kudlow, director of the National Economic Council, as skeptical of any coal bailout in particular.
"One of Perry's biggest problems in formulating a bailout is figuring out who would pay the billions of dollars it takes to keep money-losing power plants going — creating the specter that electric customers would have to cover the cost in their monthly utility bills," Politico wrote.
The slow response has reportedly frustrated Senator Joe Manchin (DW.Va.), who told reporters this week, "I'm trying to find the damn plan because I understand it went from the Department of Energy to the White House, and I don't know who would be in the White House for any reason, but it's something very important to me and to West Virginia," said Utility Dive.
Go to the sea
If Trump can't justify saving coal at home, the next best option is to export it to countries with more expensive fuel and more relaxed standards for particulate matter and greenhouse gas emissions. Asia, especially Japan, could be an excellent potential buyer if coal from Wyoming and Montana could be exported alone. The only major ports for coal exports are currently on the East Coast, making transport costs in the powder basin in the West slightly too expensive for export to Asian markets.
Coal companies and local politicians have spent years trying to get California, Oregon and Washington to open their ports to coal exports, but to no avail — in addition to general objections, for health reasons, locals don't want to coat coal dust from trains to their cities. BNSF, the train company responsible for transporting significant amounts of coal, says it requires coal wagons to be loaded in a specific way and sprayed with a surfactant to minimize dust, but concerns remain.
Now the Department of the Interior appears to want to force the hands of states by allowing West Coast exports through military bases.
In a statement to the Associated Press, Interior Secretary Ryan Zinke said he would consider using naval facilities to export coal, regardless of the consent of the states where the bases are located.
"I respect Washington state and Oregon and California," Zinke told AP Monday. "But it is also in our national security and our allies' interests to ensure they have access to affordable energy resources."
Secretary Zinke did not name a candidate naval facilities for coal exports, but he did suggest that the partially abandoned Adak Naval Air Facility in Alaska's Aleutian Islands could serve as a port for natural gas exports.
What coal ships need?
Coal transport ships need harbors in deep waters, as well as space to store large amounts of coal between shipments. This combination is relatively rare on the west coast. "Six proposed coal ports in Washington and Oregon have been rejected or suspended due to air and water pollution and rail safety concerns, coupled with changing market conditions," the AP writes. A possible coal export terminal in Oakland, California, has also been disputed.
The AP writes that "a $680 million project in Longview, Washington, was denied major permits last year by state regulators who said it would increase greenhouse gas emissions and cause 'significant and unavoidable damage to the environment'". The project's backing company, Lighthouse Resources, has sued the state of Washington, and six states have sided with the company, saying that only the federal government can regulate interstate commerce.
Critics told Politico today that Zinke's latest port plan for federal facilities sounded ill-considered. Experts reportedly said that "development still needs approval from state-level environmental regulators who have thwarted other projects."
Sarah Emerson, managing principal at oil and gas consultancy ESAI Energy, commented: "The Adak base is on an Aleutian Island, so you could also see a submarine [pipeline] link. I think this is a hard sell for the oil and gas industry."
Tom Hicks, a former Undersecretary of the Navy and now a director at energy consultancy Mabus Group, also noted: "Just because it was once a military base that is closed doesn't mean the Department of Defense has anything to do with it. I don't even know what the role of the Interior would be at that time. Usually the land is handed over to the state.'