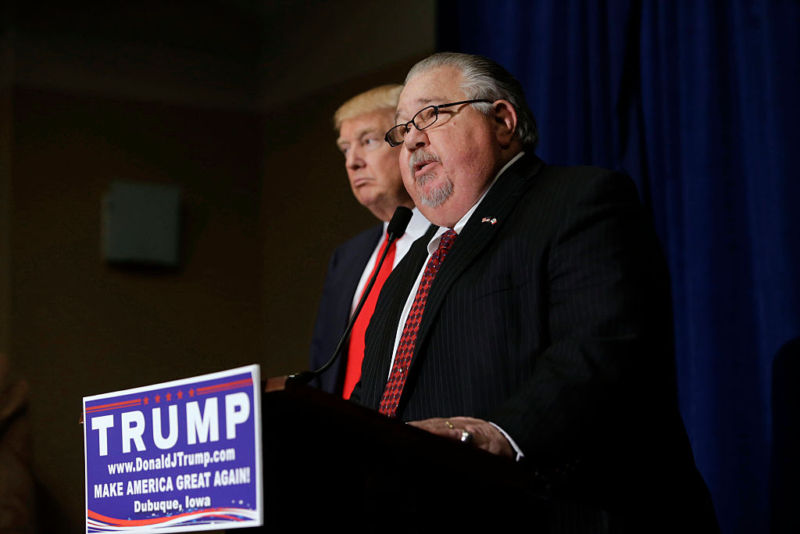 Yesterday, the Trump administration's choice for a science position at the Department of Agriculture pulled his name out of consideration. Sam Clovis, who was a talk show radio host before joining the Trump campaign, had been a controversial choice to begin with due to his complete lack of experience in agriculture or science. But his nomination was ended because of his role in the Trump campaign, where he oversaw George Papadopoulos, the first person to plead guilty over Robert Mueller's investigation of the campaign's Russian ties.
Clovis has served as a White House adviser to the Department of Agriculture since Trump's inauguration. Earlier this year, Trump nominated him for a formal position within the department: the undersecretary of research, education and economics. That position coordinates research within the department, and the person who holds the position is often referred to as the Chief Scientist of Agriculture. The law that created the position specifies that the person nominated for it must be chosen "from among eminent scientists with specialized training or significant experience in agricultural research, education and economics".
That description doesn't fit Clovis, and several Democratic senators questioned his qualifications prior to his nomination hearings. Clovis' answer to questions from Debbie Stabenow (D-Mich.), senior member of the Senate Agriculture Committee, was obtained by The Washington Post. In it, Clovis admits that he has not taken any courses or published any research in the fields of science or agriculture. Instead, he suggested he was qualified because some of the courses he taught had some material on agriculture, and he had run for state office in Iowa. "One cannot be a credible candidate in that state," Clovis argued, "without significant agricultural experience and knowledge."
There were indications that Clovis didn't understand science very well, such as his rejection of the science behind climate change. Given the challenges facing agriculture in a warming world, that alone could be enough to disqualify him from this position. Some senators felt the same way. Patrick Leahy (D-Vt.) stated, "He is undeniably unqualified, and he is wrong on almost every major issue relevant to the chief scientist position for which he was nominated." But his nomination was still on track for Senate hearings ahead of this week.
That's where Robert Mueller's Monday announcements stepped in. In addition to two charges, Mueller investigators revealed they had received a guilty plea from Trump campaign aide George Papadopoulos, who had cooperated in the investigation. Some documents related to Papadopoulos' sentencing include descriptions of his communications with his supervisor regarding efforts to coordinate with Russian sources. It was later revealed that Clovis was the supervisor.
In his withdrawal letter, obtained by CNN, Clovis denounced that "the political climate in Washington has made it impossible for me to receive balanced and fair compensation for this position."