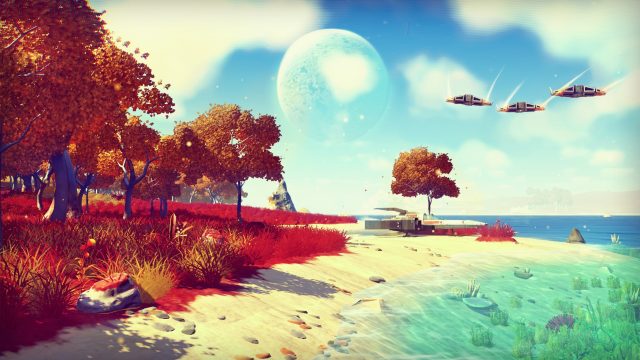 Did you think the highly anticipated procedurally generated space exploration game Nobody's Heaven was in any way related to British telecommunications and broadcasting giant Sky? Of course not. But it apparently took the justice system three years to come to the same conclusion.
So says Sean Murray, general manager of Nobody's Heaven creator Hello Games. During the weekend, Murray tweeted that the company settled a legal dispute with Sky over the name of the game after "3 years of secret stupid legal nonsense". In a follow up tweet, he added that "these are the same people who made Microsoft turn Skydrive into Onedrive…so it was pretty serious." ("On the plus side, this may be the real reason why Skynet never happened…" he joked)
Indeed, Sky went after Microsoft's Skydrive in 2014, forcing an abrupt name change from the massive company. Last year, Sky also took legal action against Microsoft's Skype, arguing that the service's logo looked like a cloud "so could easily be associated with the word 'sky'." A European court eventually agreed with that argument.
Trademark arguments for common words are rampant in the gaming industry, including zombie Atari's claim to the term "Haunted House," King's attempt to trademark the word "Candy," Ubisoft and EA's battle over the word Ghost, and Bethesda and Mojang's battle over the word 'roll'.
Nobody's Heaven was recently pushed back from a planned June 21 launch to August 9, leading many to wonder what was hindering the game's development at this late stage. A legal battle requiring a last-minute name change would certainly be appropriate for such a delay, though we're not sure at this point if this was the cause. If so, then Sky Broadcasting owes us about six weeks of free space exploration!