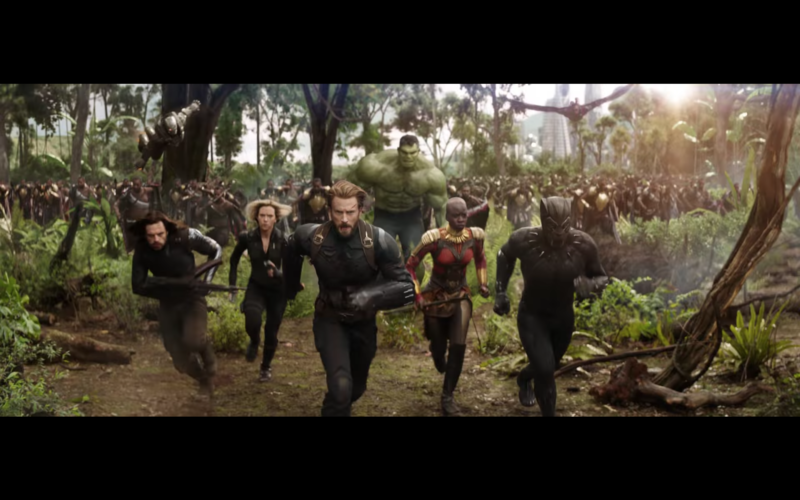 Unsurprisingly, this holiday season of movies is the very first trailer for the most anticipated summer blockbuster of 2018: Avengers: Infinity War.
If Wednesday's trailer is any indication, we'll have to wait for a steady stream of information to see what the heck will happen in the movie, but for now at least we know there will be about 40 gazillion Marvel characters in this one. Also, none of them seem to be happy.
Scarlett Witch and Vision come closest with a calm, moonlit embrace. Otherwise, every Marvel character in the trailer will writhe in pain, stare intently or plunge into battle. The full cast of both Avengers movies can be seen here, with the exception of Jeremy Renner's Hawkeye who is noticeably absent from the trailer. Black Widow has gone blonde and to show her off, Captain America chooses a beard. Show off. (We also hear a scream from Black Panther suggesting someone "give him a shield," which may or may not be about the Cap.)
We also see the full weight of the Marvel Cinematic Universe being carried, with quick confirmations from Doctor Strange (along with his buddy Wong), Thor, Loki, Spider-man (with an upgraded suit), Okoye, Bucky Barnes, Falcon and the entire roster of Guardians of the Galaxy battle the Infinity Stones-bearing evil of Thanos. (Ant Man may also be very well hidden in the 2:24 trailer, in its smallest form.) It's a lot of heroes, but given how charged Thanos has gotten over the course of so many Marvel movies, that hero overload will probably be necessary , at least in terms of Marvel Comics continuity.
Whether that tilts the movie from friendly yet epic to something a little too steel-faced remains to be seen, and this trailer is all attitude and generic exclamations, rather than revealing exactly how these characters – who have the head have seen and betrayed each other a lot in previous films – will unite with superpowers as well as in camaraderie. But hey, that's what the full movie is for, which is still slated for a May 2018 launch.