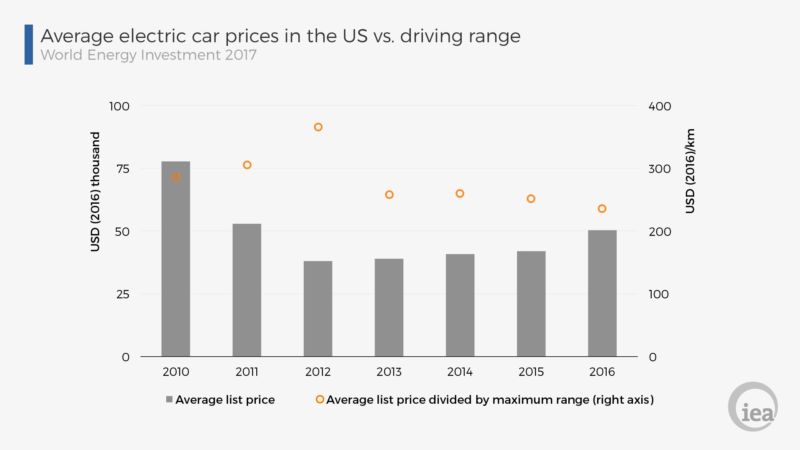 Around the world, the average price of electric vehicles (EVs) rose in 2016, but according to the International Energy Agency (IEA), that's not necessarily cause for alarm. When the agency divided the list price of EVs by their range, it found a downward trend in how much value an EV buyer is getting for their money.
According to data from the annual World Energy Investment 2017 report, the average price of electric cars sold worldwide was at its lowest in 2012. Over the next five years, that number has grown steadily – a trend you'd expect to worry those proponents who believe that electrifying a significant portion of the auto industry is one of the most important ways to reduce carbon emissions.2 emissions. While higher prices reflect "faster growth in more expensive models," they don't account for "range increases from battery improvements," the IEA wrote.
Dividing the list price of EVs in the market by their maximum stated range shows a different story. In 2012, EVs averaged $400 per mile of range, while in 2016 it was closer to $250 per mile of range. As EVs become more expensive, they also become more functional. "For now, battery cost reductions translate into increased range rather than lower vehicle prices," the EIA wrote. "The average price per kilometer of range fell by six percent in 2016."
The numbers also only count electric cars from 2016, and 2017 was a notable year for affordable long-haul cars: both the Chevrolet Bolt and Tesla Model 3 entered the market. Those market entries may spur some growth in the small electric car market. According to recent research from consulting firm McKinsey & Company, 30 percent of American car buyers are considering an electric model, but only three percent actually buy one. In fact, while the global EV market posted record sales in 2016, market growth slowed to 60 percent in 2016 from 77 percent in 2015.
Frame image by Qilai Shen/Bloomberg