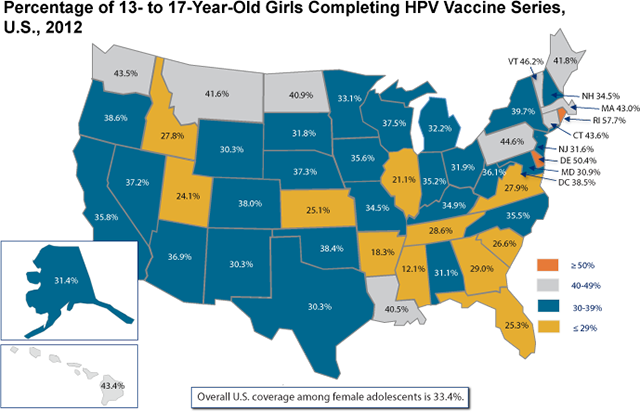 In a world obsessed with curing cancer, prevention gets less attention, but it's also generally less painful and less expensive. Human papillomavirus (HPV) vaccines are a formidable weapon in the arsenal against multiple cancers, but vaccine adoption in the US is low, especially compared to other high-income countries.
According to the 2012-2013 President's Cancer Panel Annual Report, only 33.4 percent of girls in the US complete the course of three HPV vaccines, compared to 60.4 percent in the UK and 71.2 percent in Australia. Vaccination rates for boys are even lower, less than seven percent – ​​not surprising given that many public health campaigns target girls specifically.
This is a problem given how common HPV is and how dangerous it can be. At any given time, one in four Americans is infected with at least one virus strain. Almost all sexually active people will become infected with it at some point in their lives. Most infections are cleared by the immune system, but the remaining cases can lead to cervical, anal, or oral cancer, with about 26,000 cases in the US each year.
Two vaccines against HPV have been available for some time. Cervarix is ​​"bivalent" and protects against the two most common cancer-causing strains, HPV-16 and 18. Quadrivalent Gardasil protects against four strains: 6, 11, 16 and 18. However, these are not the only HPV strains associated with cancer. A recent article in the New England Journal of Medicine reports that a new vaccine, Gardasil 9, provides protection against the original four strains, as well as against HPV-31, 33, 45, 52 and 58.
The randomized, double-blind clinical trial, conducted in 14,215 women, showed that the new 9-valent Gardasil provided increased protection against genital cancer in women between the ages of 16 and 26.
For diseases for which medical treatment is already available and recommended, such as the Gardasil quadrivalent vaccine, it is considered unethical to compare a new treatment to a placebo. This is because the control group receiving the placebo misses out on the recommended treatment, putting them at risk. Gardasil-9 was thus compared to Gardasil in this trial.
The results showed that Gardasil-9 provided the same protection against HPV-6, 11, 16 and 18 as Gardasil, and increased protection against the five additional strains. Overall, the researchers report that the 9-valent vaccine could prevent about 90 percent of cervical cancers, compared to Gardasil's 70 percent protection.
There are indications that the bivalent and quadrivalent vaccines already provide some protection against additional HPV strains. A recent article in Clinical and Vaccine Immunology clinical trial reporting for Cervarix stated that the vaccine is more than 96 percent effective against diseases associated with strains 16 and 18, and more than 50 percent effective against diseases associated with any strain of HPV.
The Cervarix trial found that the vaccine is most effective in the youngest age group of women tested, between 15 and 17 years old, says Dan Apter, director of The Sexual Health Clinic, Family Federation of Finland, Helsinki. He explains that older women in the trial were more likely to have already been infected. The vaccine doesn't work for people who already have HPV, so there were lower efficacy rates for older groups. This highlights the importance of vaccinating young teens before they become sexually active, he says.
In the Gardasil-9 study, the 9-valent vaccine was associated with more side effects, but the effects were not comparable to the cancers prevented by the vaccine. The slightly higher rate was to be expected, the researchers note, because the new vaccine has more virus-like antigens. The most common effects were swelling and pain at the injection site, and some patients experienced headache, nausea, dizziness and fatigue.
HPV vaccines and public health campaigns should not be limited to girls, Apter says, and Prof. Elmar Joura, lead author of the Gardasil-9 paper, agrees. "The women-only campaigns leave men who have sex with men unprotected," says Joura. In societies where girls' vaccination rates are low, men who have sex with women are also at risk for HPV-related illnesses. Getting vaccinated not only protects men individually, but also contributes to herd immunity, Apter says.
There is still work to be done. More studies are needed to examine the vaccine's effects in boys, Apter says. And it is necessary to continuously evaluate the results in countries with good HPV vaccination coverage, such as Australia and the UK. "Performance in real-life situations is essential," says Joura. "There you can see whether the vaccines are doing what they are supposed to do."
New England Journal of Medicine2015. DOI: 10.1056/NEJMoa1405044 (About DOIs).