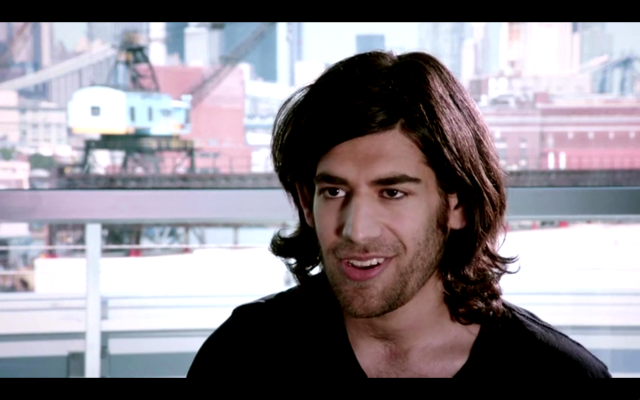 Every element of Aaron Swartz's short, remarkable life exemplifies the things we discuss all the time on Ars. His technology-filled upbringing, his rise to geek royalty as a teen, his hand in the genesis of Reddit, and his online political activism made him a worthy topic of Ars conversation long before he became a household name.
Sadly, Swartz's story didn't reach critical mass until he took his own life nearly two years after being charged with 12 felonies in a federal court. The case revolved around allegations that he downloaded 4.8 million documents from JSTOR, an online academic research archive, which he accessed without permission from the MIT campus.
In the weeks following his suicide, the internet saw both a massive outpouring of grief and an extensive investigation into what made his case so outrageous. The latter makes the new long documentary about his life, The internet's own boynot indispensable in telling Swartz's story, but given that he's spent his last years making information free and open, that's fitting.
Where the public record falters – and where this film picks up the slack – is in understanding Swartz's personality. Director Brian Knappenberger can't fully overcome the bias inherent in honoring Swartz's memory, but he still mostly strikes the right balance in telling the programmer's life story and the rapidly changing world of technology around him. The result connects the dots between a young genius and a charged overachiever who spends decades in prison and receives a life sentence as a "felon."
The Story of an "Alpha Nerd"
After a brief summary of Swartz's federal lawsuit and subsequent death, The internet's own boy quickly changes tone by depicting a squeaky-voiced toddler in a Teenage Mutant Ninja Turtles shirt reading books and playing with his two younger brothers. Between home movies, family members tell stories of his early genius: reading adult sentences by the time he was three years old, using computers to do so, and creating a poor man's version of Wikipedia in 2000, when he was just 12.
Swartz once told his younger siblings, "There was always something that programming could solve," and the documentary picks up on that as a thesis statement. As a teenager, he was an outspoken member of the early RSS development community, helping to build Creative Commons before going to Stanford, the school he dropped out of, so he could focus on giant Internet projects like Reddit and Demand Progress. He made no small contribution to such endeavours, and he amassed a large following of fans before he turned 18; such celebrities, appearing in the film to speak for Swartz, include Lawrence Lessig, Cory Doctorow, World Wide Web inventor Tim Berners-Lee, and others.
Viewers unfamiliar with acronyms like RSS, PACER, and JSTOR can look forward to clear, concise summaries of the work Swartz was obsessed with, all presented with punchy isometric diagrams. The technical stuff doesn't get in the way of understanding Swartz's overall personality, but Knappenberger occasionally exaggerates the explanation, as if to avoid having to reveal the programmer's most unpleasant traits.
Cory Doctorow calls him "belligerent but smart," and Swartz is described in other scenes as a picky eater, an "alpha nerd," and "a strong personality that ruffled feathers at times." Enough underhanded compliments pile up over the film's run that viewers might wonder how much the film has softened Swartz's treatment, but it also presents Swartz's various higher levels and mission statements about doing good, freeing information, and "making the world a better place." "
These moments punctuate the stories of his later initiatives, which gained momentum after he left Reddit, a company he co-founded. After seeing the federal court's PACER database exclude citizens from public information through a paywall, Swartz coordinated the legal, free accumulation of his database. After that success, he set his sights on JSTOR, the giant database of scientific journals that houses a mix of publicly and privately funded research behind its own semi-opaque paywall.
Swartz took advantage of that weird not-quite-paywall by logging into JSTOR from MIT's libraries under fake accounts to download his massive database of magazines and newspapers. When his strenuous activity was noticed and then blocked, Swartz reportedly responded by waltzing into MIT's basement and plugging a computer directly into the university's network to resume his downloads.
The internet's own boy focuses heavily on the MIT story that led to his arrest and years of back-and-forth with the federal government, and savvy documentary viewers won't learn too much new information. Aside from a few grim scenes, most notably the security camera footage of Swartz in MIT's basement, the film recounts details that had already been exposed, including the disproportionate aggression of federal prosecutors and JSTOR withdrawing its initial request for prosecution.
Fight prejudice with prejudice?
Where the movie could have excelled is in telling the story from all sides, but the cast of confidants and co-workers rarely take sides other than Swartz's. In particular, the movie's talking heads are almost unanimous in agreeing that the current copyright system is "obsolete," and they make few comments about content protection, let alone new ways for creatives and programmers to monetize a share. crazy internet. (The film comes closest by explaining Swartz's work on Creative Commons, which the film later describes as an imperfect system.)
That's a hard complaint to swallow, since much of Swartz's downfall stems from his unique take on copyright, and the issues he eventually faced are met in the movie with mostly blind rage and utter disagreement. For example, at no point is his criminal actions at MIT described as "civil disobedience"; instead, Swartz's actions are compared to those of Steve Jobs and Bill Gates, who broke and bent laws in their early careers.
It's not until incredibly late in the movie that we get any sense of the other side of the argument. "What drove the prosecution was the sense that Swartz was committed not only to breaking the law, but to destroying it," said Orin Kerr, a former federal prosecutor and law professor at George Washington University. "Giving access to the data in a way that prevents the toothpaste from going back into the tube. Then Swartz's side would win."
The movie could have been so much more powerful if it explored how Swartz grew up too fast to appreciate the "at any cost" part of his deliberate law-breaking, which was opening that tube of toothpaste. To Knappenberger's credit, the film takes the opportunity to direct its anger at the widespread problems of American over-prosecution: "Everything we fear, like the future of the Internet and access, and everything we're angry about, creates a criminal justice intervention," said Bryan Stevenson of the Equal Rights Initiative, "but most of the time the people targeted and victimized by incarceration responses are poor and minority."
Perhaps the filmmakers felt Swartz's case was skewed enough in his favor; why not a movie that tells the story from the other extreme? Indeed, the most powerful moments don't suffer one bit despite bias, most notably a scene where Swartz's ex-girlfriend (and Wired freelance collaborator), Quinn Norton admitted to sharing potentially damaging information with federal prosecutors.
"In that moment I regret saying what I did," Norton said. "But my much bigger regret is that we agreed to this — that we're okay with a justice system that tries to play people into petty traps so we can ruin their lives."
The film closes by embracing the same attitude Swartz had in his final days in public life: calling for action and championing grassroots efforts to promote freedom of information (along with all lawmakers who united in those efforts). Those tales of active, engaged masses versus a confused old guard, told clearly and quickly with lots of context and very little irritating hand-holding, rise above the film's missteps, ultimately making this one of the best technology-obsessed documentaries in recent times. history. . In fact, the film closes with a slew of very interesting Swartz interviews on US Internet policy, from the SOPA debate and beyond, and their conclusions are still relevant today.
He may have been an obnoxious co-worker and a picky eater, but between his efforts and movies like this, Swartz won't soon be forgotten.