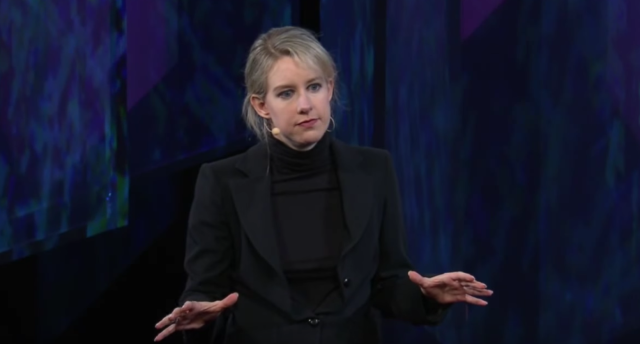 After research revealed major problems at its California blood testing lab, high-profile medical startup Theranos is in deep water with the Centers for Medicare and Medicaid Services (CMS). As Ars previously reported, the company is facing sanctions, including losing approval to test human samples.
But according to a report from Wednesday in The Wall Street Journal, the sanctions could also include Theranos CEO and founder Elizabeth Holmes and its president, Sunny Balwani, not owning or operating a lab for at least two years. The potential ban was mentioned in a March 18 letter from the CMS to Theranos. The letter has not been made public, however WSJ reporters watched it.
According to those reporters' sources, Theranos had 10 days to respond, which it did. The CMS is now studying his response. If the agency is still dissatisfied with Theranos' performance, the withdrawal of approval to test blood samples and the ban could take effect within 60 days. Theranos can still appeal the decision WSJ noted, but appeals rarely succeed. Between 2001 and the end of 2010, the CMS did not lose a single case.
The plight likely led to the company's move last week to appoint several respected medical experts to its advisory panel. Theranos said the experts will help "advise Theranos on the full integration of its technology into daily clinical practice, and publication and presentation in scientific journals and at scientific meetings…The members who are laboratory directors in their own institutions will work with the company to help inspect its clinical labs and assist clinical lab directors in implementing best-in-class lab procedures and processes."
Theranos — once valued at $9 billion for promising revolutionary devices that could perform a wide variety of medical tests with just a few drops of blood — has been dogged in recent months with questions about the accuracy and reliability of its tests, as well as the behavior of its workers. . A recent federal inspection report found that the company's blood tests failed quality checks nearly 30 percent of the time, and that the company failed to address the issues and not notify doctors of incorrect test results.
Theranos spokesperson Brooke Buchanan responded at the time, writing, "We have made mistakes in the past at the Newark, CA lab, but when the company was made aware of the shortcomings, we used all resources to correct those mistakes. "