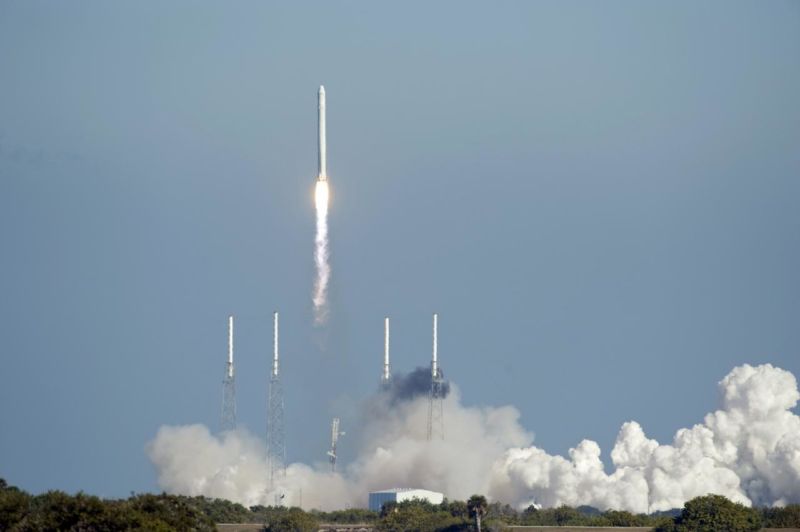 SpaceX launched its first Falcon 9 rocket less than a decade ago, in June 2010. Early next week, the California-based rocket company is going for the 50th launch of its workhorse booster.
The launch attempt will come from the Kennedy Space Center in Florida as early as next Tuesday, 12:33 a.m. ET. SpaceX will attempt to launch the Hispasat 30W-6 communications satellite into geostationary orbit. The mission has a two-hour launch window.
It is not clear whether SpaceX will attempt to land the first stage of the Falcon 9 rocket. The satellite weighs just over six tons, which is about half a ton heavier than any Falcon 9 payload aimed at geostationary orbit that the company has attempted to land before. Therefore, the rocket will use almost all of its fuel to get into proper geostationary orbit, making each return to Earth hot and fast.
Assuming the Hispasat mission launches next week, SpaceX will soon have reached its 50th launch for an orbital rocket, lasting seven years and nine months. In comparison, the Atlas V rocket took nine years and seven months, while the space shuttle took 11 years and five months.
NASA

On January 6, 2014, SpaceX successfully launched the THAICOM 6 satellite. This was the third flight of v1.1 (aka Block 2) of the Falcon 9 booster.

SpaceX

In January 2015, SpaceX first attempted to land a v1.1 version of its booster on a drone ship. It failed.

SpaceX

On December 22, 2015, SpaceX first launched the "Full Thrust" version (aka Block 3) of its Falcon 9 rocket.

SpaceX

This mission also marked the first successful landing of a Falcon 9 first stage.

SpaceX

On April 8, 2016, SpaceX managed to land a first stage on a drone ship for the first time. This was also a "Full Thrust" missile.

SpaceX

On March 30, 2017, SpaceX successfully flew another first stage with the SES-10 mission for the first time. This was a "Full Thrust" version of his booster.

SpaceX

On August 14, 2017, SpaceX flew the Block 4 upgrade of its Falcon 9 rocket, including improvements to engine thrust.

SpaceX
Last year, SpaceX really took off for the first time with the Falcon 9 rocket, which flew 18 successful missions. That's double the maximum number of flights the Atlas V (2014 and 2015) and the space shuttle (1985) have performed during their most fertile years. SpaceX officials have said they expect to launch significantly more than 20 Falcon 9 rockets this year.
What could have been?
On the occasion of the launch of the 50th Falcon 9 by SpaceX, it is worth pausing for a moment to consider what would have happened to the space shuttle program had it not suffered the fatal Challenger accident on January 28, 1986. . NASA had flown the shuttle nine times years earlier, and the space agency had already launched a space shuttle mission in 1986. It's conceivable that NASA could have doubled its 1985 total in 1986, especially with an additional launch site coming online in California.
"If the Challenger disaster never happened, military and intelligence payloads may not have moved so quickly to replaceable launch vehicles, especially in light of the Air Force's poised to shut down shuttle operations for its own purposes from west coast," Robert Pearlman, editor of the space history news website collectSPACE.com, told Ars.
Without the accident, the White House may also have authorized the space shuttle to continue launching commercial satellites for paying customers. This means that Lockheed Martin and Boeing probably wouldn't have moved forward with developing a modern version of their Atlas and Delta missiles.
"Without those steps, it's doubtful there would have been a market to maintain Atlas and Delta airfares as they emerged," Pearlman said. "And in the absence of a foundation for a commercial space launch market, you wonder if SpaceX would ever come — or at least be as aggressive in their development as they are now."