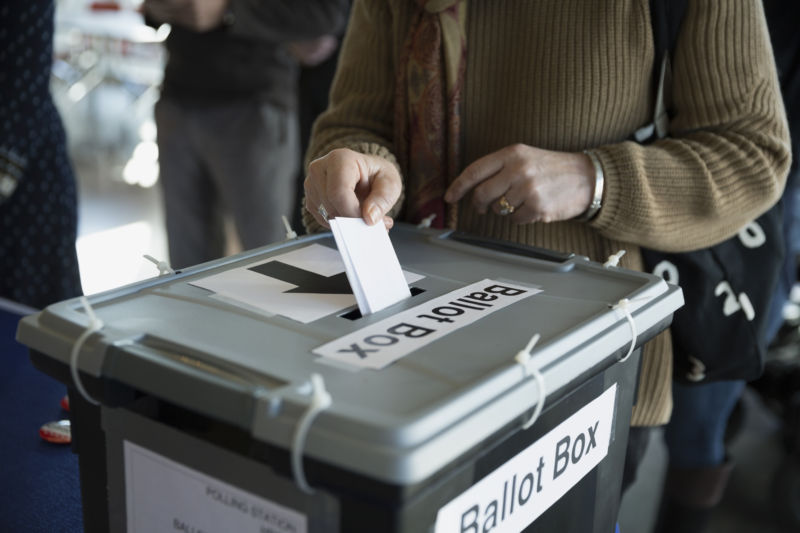 Tracy Van Houten undoubtedly has a cool job. She is a systems engineer at NASA's Jet Propulsion Laboratory and currently leads a team conducting tests for the upcoming Mars 2020 rover mission. She joined JPL 13 years ago, 15 miles outside of downtown Los Angeles. Since then, she has worked on several space missions, including the latest Mars rover mission, Curiosity, and a terrestrial satellite collecting data on soil moisture.
Getting a job at JPL was no accident. Van Houten dreamed of working at the NASA center since she was in high school, and she was looking for a way to get her foot in the door. She collected the business cards of people with even a slight connection to JPL, and sent out hundreds of resumes. She made her way to her dream job. Now she is ready to give up everything.
Van Houten runs for an empty seat in the 34. to fille Congressional District of California, which includes several prominent neighborhoods in and around downtown Los Angeles. She says she has been contemplating running for candidacy for several years, volunteering on past campaigns and attending political training seminars. When Xavier Becerra left his seat in Congress earlier this year to become California's attorney general, Van Houten saw an opportunity to accelerate her plan.
The field is packed: Van Houten is one of the 24 candidates in the race. The majority of the candidates in the race are Democrats, with one Republican, one independent and two outside candidates. Van Houten's competition includes candidates who have worked for Barack Obama, Senator Bernie Sanders (I-Vt.), and Los Angeles Mayor Eric Garcetti. Voters will vote in a special primary on April 4. Two frontrunners will be chosen for a general election in June, unless one candidate receives more than 50% of the vote, in which case that candidate wins. If Van Houten wins, she would become the first female engineer in Congress.
"It was very appealing that I could run for Congress in my area and fight back against the anti-science, anti-reasons agenda that is currently going on in Washington," she told Ars in a telephone interview. "And it's especially important to have people involved in the STEM discipline at the table in Washington. Our representation there is very, very low."
A growing group
Van Houten's campaign is not an anomaly. There is a growing trend of scientists and engineers seeking public office, many of whom say they are responding to the new Trump administration's cabinet choices and policy decisions, which in many cases have been at odds with science. Secretary of State Rex Tillerson is the former CEO of ExxonMobil, a company that misled the public about the effects of global warming. Scott Pruitt, the administrator of the Environmental Protection Agency, recently said he "would disagree" [human activity is] a primary contributor to the global warming we see," a statement that contradicts decades of accepted research. President Trump himself called climate change a hoax. His administration's proposed budget appears to cut funding to the National Institutes of Health by nearly $6 billion and end federal climate change programs. All these actions startled the scientific community, causing many to speak out publicly and get involved in the political process. A March for Science, also known as Earth Day, is planned for Saturday, April 22.
Historically, lawmakers in the U.S. House and Senate usually have backgrounds in law, business, or public service. Only a handful of scientists and engineers aspire to public office. Rush Holt, Jr., a former New Jersey Representative and current executive publisher of the magazine Science, notably produced bumper stickers that read, "My Congressman IS A Rocket Scientist!" He was only the second physicist in Congress, after Vern Ehlers, to represent a Michigan district as a Republican. Today, Bill Foster (D-IL) is the only physicist in Congress. And Louise Slaughter (D-NY) is currently the only House member with a background in microbiology.
Now, more people in STEM areas are showing an interest in running for office — and many have no formal experience leading a campaign. 314 Action, a nonprofit named after the first three digits of the number pi, hopes to solve that problem. It encourages people in the STEM community to run and provides resources to potential candidates, such as training sessions. Founder Shaughnessy Naughton, a chemist who previously ran for a seat in Congress, says having more science-minded people in Washington "would lead to a more collaborative and fact-based approach to governance."
"We have many people who have never considered running for office but now feel compelled to act and try to make a difference in their communities because of this assault on our future," she told Ars.
Since January, more than 3,000 people have contacted the organization. Most of those people are leftists and about half of them are women. 314 Action has not officially endorsed any candidates yet, but it currently only supports Democrats because the organization finds the Republican party anti-science, especially on climate change. However, the training courses are accessible to people of all political parties.
Scientists who don't join the Democratic party are also still interested in change. Michael Eisen, who teaches classes on genetics, genomics and development at UC Berkeley, plans to run for a Senate seat currently held by Dianne Feinstein in 2018. He told Ars he wants to work as an Independent.
"It makes the trail a little more difficult," he says. "But if I win, I'll be much more effective." Parties force politicians to "vote against what is rational," he adds.
Like other scientists, Eisen believes the country would benefit if more people came into office who are curious and use lots of data to solve problems. This isn't just true for people in STEM areas — he also thinks the government needs more people who are ranchers or farmers because they also use data to make important decisions.
The idea that science and politics should not coexist is outdated, says Eisen. And, he says, many scientists don't want to give up their careers. But Eisen wants to inspire other scientists who want to run as candidates in the future.
"There aren't many role models for scientists interested in politics," he says. "I hope I can help change it."
Jacquelyn Gill, a paleoecologist at the Climate Change Institute at the University of Maine, considered running for Congress, but she's decided not to run at this time.
A first salvo
With the election for the 34 . from Californiae district appearing Tuesday, Van Houten will likely be the first candidate from a STEM field since Trump took office. (Notably, a December second Senate election in Louisiana involved several candidates voicing unfounded doubts that humans were a primary cause of climate change.) If voters want more people in Washington from different backgrounds, this is the first test, though turnout for local elections are usually bleak. A March election in LA County drew just 11.45% of voters.
But Van Houten is optimistic. She recruited several engineers to work on her campaign, and the team digs into data every night. They use that data to target Van Houten's message and to communicate with people in the community. Her campaign aims to hold civil servants accountable and her priorities are immigration, LGBTQ rights, the environment and education.
Van Houten has kept her job at JPL, although she will quit if she eventually wins the general election. She believes her skills as an engineer and her work at JPL will easily apply to Congress. In many ways, she says, designing system requirements for a space mission is akin to drafting a law.
Another selling point of Van Houten to left-wing voters in Los Angeles is that she opposes Trump's policies and anti-scientific rhetoric from Washington. "The most effective way to fight back against a Trump administration and a GOP-controlled government is to send someone who is the opposite of Trump to Washington," she says.
Successful or not, Trump's policies are likely to continue to inspire more people from STEM areas to run for office, and perhaps more women and people from underrepresented communities.