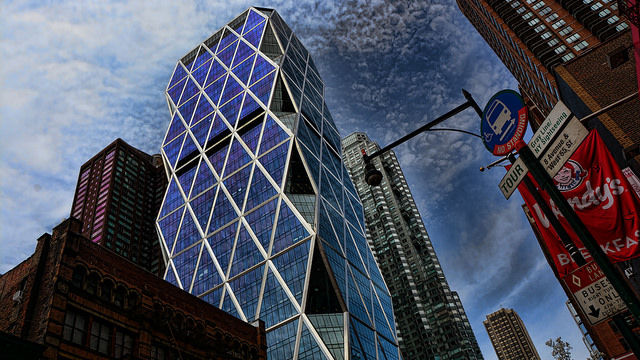 On average, the world is getting better at using energy to power its economic activity, according to a report from the Energy Information Administration (EIA).
The latest figures measure "global energy intensity," or the number of British thermal units used for each unit of gross domestic product (GDP) created. A falling measure of energy intensity does not mean that the world is using less energy overall, but it does mean that global economic activities are generally becoming more efficient.
Specifically, the EIA says global energy intensity fell by nearly a third in the 25 years between 1990 and 2015. "Energy intensity has declined in almost all regions of the world," says the EIA, in both developed and developing countries.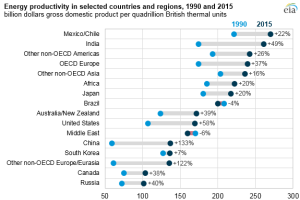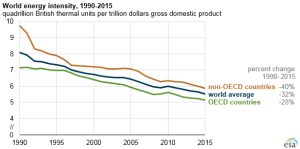 The EIA notes that countries within the Organization for Economic Co-operation and Development (OECD) are generally more efficient than countries outside it. OECD countries often have newer and more energy efficient buildings. They also all have vehicle fuel economy rules, which some poorer countries don't have. And OECD countries generally have local and national governments that can afford to regulate the industry.
But the biggest reason OECD countries are faster than non-OECD countries in reducing energy intensity is that they have moved to a more service-based economy, rather than a manufacturing-based economy. "Production-oriented economies generally consume more energy per dollar of GDP than service-oriented economies," says the EIA. It also notes that countries with more distance between urban centers expend more energy moving goods and passengers.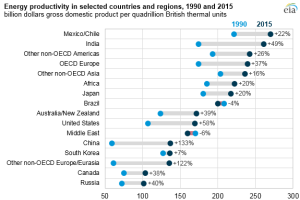 The EIA also measured energy productivity, which is the inverse of energy intensity, measuring units of economic productivity for every unit of energy consumed. The world has also seen significant increases here over the past two and a half decades. China came way ahead, with a 133 percent increase in energy productivity between 1990 and 2015, thanks in large part to the fact that the increase in economic output has doubled the increase in energy consumption. The US also saw a 58 percent increase in energy productivity in the same 25 years.