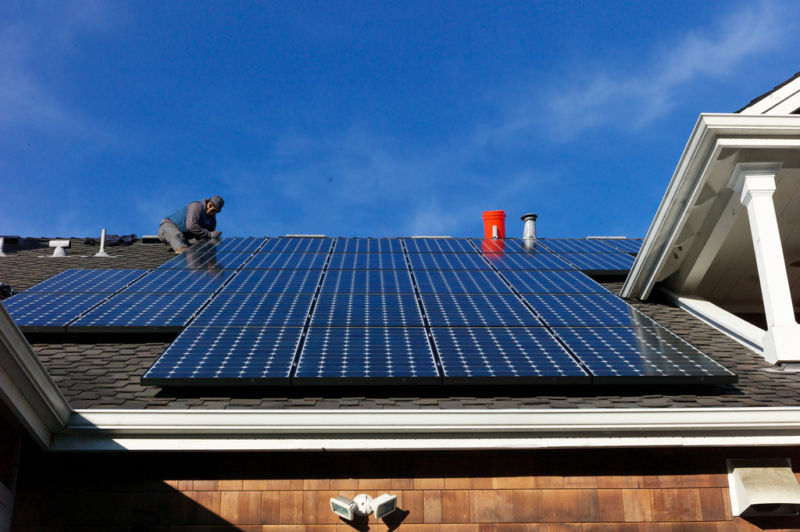 The first three quarters of 2018 show Sunrun's residential solar panel sales outpacing SolarCity's residential solar panel sales, according to data from analytics firm Wood Mackenzie. While Tesla, the owner of SolarCity, has been losing ground in solar panel market share for years, Sunrun's new uproar shows just how far Tesla has pulled SolarCity.
This appears to be at least partly due to Tesla's design: The company has moved repeatedly to scale back its solar panel business, end door-to-door sales, close some locations, and end affiliate sales at branches like Home Depot. As a result, SolarCity has risen from 33.5 percent of the US residential solar panel market share to just 9.1 percent of the same market, according to Wood Mackenzie's figures.
That's fine with Tesla. The company recently discounted its solar panels, and in a recent interview with Bloomberg, Tesla Senior Vice President of Energy Sanjay Shah said cutting marketing cut the cost of Tesla's systems by 10 to 15 percent.
Sunrun has not made any of the same cuts that Tesla has imposed on SolarCity. As a result, Sunrun's market share increased to 9.5 percent in the first three quarters of 2018. The company said in its third quarter financial report it added "13,000 customers and 100 megawatts of deployments," representing record volume for Sunrun.
The Wood Mackenzie figures show that Sunrun installed 163 megawatts (MW) of residential solar panels in the first three quarters of 2018. SolarCity has only 156 MW installed. An analyst said that as SolarCity sales have stalled, major regional solar installers have taken up most of the slack.
Even with Tesla's SolarCity retreat planned, the company has been slow to deploy its promised solar roof line at its Buffalo, New York, Gigafactory. According to Reuters reports from August, the company appears to be experiencing problems with the assembly line at that plant.