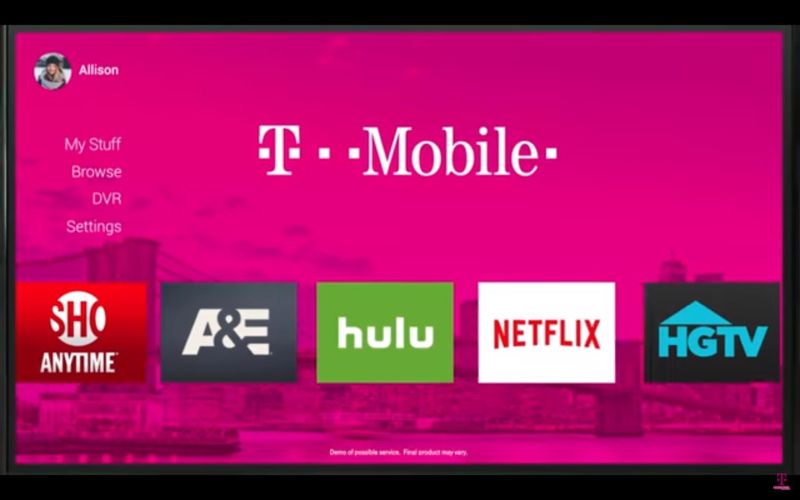 T-Mobile CEO John Legere announced today that the cell phone operator plans to acquire TV service Layer3 TV and offer a TV service next year that lets you watch "what you want, when you want." want, where you want" without the "complete bullshit" contracts, forced bundles and promotional prices that expire after a year – that is typical of the services of traditional cable TV providers.
Layer3 TV calls itself "The New Cable". It currently operates in only a handful of markets, providing access to a wide variety of HD and 4K channels (over 275 in total), streamed using the highly efficient H.265 (aka HEVC) video codec and a custom set top case. It's a pure IP service – there's no tuner in the box and it connects via Wi-Fi – and to support this Layer3 built a fiber distribution network and data center in Denver that handles transcoding shows to HEVC. It also has partnerships with ISPs to provide last mile connectivity. This private backbone network should mean that Layer3 doesn't experience the sort of problems Netflix faced a few years ago when links bought from Cogent became overloaded.
While the distribution and compression technology is modern, the rest of the current Layer3 service looks quite traditional. Layer3 offers a basic package of about 150 channels, like regular cable TV, you get access to your local CBS, NBC, ABC, Fox and PBS affiliates, among others, with add-ons for premium services like HBO, Starz, and Cinemax and extra bundles to add extra sports, music or Spanish language programming.
And while Legere has criticized the way cable companies use promotional pricing and long contracts, Layer3 uses some of the same tricks; while it doesn't require contracts, it does have 12-month promotional pricing. In Chicago, for example, the basic package is $75/month, but after 12 months it will rise to $89. Not quite as huge a jump as some other TV providers (AT&T's DirecTV, for example, offers $35/month packages that expire after the first year). more than double to $76/month), but still not ideal.
Currently Layer3 does not have its own streaming app; to watch on the go, you have to use the separate streaming apps that each TV station offers. The company says a mobile app is in development. The set-top box has a handful of apps, including one for YouTube, but doesn't currently integrate on-demand streaming services like Netflix, Hulu, or Amazon Prime.
T-Mobile doesn't say much about what its future TV service will actually look like. Given Legere's specific criticisms of promotional pricing and lengthy TV contracts, we'd expect something fairly simple on that front, but other details, such as whether the bundle model will be kept or whether there will be more à la carte will be used remains unknown. The company promises a clean, modern user interface and decent customer service. T-Mobile's promotional video also prominently features both Netflix and Hulu, although it includes a footnote warning that this is a "demo of possible service" and that the "end product may vary".
The terms of the acquisition have not been disclosed.