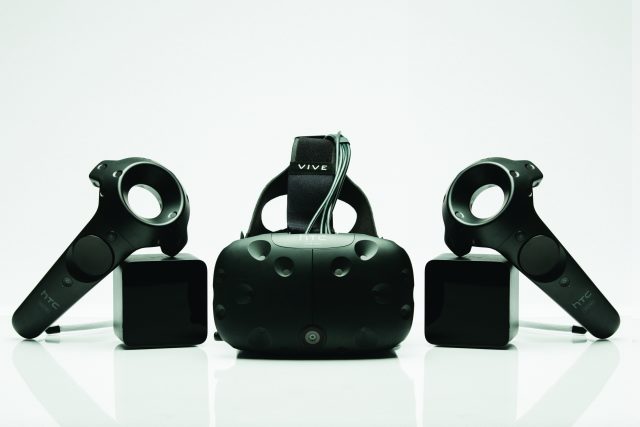 Update (1 p.m. Eastern): Valve and HTC have confirmed the basic information leaked in the story below through a press release (although full consumer availability is now targeting "early April" rather than April 1). The press release also confirms that the HTC Vive comes with two games: Job Simulator: The Archives of 2050 and Fantastic thing. Both titles rely on the Vive's hand tracking and gesture capabilities and should serve as excellent demonstrations of the headset's potential.
HTC also notes that it has upgraded the consumer version of the recently unveiled Vive Pre-dev kit with "refreshed branding and an updated headband". Pre-orders will begin at 10 a.m. Eastern Time on February 29, though the exact method for making those pre-orders hasn't been announced.
Original story
The HTC Vive virtual reality headset, the first such headset powered by Valve's SteamVR technology, will ship from April 1 for $799 (~£650), according to leaked reports ahead of an official announcement from Mobile World Congress on Monday to be expected. Pre-orders will reportedly be offered from February 29.
That price is significantly higher than the $599 (£499) price Oculus revealed for the Rift last month, but an HTC executive warned us months ago to expect "a slightly higher price" for the Vive at launch. Also keep in mind that the price of the Vive includes two hand-tracking, wand-like controllers – Oculus' similar, optional Touch controllers won't go on sale until the second half of the year for an unknown price. The Vive package also comes with two Lighthouse laser tracking boxes, which are used to measure the position of the headset and controllers as a user walks around the room.
The news, which comes nearly a year after the HTC Vive's unveiling at GDC 2015, was leaked ahead of an apparent embargo by German site ComputerBild, leading other outlets to confirm the same information. The Vive was originally announced for a late 2015 release, but that launch plan was severely scaled back in August before being officially pushed back to the current April window in December.
The leaks also include reports of a previously unannounced feature for the Vive: the ability to connect to many mobile phones via Bluetooth. For example, Vive users will reportedly be able to answer phone calls (using a built-in microphone), read text messages, and view calendar invites without removing the headset.
Like the Oculus Rift, the HTC Vive has to be tethered to a relatively sturdy PC tower, which isn't included in the price of the headset. Valve and HTC have yet to announce the minimum or recommended specs for such a PC, but HP's line of Vive-optimized Envy towers, co-developed with HTC, sport GTX 980 Ti or Radeon R9 390X graphics cards, high-end i7 CPUs and at least 16 GB of RAM. Demos of the headset have been performed at trade shows on systems with a GTX 980.