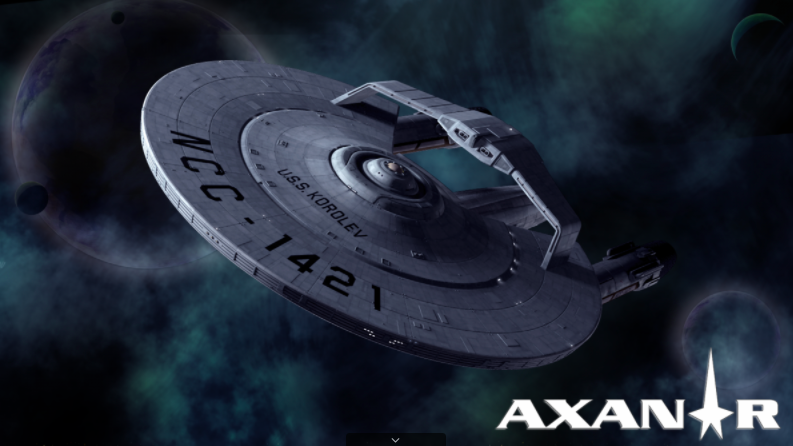 In a motion filed last week, CBS and Paramount asked a judge to rule that (PDF) fan-funded Axanar Productions was infringing Star Trek royalty. A day later, the small production company filed its own motion (PDF) claiming that its only existing 20-minute film, called Prelude to Axanarwas shot in a "mockumentary" style, as opposed to a real one Star Trek TV show or movie, and that Axanar Production's output was always intended to be non-commercial.
The company also claimed that CBS and Paramount do not own "the idea of" Star Trek or the Star Trek universe as a whole."
CBS and Paramount claim that Axanar's work is a copy of the "plots, themes, settings, mood, dialogue, characters, and tempo" of Star Trek works and that, by raising nearly $1.5 million on Kickstarter, the production studio was not operating non-commercially.
While those arguments aren't new from the studios, the recent motion cites several statements from Axanar's own top players challenging the idea that they were mere fans producing fan art. Prosecutors' attorneys write that representatives of Axanar wanted to make a "professional"-looking film and that executive producer Alec Peters "tried to meet Netflix to become a producer of Star Trek productions and even tried to trademark the word 'Axanar' (for commercial use).
The motion also includes testimony from Christian Gossett, director of Prelude to Axanarwho told Axanar's lawyers that the film he made infringes Star Trek royalty. The motion contains the following excerpt from that testimony:
Q. Do you think Prelude to Axanar infringes on Star Trek intellectual property?
A. Yes.
Q. And in what way?
A. In that sense, it's an unlicensed filmed entertainment that uses numerous elements of the fictional Star Trek world without—yes, unlicensed.
Prosecutors sought to disprove Axanar's arguments that it had created a separate untold story within the… Star Trek universe. They claim that the idea for the feature film's premise was first captured in an (licensed) 1980s RPG called Star Trek: The Role Play that came with an additional section called "The Four Years' War." That fictional conflagration is set against the backdrop of "the 'arms race' between the Klingons and the Federation to create new and more capable starships."
Attorneys for CBS and Paramount wrote:
There is no question that Defendants' works were not created for criticism, commentary, news coverage, or education. Likewise, the Axanar works do not constitute a parody or satire, and (prior to this lawsuit) defendants never claimed they were. Defendants expressly intended to provide an authentic and "independent" Star Trek movie" that stayed true to the Star Trek canon to excruciating detail.
The "Mockumentary" Defense
As for Axanar Productions, the company is now calling: Prelude a free "mockumentary". Axanar disputes that it should not be liable for any alleged infringement related to the planned feature film because that film wasn't even made — except for a three-minute scene called "The Vulcan Scene" — and the script would change at any time.
The most recent script for the feature-length film has more than 50 original characters out of 57 in total, the defendants said, adding that the project had modified the script to accommodate CBS and Paramount. "In fact, through the many scripts, defendants have attempted to craft drafts to allay plaintiffs' concerns regarding alleged infringement, and [Defendants] are now leaning towards more mockumentary-style works."
In June, CBS and Paramount released a list of 10 rules for fan film makers to avoid lawsuits like Axanar's. That list prescribes, among other things, that a fan film may not be longer than 15 minutes, and that a fan film may not be longer than two episodes.
In addition, "Plaintiffs own a limited number of Star Trek episodes and movies, but they don't copyright the idea of Star Trekor the Star Trek universe as a whole," the defendants wrote.
"While plaintiffs have copyright registrations for central Star Trek characters such as Spock and Captain Kirk, Works' defendants do not include those or other characters to which plaintiffs own separate copyrights," Axanar's motion says, adding that the 20-minute Prelude video is inspired by M*A*S*H, Band of brothers, Babylon 5, The Pacific oceanand The civil War as much as it was inspired by Star Trek.
Finally, Axanar Productions states that films like Prelude and the feature film it would make doesn't harm CBS and Paramount, but helps it financially. axanar said:
Star Trek fans have been producing and distributing fanfiction for over 50 years, without complaint, and rather with the encouragement of plaintiffs. Plaintiffs have benefited from fans' unpaid and often unrecognized labor, which has helped maintain commitment to Plaintiffs' work during the lean years in the Plaintiffs' production cycle.
The production studio quoted comments from Star Trek film directors JJ Abrams and Justin Lin said they were "outraged" by the suit from CBS and Paramount. "We started talking about it and realized it wasn't the right way to deal with the fans," Abrams had said at the time.
In a separate statement, Mike Bawden, Axanar's PR director, said the production studio will set up an independent financial review committee to ensure fans' money is being put to good use. bawden wrote:
As to where things will go after the trial, we think it would be futile to speculate too much. But Axanar Productions remains committed to addressing CBS Studios and Paramount Pictures Corporation copyrights in a way that enables us to tell the story of AXANAR that our fans and donors have supported. Once this lawsuit is resolved, the Axanar Productions team will meet and discuss what types of changes need to be made so we can move forward with production.
Go to discussion…