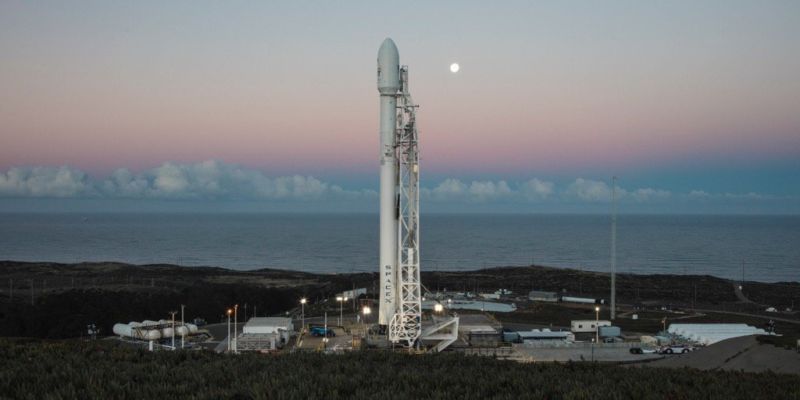 Update after launch: Despite some last-minute concerns about high winds and a wayward boat, SpaceX launched Saturday morning from Vandenberg Air Force Base. The Falcon 9 rocket made a scenic ascent, carrying its payload of 10 large satellites into low Earth orbit (they should reach their final 625 km orbit about 90 minutes after launch). The first stage then descended back to Earth and for the first time an onboard camera provided a view all the way down.
The rocket then lit up its landing Just read the instructionsthe first time the company has landed a booster in the Pacific Ocean.
The first stage has landed on Just Read the Instructions pic.twitter.com/W0EoLaO4YR

— SpaceX (@SpaceX) January 14, 2017
Original story: Today, SpaceX will attempt to launch its Falcon 9 rocket for the first time since a fuel mishap on Sept. 1, 2016, which destroyed the booster and its satellite payload on the launch pad. The immediate launch window for Saturday's attempt opens at 12:54 p.m. ET (5:54 p.m. UK), with launch from Space Launch Complex 4E at Vandenberg Air Force Base in California.
After a fairly quick investigation into the accident in September, in which SpaceX concluded that one of the three composite-wrapped pressure vessels in the liquid oxygen tank of the rocket's second stage failed, the company modified its fueling process. By taking a slower approach with its load and go refueling method, SpaceX expects to put less stress on the pressure vessels.
During SpaceX's last successful mission, the launch of JCSAT-16 in August, fueling of kerosene and liquid oxygen both began 35 minutes before launch. Now the company says kerosene loading will begin 70 minutes before launch, with liquid oxygen refueling 45 minutes before launch.
Saturday's launch will carry 10 Iridium NEXT satellites to 625 km orbit. These are the first 10 of 70 next-generation satellites that SpaceX will launch for Iridium and its mobile voice and data satellite communications network. After the satellites launch into space, Falcon 9's first stage will attempt to land on the Just read the instructions droneship in the Pacific. The webcast should begin approximately 20 minutes before Saturday's launch window opens.
The launch attempt comes at a critical time for SpaceX, which has had two accidents with its Falcon 9 rocket in less than two years. A report released Friday suggested the company had gone from moderately profitable to suffering significant losses in the wake of those accidents. So now the company needs to start flying its workhorse Falcon 9 rocket safely and often. That effort begins Saturday.