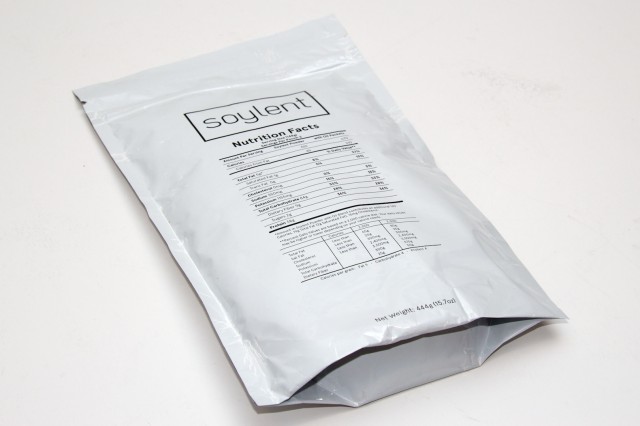 The only thing Soylent might want this holiday season is a new supplier.
After a flurry of online reports this year linking Soylent snack bars to bouts of "violent" gastrointestinal issues, the famed meal replacement maker pinned the trouble on purveyor TerraVia's whole algae meal. TerraVia cried viciously at the time. But things turned from awkward to hostile today.
TerraVia is suspending all ingredient shipments to Soylent "effective immediately," the company said in an early morning announcement. The discontinued deliveries include ingredients used in Soylent's 2.0 ready-to-eat meal and the new Coffiest drink.
The move could come as a crushing blow to Soylent, which has already halted sales of its snack bars and flagship 1.6 powder as it tweaks its formulas to completely exclude algae flour — a move that exacerbated the feud, according to today's announcement.
"The decision to suspend shipments is based on strong concerns that Soylent's actions in addressing the Powder 1.6 issues indicate a pattern of behavior that is detrimental to TerraVia's business," the company said in a press release.
Apu Mody, CEO of TerraVia, said the company was "surprised and disappointed that Soylent hastily suggested that algae meal is to blame and removed the ingredient without providing any evidence that they had conducted a full investigation of their formulations and the more than 40 ingredients in their products, as is customary in the food industry."
TerraVia, which makes plant-based foods, nutrients and ingredients, has claimed that its whole algae meal is safe, in compliance with federal regulations, and has never before been proven to cause disease.
Soylent said it found algae meal in a process of elimination. The sickening snack bars and powder 1.6 contain only a few ingredients that were not in the company's other non-nausea products, including Coffiest and powder 1.5. This allowed Soylent to quickly identify the source of the problems, which some consumers reported as causing diarrhea, vomiting and nausea immediately after eating. In November, Soylent founder and CEO Rob Rhinehart publicly fingered the algae meal in media interviews, sparking the feud.
Ars has reached out to Soylent for comment and will update this story with additional information.
[Update 12/20/2016, 3:30 ET] A class action lawsuit against Terravia is bubbling up among the company's investors today, which could fuel the public row with Soylent. In a November complaint (pdf) seeking class action status, an investor alleged that Terravia knew that their algae products caused gastrointestinal distress in some consumers, but concealed this fact from investors. The lawsuit cites a Bloomberg report showing that Terravia sent a message to a distributor in July "warning that it had received a 'modest number of reports' indicating that algal protein may cause 'gastrointestinal distress'." That's consistent with Soylent's customer complaints, which came to light in October. Since Soylent put the blame on Terravia's algae meal in November, Terravia's supply has dwindled dramatically.
[Update 12/20/2016, 4:00 ET] In a statement to Ars, Soylent said of Terravia's announcement:
This does not affect our business. We have already re-released Powder (v 1.7) without algae meal and have the deliveries of [the snack] Bar until reformulated. Although our ready-to-use line does not contain the ingredients of concern, we have already developed versions without algae as a precaution. Customers continue to receive Powder, Drink and Coffiest without delay.