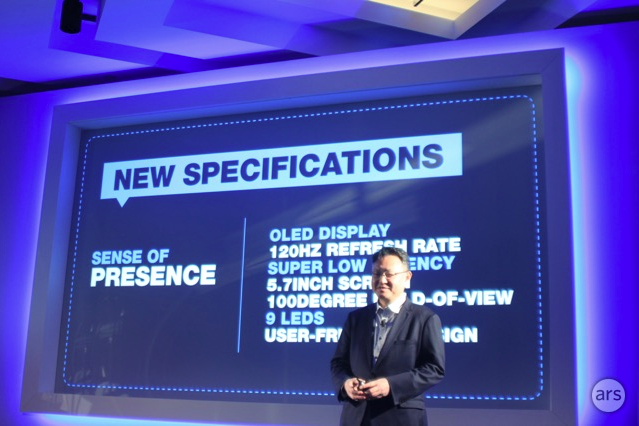 SAN FRANCISCO — At a Game Developers Conference event today, Sony revealed more plans for the company's previously announced Project Morpheus VR headset, due for release in the first half of 2016.
While no pricing or bundle details were announced, the device's upgraded specs were outlined by Shu Yoshida, president of Sony Worldwide Studios. Someone in the audience let out an audible "wow" as Yoshida began revealing Morpheus' 120 Hz refresh rate and key display update. The screen is now an OLED display at 1920 x RGB x 1080, which Yoshida says means low persistence and removes motion blur from the old LCD. The screen of the device is 5.7 inches large enough for a field of view of 100 degrees. And the new design includes nine LED trackers for 360-degree tracking, according to Sony.
"With these specs now in place, we're one step closer to making VR for games a reality," said Yoshida. He continued that with the device "almost the final technology", there is finally a set of standards for developers to focus on.
Up close and personal with Sony's new device.

Kyle Orland

…and see someone wearing it. Streamlined enough, right?

Kyle Orland
Sony hinted that actual games for Morpheus would have to wait until E3. However, the company is letting GDC press spend some time on four new demos. There's "London Heist," intended to show off "sophisticated interactions with the virtual world via PS Move and 3D audio." An updated version of the previous demo "The Deep" was intended to feature improved graphics. "The Toybox" shows that "VR is also great for cute, light-hearted content," according to Yoshida (explaining that it's a demo where you play with little robots). And the Sony executive concluded his explanation with "Magic Controller," which shows how "DualShock 4 can be used in VR and tracked by the camera." (That last title runs at 120fps by default, according to Sony.)
"London Robbery"

Kyle Orland

"The Toy Box"

Kyle Orland

"Magic Controller"

Kyle Orland

"The Depth" (new)

Kyle Orland

"The Deep" (old… but these are clearly not VR screencaps, but stills taken in a dark conference room)

Kyle Orland
While Morpheus is currently the only publicly announced console-based virtual reality solution, it will launch amid a number of PC and mobile competitors. Oculus hasn't yet announced a specific date for a first consumer version of its Rift headset, but it's widely expected to have something ready to launch this year. Valve and HTC recently announced a partnership to also get a competing PC-based VR headset, the Re Vive, into consumer hands sometime this year.
Ars is currently hands-on with Project Morpheus at GDC. We'll be updating this report with more logistical information as it becomes available, and we'll share our first impressions of the new device as soon as possible.
Frame image by Kyle Orland