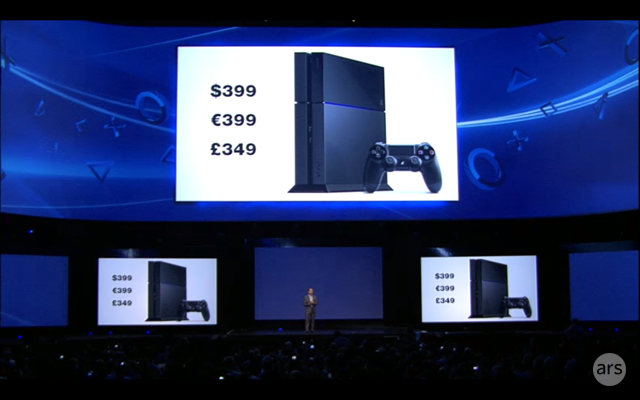 By the time E3 2014 rolled around earlier this month, the original $499 price point for the Xbox One was already ages old. But when I sat with Sony Head of Worldwide Studios America Scott Rohde during the show, I couldn't help asking how he felt when he first heard that the PlayStation 4 would launch $100 cheaper than its nearest competition.
"I'm not going to lie. I remember exactly where I was," Rohde told Ars. "Last year we were rehearsing at the press conference. We had a feeling they were going to cost $499, but we weren't sure. So yeah, we were dancing in the aisles and high-fiving. It was amazing. Everyone who came in for an interview, no matter what the question was, I could always answer it with $399. It was the answer to every question.
The process of getting to that point began way back in 2008, when Sony began working on the PS4 hardware design with a $399 price point firmly in its sights, Rohde said, echoing similar sentiments from Shuhei Yoshida, president of Sony Worldwide Studios . The focus on lower price was a result of hard-earned lessons from the previous generation of hardware, he said.
"We thought we could beat Microsoft in the previous generation because the first Xbox didn't have such a great market penetration and PlayStation 2 was so dominant at the time. We wanted a machine in PlayStation 3 that was great, that could do it all, and completely misjudged how much the market could carry in terms of price plus when we came out a year late it took us some catching up to get to where we needed to be but we're proud of where PS3 ended up and how it still is strong today."
And now that Microsoft has dropped the Kinect's forced pack-in to be more price competitive with the PS4? Rohde's response was more muted. "I think, to be honest, we always assumed that eventually they would have to release a SKU without a camera," he said. "So we were waiting for it to some extent and we were ready."
Steam engines competition? "Maybe ever"
While the console market is relatively stable at the moment, Valve still threatens to shake things up in the future with the recently delayed rollout of Steam Machine. However, Rohde seems to think that the software-focused Valve may have bitten off a bit more than it can chew in regards to its entry into the hardware market.
"It's not an easy trick to get global distribution on a piece of hardware," said Rohde. "That's something Sony is extremely good at and has been for years." When I pointed out that Valve outsourced the actual production and distribution of final Steam Machine boxes to hardware partners, Rohde said somewhat wryly that "we've tried that model before." He later confirmed that this was an explicit reference to failed experiments like the 3DO, where a single hardware standard was licensed and developed by a number of hardware makers.
Overall, though, Rohde seemed to view Valve's upcoming console/PC hybrid experiment as a big unknown at this point. "[The Steam Machine concept] is an interesting device," he said. "It's still in its infancy, we don't even know exactly what it is, or when it will happen, or what it will actually be. I think they settled on a controller. We're not even really sure. They've been bouncing for a while."
Does Sony see this as a potential competitor? "The short answer is 'Maybe someday,'" as Rohde put it. "It's not meant to be an arrogant statement. It's not something we say, 'Oh yeah, we're not worried about them.' I think we're always interested in anything that comes into this space because it's fascinating to all of us. [an immediate concern]. But it's an interesting technology.
"I think the great thing about the tech industry in general is that people get to try different distribution models and different things," he continued. "I think the whole rest of the industry will be watching closely what's happening there."