Sony is keeping tight-lipped for now, but it's looking increasingly likely that the company will release an updated version of the PlayStation 4 later this year. So far, the rumored console has gone by the name PS4K or PS4.5, but a new report from gaming site GiantBomb suggests the codename for the console is "NEO," and it even provides hardware specs for the PlayStation 4's upgraded CPU, GPU and higher bandwidth memory.
| | Original PS4 | NEO |
| --- | --- | --- |
| CPU | 8 Jaguar cores @ 1.6 GHz | 8 Jaguar cores @ 2.1 GHz |
| GPU | AMD GCN, 18 CUs @ 800MHz | Enhanced AMD GCN, 36 CUs @ 911MHz |
| Memory | 8GB GDDR5, 176GB/sec | 8GB GDDR5, 218GB/sec |
Those specs include a CPU clock speed boost from 1.6 GHz to 2.1 GHz, an enhanced AMD GPU with 36 Compute Units (CU) running at 911 MHz, and memory bandwidth up to 218 GB/s. While GiantBomb noted that the CPU cores remain based on AMD's Jaguar architecture – which was originally a chip developed for laptops – the GPU specs dovetail with recent rumors that AMD had made big design wins for its new Polaris architecture.
If the PS4 NEO GPU had 36 CUs, that would equate to about 2304 stream processors, doubling the number of the old chip. According to TechPowerUp, those specs are very similar to AMD's Polaris 10 "Ellesmere" chip, which is rumored to be used in an upcoming standalone Radeon R9 480 graphics card. While AMD has declined to comment on the scuttlebutt — telling Ars, "We don't comment on rumors or speculation" — the company has noted in the past that Polaris' focus is on power efficiency and "providing console-class gaming at a thin and light notebook."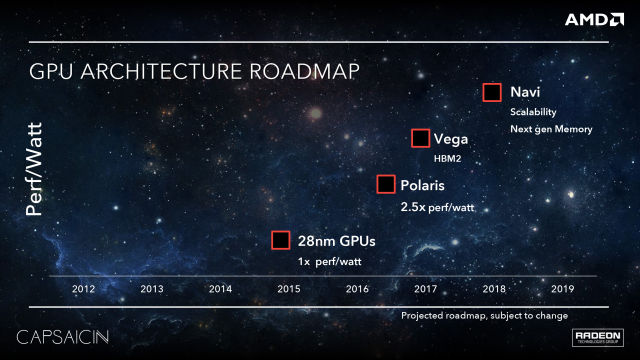 Indeed, a product roadmap shown at the Game Developers Conference in San Francisco in March indicated that AMD will soon follow Polaris with Vega, a higher-performance component with second-generation High Bandwidth Memory (HBM2).
Using a more efficient Polaris GPU may be necessary, not only for performance, but also to keep the power of the PS4 NEO low. While Sony has already updated the insides of the PS4 since launch with the CUH-1200 model – reducing the amount of memory chips and adding a more efficient power supply – the APU itself remains unchanged and is based on the same 28nm manufacturing process.
Anandtech's analysis of the Jaguar architecture before the launch of the PS4 and Xbox One suggested that the PS4's 1.6 GHz clock speed was the "sweet spot" for Jaguar, with a boost to 2 GHz requiring a TDP increase of 66 percent was needed. That's more power for the PS4 NEO to suck down and more heat to try to remove, something Sony probably doesn't want after the console shuts down with the CUH-1200 updates. However, that potential increase in power could be offset by a move to a more efficient 14nm process, which Polaris is already based on.
But what does this mean for games?
Technical details aside, GiantBomb's sources had some other tidbits about how the PS4 NEO might work. As of October, the rumored new console will be announced and released, every PS4 game will have to run in a "basic mode" designed for older hardware, and a "NEO mode" for the updated hardware. NEO Mode games can take advantage of the faster CPU and GPU in the PS4 NEO, as well as an additional 512MB of memory budget. The idea is to give 1080p games a frame rate and visual fidelity, while also giving developers the option to upscale games to 4K or render them natively at the resolution.
GiantBomb claimed documents that it had received detailed suggestions for how developers can build games in 4K, all of which explicitly state that "the frame rate of games in NEO mode must be equal to or higher than the frame rate of the game on the original PS4 system." While the improved CPU, GPU, and memory bandwidth will boost performance, the PS4's GPU would still lag behind the current generation of high-end parts from AMD and Nvidia, all of which struggle to render games natively at 4K on PC. to give.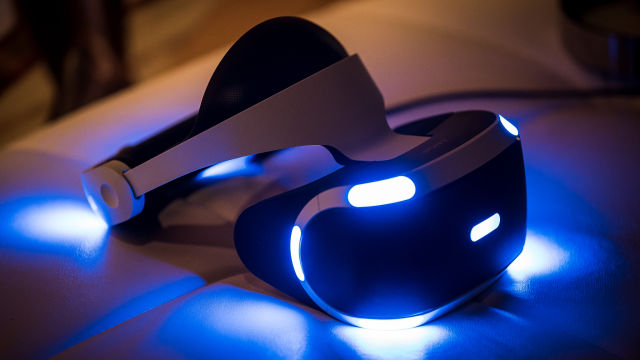 Those concerned about fragmented developer support can rest easy for now: GiantBomb's sources suggested that Sony won't allow just NEO games to be developed or separate the two userbases in any way. Peripherals should also be supported on both consoles, meaning PSVR will work on the old PS4. The PS4 NEO may not need the breakout box that comes with PSVR, though Sony has stated that the breakout box packs little processing power despite being actively cooled.
Games released on PS4 from October must support both the original console and NEO, according to GiantBomb, with games released in September receiving day one patches to bring them up to NEO standards. Older games would also need a patch to take advantage of the improved hardware, so don't expect them to suddenly run better on the new hardware.
Ars asked Sony for comment on the PS4 NEO rumours, but it had not responded to our request at the time of publication. But given the sheer amount of details leaked in recent weeks, including a recent one Wall Street Journal report suggests an October announcement – some new console is likely on the way. The question, of course, is how much will it cost? And since it's likely to be more expensive than the current £280/$350 PS4 price, does anyone want to buy one?
Three years isn't long in a console's lifecycle – the PS3 lasted from 2006 to 2015 – but it's old when it comes to PC hardware and mobile. Sony is taking a big gamble in hopes it can encourage consumers to upgrade their console more often – a gamble rival Microsoft seems happy to leave in Sony's hands, despite previous statements to the contrary. If Sony's gamble pays off, expect Microsoft to follow suit – and we'll all be buying consoles much more often.