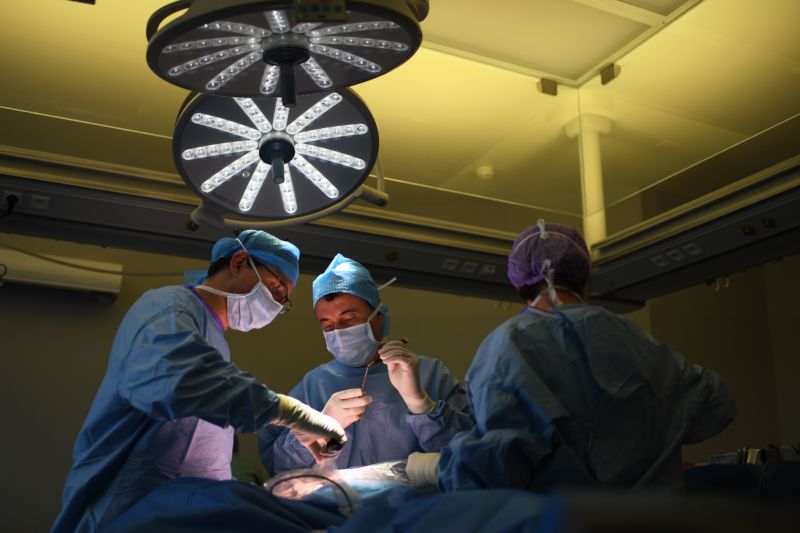 It's usually okay to take pride in your work and put your name to it. But most people would draw the line at signing their initials in the flesh of internal organs.
Apparently not Dr. Simon Bramhall from UK. He pleaded guilty to charges that in 2013 he etched his initials, "SB," onto the livers of two transplant patients with an argon beam. In doing so, he pleaded guilty to two counts of assault by hitting, but pleaded not guilty to the more serious charge of assault causing actual bodily harm. Prosecutors would have accepted his pleas and he would be sentenced on January 12.
Bramhall previously worked at Queen Elizabeth Hospital in Birmingham, where he gained fame with a dramatic liver transplant in 2010. Bramhall transplanted the liver after the fiery crash landing of the plane carrying the donor liver to Birmingham. Although the pilots were injured, the liver was intact and rescued from the burning wreckage. The transplant spared Dr. Bramhall's desperately ill patient.
But in 2013, colleagues discovered he had initialed his patients' organs. Doctors first saw the letters "SB" on the liver of one of Bramhall's transplant patients during follow-up surgery. Later they heard initials from another patient. Bramhall was suspended in 2013 and resigned in 2014 amid an internal investigation into the etchings. Earlier this year, the General Medical Council issued a formal warning to Bramhall, saying at the time that Bramhall's case "threatens to bring the profession into disrepute, and it must not be repeated".
Bramhall etched his initials using an argon beam – a jet of ionized argon gas – which surgeons use to control bleeding during procedures. Doctors taking part in the study do not think the marks are harmful and expect them to disappear on their own.
But prosecutor Elizabeth Reid said he said signing the body amounted to criminal breach of trust The protector. "It was a deliberate application of unlawful force to a patient while under anesthesia," she said. "His actions to mark the livers of those patients, in an entirely unnecessary manner, were deliberate and conscious actions on his part."
In a 2014 story in the Birmingham Mail, one of Bramhall's transplant patients, Tracy Scriven, said she didn't think the initials were important. "Even if he put his initials on a transplanted liver, is it really that bad? I wouldn't have cared if he had done it to me," she added. "The man saved my life."