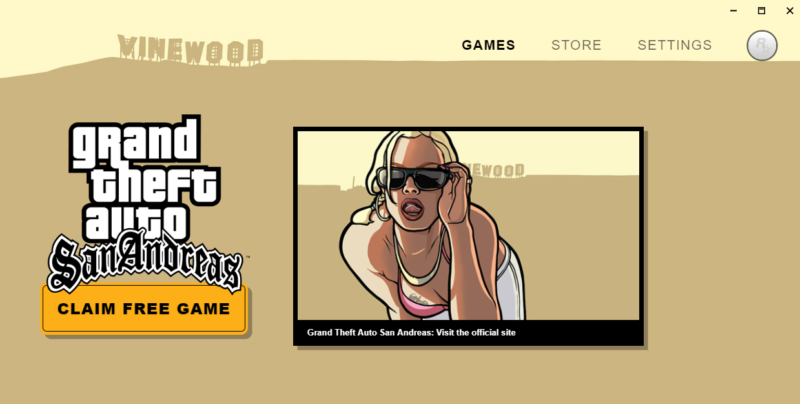 After we caught our breath and believed the broken space of PC game launchers had calmed down for a while, yet another contender arrived on Tuesday: Rockstar Games.
The simply dubbed Rockstar Games Launcher went live on Windows PCs worldwide on Tuesday, offering the opportunity to purchase and install a range of Rockstar-developed games (and their associated microtransactions). This is the first time Rockstar has offered direct purchases of its PC games, as opposed to offering games on services like Steam. With that in mind, the launcher also lets players find and boot the Steam installations of existing Rockstar games.
Currently, the app contains zero exclusive offers or apparent discounts compared to other retailers, so why should gamers install it?
For now, there's one carrot dangle: a free copy of 2004's Grand Theft Auto San Andreas (currently $14.99 on competing services like Steam). Rockstar has not confirmed exactly how long this freebie offer will last. For now, once you install the launcher, it immediately advertises your ability to get a free GTA:SA license. (This only works within the Rockstar launcher, as opposed to providing some code that can be loaded into another service.)
[Update, 3pm ET: Since this article has gone live, we've discovered another reason to install RGL, though it's arguably not a welcome one. Rockstar has now mandated the launcher's installation in order to boot certain games available on Steam. I uninstalled RGL from my testing rig, then attempted to boot my existing Steam installation of Grand Theft Auto V. At that time, Steam automatically loaded the RGL installation process. Thus, there is currently no way to play GTA V without having Rockstar's new launcher active. Rockstar isn't the first to do this, by the way; publishers like Ubisoft mandate similar launcher requirements in their Steam games.]
As for a good reason for the launcher's existence, I can't help but read between the lines. Since the launch of Red Dead Redemption II on Xbox One and PS4 consoles last year, rumors and speculation have pointed to an imminent PC version of the game. And like Grand Theft Auto V for the, RDR2 includes a massive microtransaction-fueled online mode. Rockstar may well believe that a game as big as RDR2 is compelling enough for fans to skip existing launchers and install another EXE on their Windows machines to play the company's most recent open-world adventure.
The gallery below examines exactly how the launcher works as of today's launch. In terms of native game launch, it includes positives like cloud storage support and simple "move files to a new folder" options (features that the Epic Games Store is still messing around with). But it also has drawbacks, such as the lack of an easily selectable "downloads" management tab. The launcher also includes a full-fledged store with a variety of global payment systems, but as of writing it only offers the Rockstar catalog of PC games – and it's missing a significant number of Rockstar classics, including GTA 1, 2 and 4, Midnightclub 2and Max Payne 1 & 2.
The installation process of Rockstar Games Launcher. I'll start with the language selection as a reminder that Rockstar has a lot of areas in mind with this new launcher.

Everything you need to install to continue. sip.

Yes, even if you enter your details correctly the first time, you will probably face an unpleasant captcha.

Welcome to the launcher. The app has already scoured my existing hard drives (Mr knows what information it returns to Rockstar) to find an existing Steam installation.

Claim it.

Install it.

At the very least, for a day one PC game launcher, Rockstar Games Launcher has a decent set of options for installed games. Cloud saves, check. Easy to move installation files, check.

Let's go to the store.

The "all games" tab reveals these franchises. They are all Rockstar related, not from other developers or publishers. And some big Rockstar series are missing.

Who cares about "activation codes"? Publishers. They mainly use these to hand out review copies to critics and streamers. This would be a useful tool if Rockstar releases a new game on this launcher. Like, I don't know, Red Dead Redemption II†

Store listing for a game.

Same list, continued.

Many, many ways to pay, including some payment services that are popular in other parts of the world.

And, oh yes, you can go ahead and buy microtransactions. Even if you own a game on Steam, these purchases will apply to that install, as long as your Rockstar Social account is linked.
Rockstar Games did not immediately respond to our questions about whether we can expect games from other developers on the service or whether Rockstar will launch games exclusively on RGL in the future.