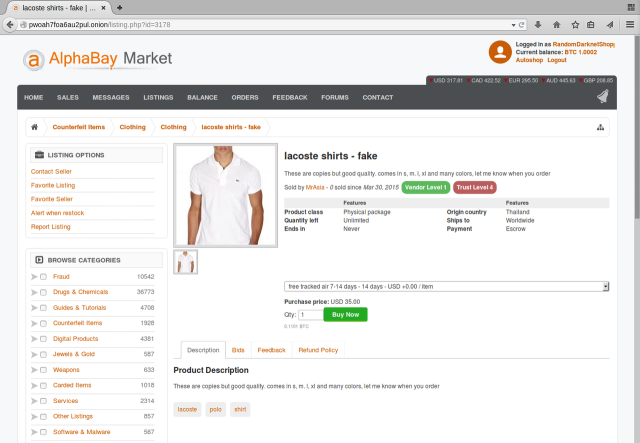 The last we heard about the "Random Darknet Shopper" over six months ago was that it was being returned to the Swiss art collective that made it after local authorities seized the laptop used to buy ecstasy online.
Now the Shopper is back and soon to be seen in London. It's even back to shopping: This week, it bought a $35 Lacoste polo shirt from Thailand.
At its core, Random Darknet Shopper is a live art project consisting of a laptop running a program designed to do nothing but randomly buy items from illegal Tor websites. Mediengruppe Bitnik, the Swiss art collective behind the project, designed the bot-based art installation on a budget of $100 in bitcoins per week. From there, the bot will randomly choose an item on Alpha Bay, currently the largest such dark market. (Previously it used Agora, which has since closed.) Finally, the purchased item is sent to the art gallery where the laptop itself is on display and added to the installation.
Bitnik told Ars that the only change since the previous install was that the bot makes purchases from Alpha Bay instead of Agora. Despite the switch, it means it can buy drugs online again.
Earlier, when the Shopper was on display in Switzerland, he bought fake diesel jeans, a fake Sprite stash can, a bait letter, a Hungarian passport scan, a baseball cap with a hidden camera and fake Nikes, among other items. From 11 December 2015 to 15 February 2016, the Shopper is on display at the Horatio Junior gallery at The Lord Nelson, 66 Canon Beck Rd, Rotherhithe, London SE16 7DN.