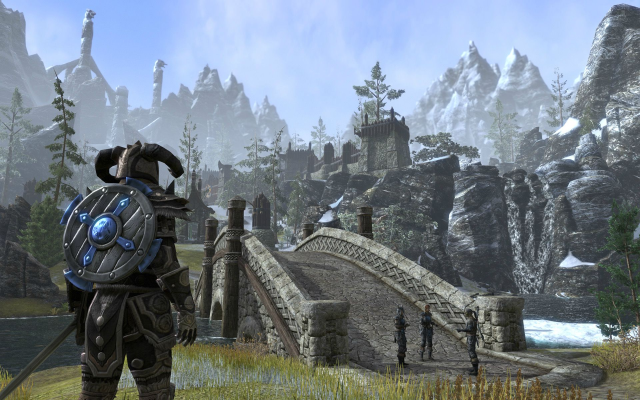 Bethesda Softworks parent company Zenimax Media has confirmed that the upcoming MMO The Elder Scrolls online does not require a PlayStation Plus subscription to play on the PS4. Xbox One players, on the other hand will have to pay for an Xbox Live Gold subscription to play the game.
All versions of The Elder Scrolls online, including PC and Mac editions releasing on April 4, will require a $15 monthly fee in addition to the $60 base game purchase. But Xbox One owners will also be required to purchase the Xbox Live Gold subscription from $60 per year, which is generally required for all online games on the system. That subscription is also required to use entertainment apps like Netflix and Hulu Plus on the Xbox One, as well as services like Skype and Internet Explorer. Sony does not require PlayStation Plus to use similar entertainment apps on the PS4.
Contrary to its policy with its previous consoles, Sony generally requires a $50 per year PlayStation Plus subscription to play most online games on the PS4, although free-to-play MMOs such as War frame And DC Universe online are expressly exempt from this requirement. Sony has also confirmed that the upcoming PS4 release of Final Fantasy XIV: An Empire Reborn also doesn't require a PlayStation Plus subscription on top of that game's $13+ monthly cost (that title isn't coming to Microsoft consoles).
In a Older roles online Q&A on the PlayStation blog, Bethesda also confirmed that PS4 players would be separated from PC/Mac players on their own servers. Xbox One players will also presumably be restricted to their own servers, due to a Microsoft policy that prevents cross-platform play on Xbox consoles.
Bethesda has not set a specific release date for the console versions of The Elder Scrolls online apart from a vague 'later this year'.