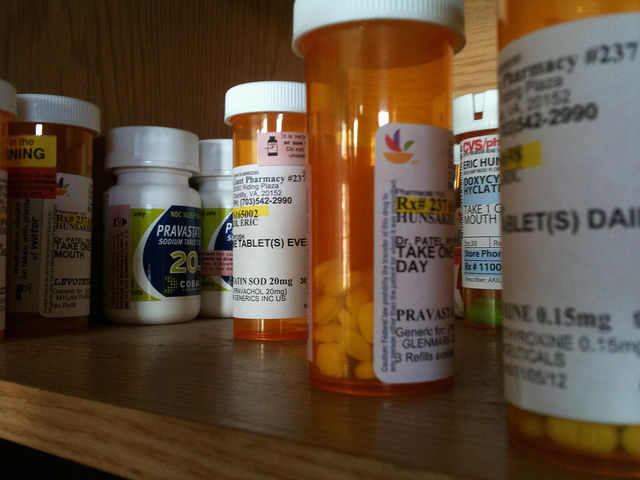 Trips to the pharmacy are getting more and more expensive. From 2006 to 2013, the average cost of sales of a year's supply of 622 regular prescriptions doubled — from about $5,500 to more than $11,000 — according to a new report from AARP, a senior advocacy group.
Rising costs are likely to hit seniors hardest, the AARP warned, noting that the average cost for 2013 would top out at about 75 percent of the average Social Security retirement benefit, which is $15,526.
"If these trends continue, more and more Americans will simply be unable to afford the medications they need to get and stay healthy," AARP Chief Public Policy Officer Debra Whitman said in a statement.
In their report, the group tracked the retail prices of 227 brand name, 115 specialty and 280 generic prescription drugs between 2005 and 2013. While the prices of the drugs increased each year, the amount of the annual increase has also steadily increased. In 2006, the average cost increase compared to 2005 prices was 3.6 percent. But by 2013, prices shot up an average of 9.4 percent from 2012.
On the other hand, inflation has not experienced such an increase. In 2013 there was only an increase of 1.5 percent compared to 2012.
While the price of generic drugs fell by an average of 4 percent between 2012 and 2013, the rising costs of specialty and branded drugs outweighed the savings. Branded medicines experienced the largest increase: 12.9 percent. Specialty drugs increased by an average of 10.6 percent.
"Unfortunately, it is becoming clear that we can no longer rely on generic drug price drops to offset unrelenting price increases for branded and specialty drugs," Leigh Purvis, director of health services research at AARP's Public Policy Institute, said in a statement. "This shift has serious implications for older adults and the entire healthcare system."
In an August survey by the Kaiser Family Foundation, 24 percent of Americans in general said they have difficulty paying for their medications. Of those in poor health, 43 percent reported having problems.
The report warned that continued and accelerated drug price increases could also lead to rising health insurance premiums, out-of-pocket costs and possibly higher taxes and cuts in government programs as more taxpayers' money goes to cover drug bills.