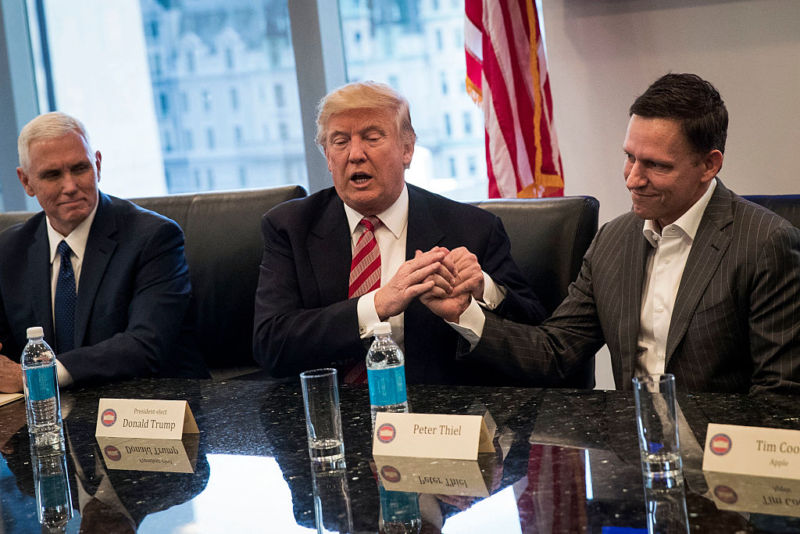 The future of NASA's human spaceflight program has sparked a civil war of sorts within the upper echelons of the incoming Trump administration. As Ars reported last month, there are essentially two avenues for NASA in the Trump administration: one favors the status quo, while the other favors more commercialization. For a while, the forces for status quo and continuation of the Space Launch System rocket prevailed. But now advocates for NASA's increased commercialization have hit back, led by Silicon Valley investor Peter Thiel.
About two weeks ago, Chris Shank was named as the first formal member of NASA's "landing team" to lead the presidential transition. Shank is a longtime confidant of former NASA Administrator Mike Griffin and one of its directors of strategic communications. With Shank as their leader, several other members of the first landing team also had connections to Griffin, who favors a model where NASA develops and builds its own rocket and spacecraft, rather than handing over the reins to commercial companies like SpaceX or Blue . Origin.
During this time, momentum began to build for another Griffin protégé, Doug Cooke, to become a NASA administrator. Other proponents of the status quo were also considered, including former astronaut Charles Precourt. While NASA's human destiny could change from Mars back to the Moon among these candidates, they were expected to continue supporting major government contractors such as Boeing, Lockheed Martin, Orbital ATK and Aerojet Rocketdyne. They would also continue to support development of the SLS rocket and Orion spacecraft.
Then, last week, some of the tech industry's titans gathered for a highly publicized meeting with Trump, Vice President-elect Mike Pence and others to discuss policy issues during the Trump administration. SpaceX CEO Elon Musk was among a handful of executives who stayed behind for an extended meeting with key Trump officials. Musk's views, along with others like Jeff Bezos (founder of Blue Origin), convinced Trump adviser Peter Thiel to step in with Pence, who is leading transition efforts for the Trump administration. Thiel's vote, in tandem with former Speaker of the House Newt Gingrich, led to a new direction for the NASA transition team. (Thiel worked with Musk on PayPal and was an early investor in SpaceX).
Last Thursday, reports trickled in about new appointments in the transition team with a pronounced commercial slant. Reports from the new transition team members first appeared in NASA Watch, and the Wall Street Journal she confirmed Monday. Ars understands that not all agreements are final and Shank resists the new direction. "It will be interesting to see how Trump Tower handles the product of the Shank team versus the new team," a source told Ars.
Here is a short list of some potential new members:
Alan Stern is best known for leading the New Horizons mission to Pluto, but he is also a spaceflight entrepreneur.
Alan Lindenmoyer is a former Commercial Crew and Cargo Program Manager for NASA.
Charles Miller is an aerospace consultant who has already begun the transition.
Miller previously told Ars that a high priority for NASA should be to support cheaper, reusable rockets, such as those developed by SpaceX and Blue Origin. "The biggest opportunity for transformation in space that a Trump administration is likely to be interested in is accelerating low-cost access to space," Miller said. On a high level, the changes essentially created a Peter Thiel versus Jeff Sessions dynamic. Thiel favors cheaper access to space and rethinking SLS development, while Sessions, the Alabama senator who was an early supporter of Trump, favors the status quo to advance the interests of the Marshall Space Flight Center in his home state. look after. Marshall designed and engineered the costly SLS missile, which is likely to make its maiden flight in late 2018 or, more likely, early 2019.
Given Trump's stated desire to "drain the swamp," the NASA transition is an interesting process to watch. The status quo seems to imply that many of the ideas of NASA's Constellation Program, developed by Griffin when he was the agency's administrator under President George W. Bush, are reviving. This approach also favors the big defense contractors who donate heavily to DC politicians. On the other hand, although they operate well outside the "swamp" of Washington DC, none of the leading players in space commercialization, Musk and Bezos, can be considered supporters of Trump.