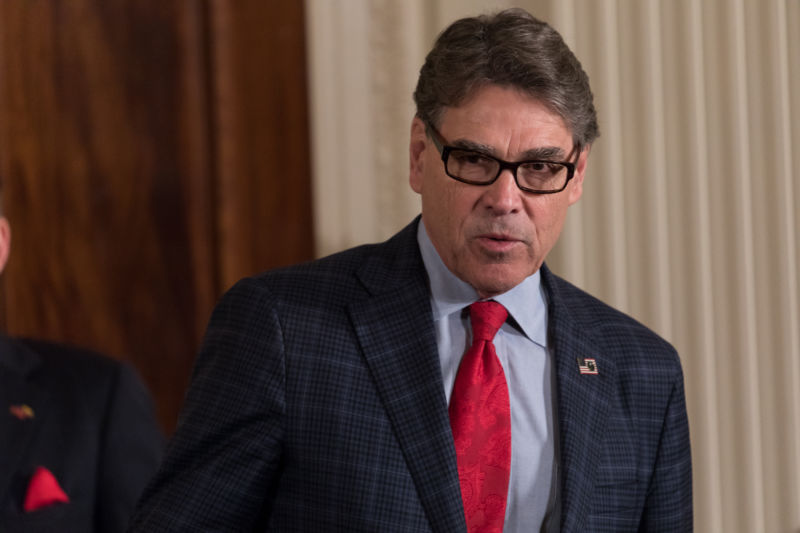 During a hearing on Capitol Hill on Thursday, Energy Secretary Rick Perry expressed his willingness to help coal and nuclear plants with an emergency order similar to a request from energy company FirstEnergy earlier this month.
Two weeks ago, FirstEnergy asked the Department of Energy (DOE) to invoke Section 202(c), which allows the Department to operate certain U.S. power plants during wartime or during a natural disaster. The energy company filed for bankruptcy a few days later.
There is skepticism within the DOE that Section 202(c) should be used for any purpose other than disaster. But during Thursday's hearing, Perry seemed to play into the plight of the American grid during his remarks before the U.S. House of Representatives Subcommittee on Energy, where he answered questions from representatives about the Trump administration's 2019 budget request.
The secretary said Americans had to choose between keeping their families warm and turning on the lights, and he repeatedly invoked national security as a reason for maintaining existing coal and nuclear power plants. However, major grid operators argue that resilience can be improved without keeping unprofitable coal plants online.
Earlier this week, the DOE opened an unofficial comment period on whether the department should use Section 202(c) to save FirstEnergy, by updating the department's Section 202(c) landing page with an email address where people send their comments and concerns.
Perry spent most of his first year as Secretary of Energy, laying the groundwork for proposing a rule that would help coal and nuclear power plants survive despite competition from cheap natural gas. But when the federal energy regulator rejected Perry's proposed rule in January, the Trump administration was forced to look for other avenues to fulfill a campaign promise to revive the coal industry.
On Thursday, Perry admitted that the failure of his proposed coal compensation rule led him to use Section 202(c) to keep coal plants like FirstEnergy's open. Perry's comments to the House Subcommittee on Energy suggest he hopes to make a case for the use of Section 202(c) by considering the current state of affairs in the US as an emergency.
"If we look at national security in particular, if you're in New York City and Wall Street were to lose power, I think everyone would say our national security is in jeopardy," Perry said.
The emergency also exists on a personal level, the secretary claimed. "Why should someone be put in the situation of choosing between turning on the light and keeping my family warm?" Perry, which appears to be a reference to how natural gas supply is split between residential heating and the use of electric generation. Perry later added, "It is imperative that we do not allow any political decisions to be made regarding our…security of power in the country." It was unclear which political decisions the secretary was referring to.
Later in the hearing, Representative David McKinley (RW.Va.) raised the potential action of Section 202(c) again. "Can you imagine what our grid stability will look like… if we have fewer coal and nuclear power plants?" the rep asked Perry. "Our fuel safety is a national security issue."
McKinley later added, "I believe it's time…that another emergency measure is needed if we are to have national security. I call on you to use all the powers you have."
Perry greeted this feeling enthusiastically.
Mr McKinley, I hope your comments have been televised and we can post them because you have succinctly outlined exactly what needs to be done in this country from the standpoint of protecting the resilience and reliability of your power grid. … If you don't have enough coal and nuclear power plants, the day will come… when the national security of this country will be in jeopardy. I don't think it's inappropriate in any way… political decisions that endanger people's lives are inappropriate. I think the president understands that… and that's exactly what we're working on today.
Again, it was unclear what political decisions Perry was referring to.
"Is there a decision close?" asked McKinley.
"Expedition matters," Perry said.