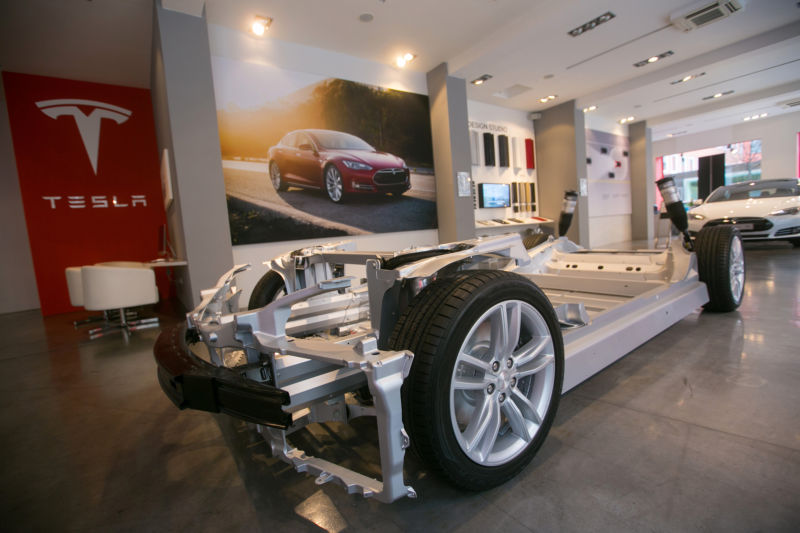 In a Tuesday interview with Bloomberg, the head of Panasonic's Automotive Division said the company was on track to complete three additional battery cell production lines at Tesla's Nevada Gigafactory before the end of this year. That puts the expansion ahead of schedule for completion.
Panasonic co-owns the Gigafactory. The company supplies the "2170" battery cells that fit into a Model 3 battery pack. Tesla packs those cells to complete the package.
In the interview, Panasonic automotive executive Yoshio Ito told Bloomberg that "the bottleneck to Model 3 production is our batteries."
Ito added, "they just want us to make as many as possible."
In reality, bottlenecks around Model 3 development have cropped up all over the place, so if they exist with a lack of battery power (which Panasonic executives have previously hinted at), they aren't exclusive to that domain. For example, Ars wrote in January about a bottleneck that existed in December 2017 when "Tesla and Panasonic employees manually assembled bandoliers, rows of lithium-ion cells glued to either side of a cooling tube." That bottleneck has reportedly been resolved with improved robotics. Bottlenecks have also been reported at Tesla's Model 3 factory lines in Fremont.
Tesla claimed in April that some of its bottlenecks were eliminated through equipment upgrades on its factory lines. Musk has also attributed the bottlenecks to over-automation and over-generalization of the manufacturing process.
Basically, more battery cells rolling into the Gigafactory from more lines will only be good for Model 3 production if the manufacturing process is smoother. There is some evidence that this is happening as the company was able to sell more than 28,000 Model 3s in the second quarter of 2018, albeit at the expense of Model S and Model X production.
The three new Panasonic lines will bring the number of cell-producing lines to 13, Bloomberg wrote. Ito told the news service that Tesla is currently using all of its Gigafactory capacity to produce car batteries, despite the initial plan to allocate 30 percent of its capacity to build stationary storage batteries such as Powerwalls and Powerpacks. That has played out in long-delayed Powerwall installations.
Panasonic is mostly positive about its relationship with Tesla, saying in July that it would invest more in the Gigafactory if asked. Tesla and Panasonic also co-own the Gigafactory in Buffalo, New York, which has recently begun to push out solar panels. Tesla has also been reported to face bottlenecks at that factory, but Panasonic is reportedly able to sell the solar cells that Tesla cannot accept to other buyers.