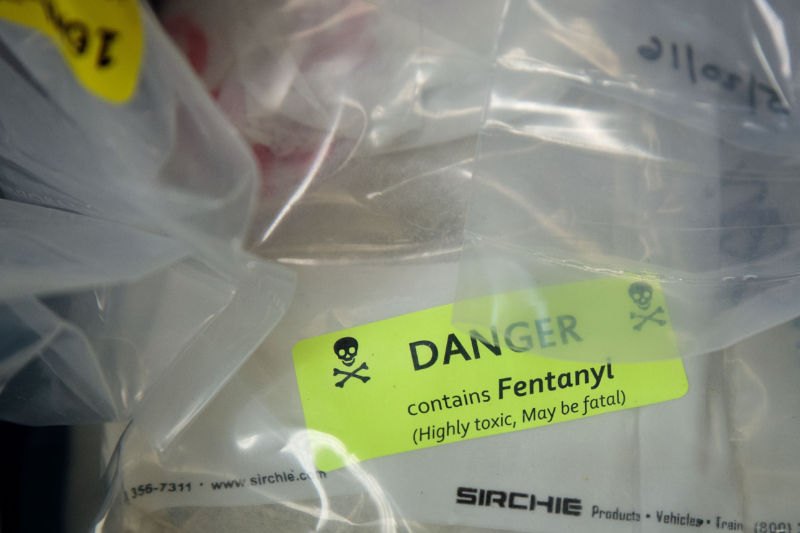 Opioid manufacturers have been accused – and in many cases convicted – of doing all sorts of dark things to get people onto highly addictive, often deadly opioid painkillers and fuel the devastating epidemic the country now faces. They allegedly greased doctors into writing unnecessary prescriptions, hid and misled everyone about the addictiveness of the drugs, and looked the other way as large quantities of opioids found their way onto the black market.
But an investigation led by Sen. Claire McCaskill (D-Mo.), the top Democrat on the Homeland Security and Government Affairs Committee, adds another seedy tidbit to the list: impersonating doctors' offices and outright lying to insurers to cover deadly, get powerful opioids covered for patients who don't need them. In an audio file and report (PDF) released Wednesday by McCaskill, that's exactly what you can hear an Insys Therapeutics representative do.
In the recording, the Insys rep works to circumvent a so-called "prior authorization process" that insurers use to stamp out unnecessary or abusive prescribing. In this case, the Insys representative wanted to get the Insys drug, Subsys, approved and covered for a patient in New Jersey named Sarah Fuller.
The problem was that Subsys is an incredibly potent and dangerous fentanyl opioid, only approved by the Food and Drug Administration for use by cancer patients with "breakthrough pain." That's pain that doesn't respond to other powerful opioids. Fuller had back and neck pain and fibromyalgia – not cancer or intractable pain from it. She also had a history of narcotics addiction.
Despite knowing this, Fuller's physician, Dr. Vivienne Matalon of Cherry Hill, New Jersey, had been prescribing her opioid pain medication — namely OxyContin and Percocet — since 2014. But in January 2015, Matalon and Fuller met with a Insys representative to discuss her switch to Subsys, which costs more than $20,000 per month.
It was during that month that an Insys representative called her pharmacy manager to try and cover Fuller's prescription for Subsys. Initially, her insurer refused to cover the "off-label" prescription.
During the call, the Insys representative repeatedly and strongly suggested that she was employed by Matalon and that she was calling from her doctor's office. She then wavered and evaded answers to trick the benefits manager into thinking Fuller had breakthrough cancer pain.
Here's the audio file (mp4) and transcript of the important part (~4:45):
PBM: Hello, Gina? Hi Gina, thanks for holding on, I appreciate your patience. So is this initial or continued therapy?

Insys rep: This is the first.

PBM: OK, and what is the diagnosis for the patient?

Insys Rep: Uh, let me look here…[mumbling]…medication is intended for the treatment of breakthrough cancer pain. The doctor is treating the patient for breakthrough pain with a diagnosis code of 338.29 [chronic pain]…

PPE: 338..?

Insys rep: 338.29, yes and 338.4 [chronic pain syndrome]

PBM: And did you also say 338.4?

Insys Representative: Yes

PM: Thank you. [pause] Is it also for the breakthrough cancer pain or not?

Insys representative: Well, there is no code for breakthrough cancer pain.

PBM: Yes, and that's fine. I typed out the description. I just wanted to make sure I heard you right.

Insys rep: It's for breakthrough pain, yes.

PBM: Good. OK.
According to court documents filed by Fuller's family, Fuller died on March 25, 2016 "due to an adverse reaction to prescription drugs."
In a statement, McCaskill explained that this probably wouldn't be a unique situation, saying:
"There is extensive evidence that Insys aggressively pressured its employees and the entire medical system to increase the use of a fentanyl product during a national epidemic that killed tens of thousands of Americans each year in order to make more money. to imagine something more despicable. Their attempts to manipulate the approval process for this drug appear to have been systemic, and anyone responsible for this manipulation deserves prosecution."
McCaskill also released a letter from Insys' new president and CEO, Saeed Motahari, highlighting that the company has undergone a major overhaul, with executives reshuffled and more than 90 percent of staff transitioned. He joined Insys in mid-2017 and is a former director of Purdue Pharma.
"Like you and your staff," he wrote, "I was concerned about certain mistakes and unacceptable actions by former Insys employees." He said the company has since introduced new programs and ethical standards to address issues. "We passionately believe the company has taken steps to ensure we don't repeat the mistakes of the past."
Insys and its former executives face several federal, state and civil lawsuits related to the opioid drugs and their distribution.
The Senate Judiciary Committee investigation continues. McCaskill expanded it to include "documents and information from opioid manufacturers Mallinckrodt, Endo, Teva, and Allergan, while a request to McKesson Corporation, AmerisourceBergen Corporation, and Cardinal Health, Inc. focused on their distribution of opioid products."