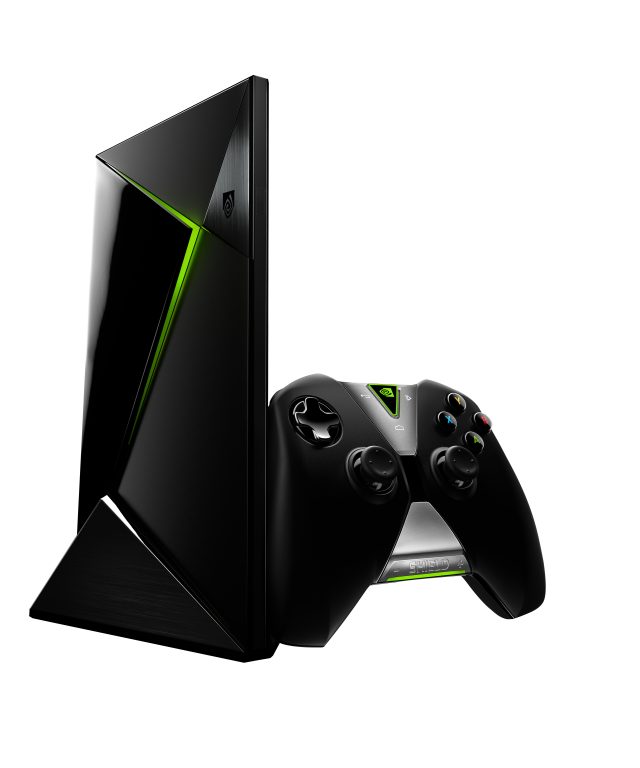 SAN FRANCISCO—Speaking tonight at the Game Developers Conference, Nvidia unveiled Shield, a home gaming and 4K video streaming-focused extension to its existing portable and tablet-based Shield game console line. The "streaming device on steroids," as an Nvidia rep dubbed it, will be available in "early May" for $199 with an included controller.
The Android TV-based, Tegra X1-powered Shield will natively run a selection of controller-optimized Android titles. Nvidia says a curated selection of 50 such games will be available at launch, but others will also be playable through the Google Play Store or even by sideloading. This includes all games already running on Nvidia's portable Shield and Shield tablet consoles; games purchased on one of those devices can be played on the other through the same account. Nvidia also left open the option of games that would particularly benefit from the extra processing in the X1 chip, which doesn't have the kind of power limitations that often limit chips in mobile devices. Nvidia favorably compared the chip's power to the Apple TV and the Xbox 360.
To show off that power, Nvidia Ars showed a demo of Doom 3: BFG Edition runs at full 1080p resolution at 60 frames per second on the Shield, with some pretty sophisticated lighting effects bouncing through the game's narrow corridors. Nvidia also demonstrated crysis 3 running on console and said it's working with Crytek to port the full CryEngine to Android for use on the device. At the announcement event, Gearbox co-founder Randy Pitchford took the stage to announce that Borderlands: The Pre-Sequel will also be coming to console, alongside ports for the Xbox One and PS4.
Like other devices in the line, Nvidia is also pushing Shield as a streaming gaming solution. Players can use Nvidia's Grid service to play a selection of Windows PC games that run remotely on the company's server farms. That service is currently free for existing users, but Nvidia will charge for it in June in two tiers: a 720p basic plan and a 1080p premium plan. Pricing for these subscriptions has not been disclosed.
Nvidia says the low-end plan requires a 5 Mbps connection (15 Mbps recommended), while the premium plan requires 15 Mbps (50 Mbps recommended). Both plans include unlimited play for a selection of over 50 GRID-compatible games to start with. Other titles will be available for purchase in a combination that includes a Steam code and streaming access, many of which will be available to stream the same day they launch. In addition, users with a GeForce-powered PC in their home can stream their entire Steam library to a Shield on the same network.
The full lineup of Shield hardware for the living room.

The Shield controller is the same one currently being marketed for the Shield tablet.

The console itself has a tapered wedge shape that is narrower at the front than at the back.

The optional controller allows users to control more.

A view of the rear ports, including a small exhaust port for the small fan inside.
Outside of gaming, Nvidia emphasizes that the Shield is the only set-top streaming device powerful enough to handle full 4K video at 60 frames per second. Currently, that kind of video is mainly limited to some high-quality user-generated content on YouTube, but representatives said they hoped the video processing power would make the device somewhat future-proof as major studios release more high-frame-rate 4K content in the future .
The Shield can play videos purchased and downloaded from Google Play, streamed from any number of online services, pushed to the TV via native Chromecast support, or even retrieved from a local NAS server using the included PLEX software and XBMC integration. An optional rechargeable handheld remote allows users to control volume and playback in a more streamlined form than the standard Shield controller and comes with a built-in microphone for voice searches and a headphone jack for listening to audio coming from the device. being streamed. Built-in Twitch support will allow players to stream their Shield games to the Internet, and Nvidia says it's working with Logitech on webcam compatibility through the device's USB ports.
The Shield supports up to four controllers connected via Wi-Fi Direct standard for local multiplayer gaming; additional controllers cost $60 at retail and last up to 40 hours on a single charge. 16 GB of internal storage can be expanded via a microSD card slot. 7.1 surround sound support, 802.11ac Wi-Fi, Gigabit Ethernet, bluetooth and an IR receiver for standard remotes round out the list of specs.
Nvidia says the Shield has been five years in the making, but it was really waiting for the right conditions before it could be a viable product. Those prerequisites include an open platform like Android TV to enable easy developer access and shared games across devices, affordable hardware power that enables high-resolution gaming and video streaming, and the GRID streaming infrastructure to stream standard PC games over the cloud. to feed.
The Shield enters a market littered with living room-based micro-consoles that haven't made a major impact on the gaming market in the long run, from Ouya and PlayStation TV to Amazon Fire TV and the MadCatz MOJO. The Shield brings a much stronger focus on high-end gaming and more powerful hardware than most, if not all, of its failed brethren, but also comes with a higher price tag than many other microconsole solutions. We'll have a fuller evaluation once the hardware is available, of course, but we wonder if players willing to spend $200 on a console like this wouldn't also be willing to spend $350 on, say, an Xbox One instead.