After an endless stream of rumours, renders and cheeky tweets, AMD is finally about to release a brand new flagship graphics card. We know it will have a huge 1024-bit memory bus with AMD's innovative high-bandwidth memory, and it will only have 4 GB of it. We also know roughly what it will look like, if the renders and tweets are to be believed. What we do not have is a release date, even if an official announcement at Computex or E3 is likely. The Radeon R9 390X, or whatever it's called, is a key product for a company that urgently needs a win right now to regain the market share it lost to rival Nvidia – AMD's last flagship single-GPU launched in October of 2013.
So it's an exciting time for AMD. But typically enough, Nvdia is here to rain on AMD's parade. There's no shiny new technology or architecture change this time around, but the brand new GTX 980 Ti is one of Nvidia's most aggressive graphics card launches to date – surpassing even the exceptionally affordable GTX 970, which got you most of the performance of the GTX 980 for nearly half the price.
The GTX 980 Ti costs £550 ($650 / €740), has 6GB of GDDR5 memory mated to a 384-bit bus, and is based on the same full-fat GM200 Maxwell chip as the £870 ($1000) Titan X. is available worldwide this week at all major retailers.
While a few CUDA cores and texture units are missing (Nvidia had to do something with all those binned chips that weren't good enough, right?), the 980 Ti is by all accounts a Titan X with less memory and a much more agreeable price tag. In terms of performance, the 980 Ti is almost identical to the class-leading Titan X. Yesterday, getting the best single-GPU performance on the market meant spending £870; today it can be had for £550. Who says a little healthy competition is a bad thing?
Yeah, it's pretty much a Titan X
When the original Titan launched, it was a monster graphics card, but it didn't really use the full (GK110) Kepler architecture it was based on. It wasn't until the release of the 780 Ti that we saw fully utilized GK110 chips. The Titan X and 980 Ti reverse that situation, with the 980 Ti having 2816 CUDA cores and 176 texture units versus the Titan X's 3072 CUDA cores and 192 texture units.
That's not much when you consider how much cheaper the 980 Ti is, and those few missing CUDA cores make little difference to real-world performance.
| Specifications at a glance: | GTX TitanX | GTX 980 Ti | GTX 980 | GTX 970 | GTX 780 Ti |
| --- | --- | --- | --- | --- | --- |
| CUDA cores | 3072 | 2816 | 2048 | 1664 | 2880 |
| Texture Units | 192 | 176 | 128 | 104 | 240 |
| ROPs | 96 | 96 | 64 | 56 | 48 |
| core clock | 1000MHz | 1000MHz | 1126MHz | 1050MHz | 875MHz |
| Raise the clock | 1050MHz | 1050MHz | 1216MHz | 1178MHz | 928MHz |
| Memory bus width | 384-bit | 384-bit | 256-bit | 256-bit | 384-bit |
| Memory speed | 7GHz | 7GHz | 7GHz | 7GHz | 7GHz |
| Memory bandwidth | 336 GB/s | 336 GB/s | 224 GB/sec | 196 GB/s | 336 GB/s |
| Memory size | 12GB DDR5 | 6GB GDDR5 | 4GB GDDR5 | 4GB GDDR5 | 3GB GDDR5 |
| TDP | 250W | 250W | 165W | 145W | 250W |
Falling back to 6 GB of memory doesn't detract much from performance either. The Titan X's 12GB was always overkill, being more suited to the world of workstations and VFX production (where entire scenes must be stored in graphics memory), rather than the humble gaming desktop.
6 GB of GDDR5 at 7 GHz connected to a 384-bit bus for 336 GB/s of memory bandwidth is more than enough for running games. That's certainly less than what you get with AMD's HBM, but Nvidia's memory compression technology has worked wonders so far, resulting in a pixel fill rate that's miles ahead of the competition. As for whether 6 GB is "enough", even such GTA V And Shadow of Mordor-two games that are notoriously memory hungry – top out at 6GB, even with ultra HD texture packs and mods in tow.
Still, those looking to get the most out of their GPU – or are into the aforementioned rendering work – can stick with the Titan X for now. But even then, with the likes of the upcoming DirectX 12 and Vulkan APIs set to support memory pooling across multiple graphics cards, it might be wiser to invest in two 980 Ti cards for a full 4K gaming setup for just a little more than the cost of a single Titan X.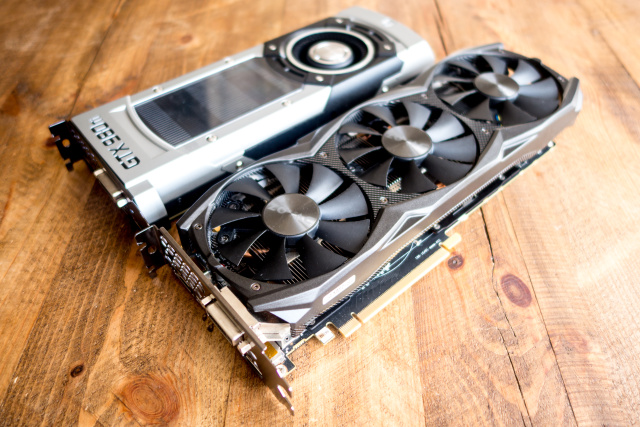 The rest of the 980 Ti specs are standard Nvidia fare. At least for reference design, it has the same excellent all-metal cooler that launched with the original GTX Titan, complete with great cooling performance and a snazzy light-up GeForce logo for all those windowed users. While fan coolers (which force hot air out of the case) often get a bad rap for being noisy, Nvidia's reference cooler does a pretty good job. While it was audible under load, it wasn't horribly distracting like many other blower cards we've used in the past. The fan design is also great for smaller cases, where limited space doesn't work as well to vent hot air internally. You'll still have to make room for the 980 Ti's dual-slot design and 267mm length.
Power is provided by an 8-pin and a 6-pin PCIe connector, with Nvidia recommending a minimum 600W PSU to handle the 980 Ti's 250W TDP. Nvidia says there's still plenty of leeway left for overclocking, with the company claiming some cards can be boosted as high as 1400MHz.
In terms of port, you get 3x DisplayPort, 1x HDMI 2.0 and 1x dual-link DVI. Fortunately, if the reference cooler or port gear isn't appealing, Nvidia – unlike the Titan X – allows partners to create their own custom designs. Expect the excellent Asus Strix and MSI Twin Frozr coolers to appear on the 980 Ti sooner rather than later.