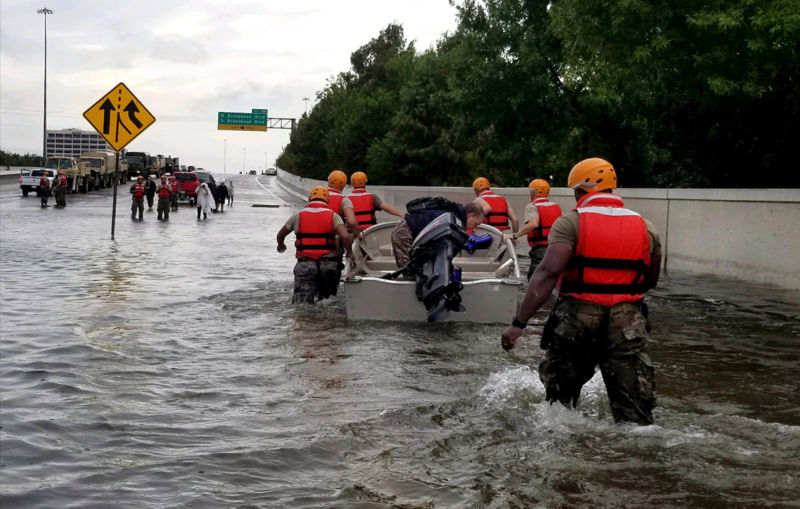 Figures for 2017 global temperatures are yet to be released, but data from earlier months indicate there will be a small drop after two years of record heat. However, NOAA ran its 2017 impact figures on the US, finding it to be the third warmest on record and associated with many extreme weather events. Amazingly, NOAA's 2017 brief climate report managed to mention all of this without ever mentioning climate change.
However, a changing climate is already implied in the very first paragraph. 2017, it notes, is the 21st consecutive year of above-average temperatures in the US. It ranks third on the all-time heat list, coming in at 1.45 degrees Celsius (2.6 degrees Fahrenheit) above the 20th century average. The five warmest years on record in the U.S., NOAA notes, all occurred after 2006. It was also the third consecutive year that each state experienced above-average temperatures. 2017 was the hottest year on record for five states. All of this points to an important trend in US temperatures.
While temperatures didn't set a new record, the cost of weather events in 2017 did. The US saw 16 weather and climate disasters costing more than $1 billion each, with total costs rising above $300 billion. That's nearly $100 billion more than the following year (2005), with Hurricanes Katrina, Wilma and Rita. In last year's trifecta, Hurricanes Harvey, Maria and Irma totaled $125 billion, $90 billion and $50 billion, respectively. All three were in the top five costliest disasters of all time in the US. These disasters also immediately killed 362 people.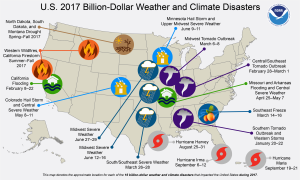 These storms made 2017 the fifth consecutive year of above-average precipitation (Michigan set a record one meter of rain). But the rain was not evenly distributed. The Rockies and Great Plains near the Canadian border were well below average and fell into drought. The impact of that drought on agriculture cost more than $1 billion, adding to the disaster totals for the year.
Heavy rains eased the drought on the west coast. Unfortunately, they also stimulated strong plant growth in the spring, which set the stage for wildfires after the region's normally dry summer. Those incidents also made the NOAA list of disasters over a billion dollars. The rest was largely an assortment of extreme rain and tornado events spanning the Great Plains and Midwest.
The report highlights two key aspects of climate change. One is that while climate change can be a factor in extreme weather events, increasing its likelihood or severity, it won't be the only factor, and there will always be other factors. These range from random chance to more proximate causes, such as specific weather patterns that favor drought or flooding.
The second is that the warming climate is an average. In a large geographic region like the US, that average can include extreme events with opposite consequences. So it's possible that an "average" looking year in the US could include heavy rainfall that ends a drought in one region, while others plunge into drought. And until the planet is much warmer, there is always a chance of a warm year in the US with record low temperatures, as this January shows.