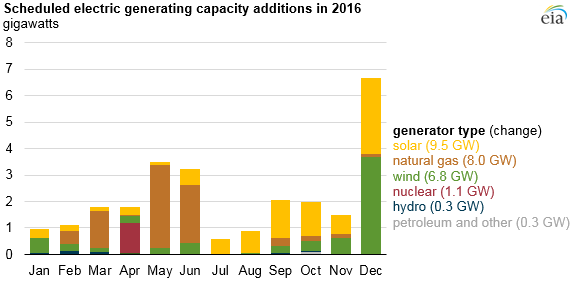 Today, the U.S. Energy Information Administration released data on planned additions to the U.S. power grid this year. The year is notable as the first new nuclear power plant in 20 years will be brought online and contribute 1.1 GigaWatt to the power grid. But that contribution will be eclipsed by renewables, which together account for nearly two-thirds of 2016's new capacity. And these numbers count only utility-scale solar, excluding commercial and residential installations.
Part of the renewable energy boom came as fiscal incentives for their installation were about to expire, so utilities scrambled to get projects through the pipeline before the end of the year. (The incentives have since been expanded in the most recent budget agreement.) This led to a phenomenal solar explosion, with an expected capacity of 9.5 GW — more than the past three years combined.
Last year, 8.4 GW of distributed solar was installed in the US (compared to 3.1 GW of utilities); given the continued decline in solar panel prices, that figure is likely to grow as well. So next year's actual installed solar capacity could be double the EIA's estimates. California will see the most installations, with a capacity of 3.9 GW, followed by North Carolina (1.1 GW), Nevada (0.9 GW), Texas (0.7 GW), and Georgia (0.7 GW) .
Planned wind power additions will be 6.8 GW, mostly spread across the Great Plains. This represents a slight decrease from last year's 8.1 GW.
The vast majority of new fossil fuel plants will burn natural gas; there are no planned coal-fired additions, and a few "others" likely representing oil or diesel-fired generators in remote locations. It is expected that 8 GW of new natural gas capacity will be built, a growth characteristic of the last five years.
The big highlight this year is the addition of Watts Bar 2, the first nuclear power plant to be completed in the past 20 years. It now has an operating license and is expected to start connecting power to the grid in April. When fully operational, it will produce 1.1 GW of power.