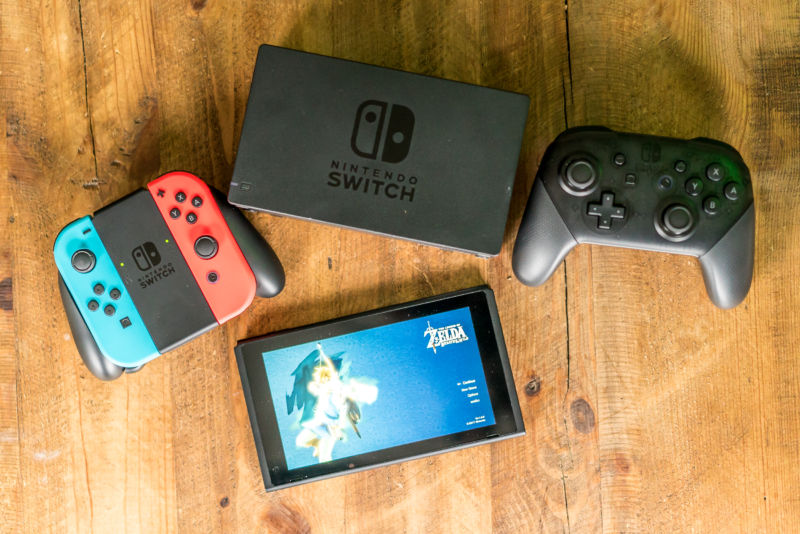 Since the days of the NES, people have accused Nintendo of deliberately under-producing hardware to artificially feed market demand. Now that the Nintendo Switch is nearly impossible to find at retailers across the country, those same accusations of "false scarcity" are bubbling up in certain corners.
Nintendo Senior Director of Corporate Communications Charlie Scibetta wants to push back these allegations. "There is absolutely no intention to short the market," he told Ars in a recent interview. "We're making it as fast as we can. We want to get as many units out as we can to support all the software that's coming out now… really our job is to get it out ASAP, especially for this holiday because we're going to have units want to have on shelves to support Super Mario Odyssey."
Far from intentional, Scibetta says the shortfalls are simply the result of Nintendo's underestimation of interest in the system. "We expected there would be a demand for it, but the demand was even greater than we thought," he said. "We had a good launch volume, we sold 2.7 million worldwide in that first month and said we would have 10 million. [more] towards the end of the fiscal year… Unfortunately, we are now in a situation where it is picked up as quickly as it enters the stores. It's a good problem to have, but we're working hard to meet the demand."
Scibetta's comments echo those made nearly a decade ago by Reggie Fils-Aime, who bluntly said in 2007 that "there's no secret plan to warehouse Wiis to boost demand." That's despite comments from Gamestop COO Dan Dematteo earlier that year. He said at the time: "I think that [Nintendo] intentionally dried up offer [of the Wii] because they got their grades for the year."
Scibetta said it was "hard to say" how long the Switch shortages in retail would last. Gamestop's CEO said in March that he expects the system to be hard to find until at least the end of the year.
What about the NES Classic and 3DS?
At the other end of Nintendo's hardware spectrum, the company has certainly created deliberate scarcity for the NES Classic Edition. The $60 box was discontinued in April despite continued demand from nostalgic gamers around the world.
"I think we could have communicated better that it would be a limited run," Scibetta told Ars. "It was supposed to be before that holiday. We actually extended it because the demand was so high, then we stopped it."
To continue to appeal to nostalgic fans, Scibetta pointed out that starting next year, Nintendo would be offering updated versions of classic games on the Switch for those who subscribe to their $20-a-year online membership. That said, Scibetta denied that the NES classic was being discontinued to avoid competing with Nintendo's upcoming Switch classics. "It wasn't like we had to stop selling one to sell the other," he said.
As for the 3DS, Scibetta echoed previous comments from Nintendo executives that the aging portable line could coexist with the newer Nintendo Switch (even if other Nintendo portables fade quickly after a replacement is introduced). Nintendo is not eager to abandon the 66 million players who play more than 1,000 different games on the system, he said.
"We have a long runway for the 3DS in mind there… We haven't necessarily focused on it in our booth or the Nintendo Spotlight, but we're talking about it here on the show. Metroid: Samus Returns is one that got a lot of responses. As long as we keep making games that power that system, we think it's going to have a good shelf life."
"We have to be pretty strict" with fan games
Nintendo has also been criticized for shutting down popular fan games built around the company's well-known characters and properties. Scibetta defended those actions against Ars as a way to protect how Nintendo's characters are represented.
"For a company like Nintendo, our IP is our business," he told Ars. "We have to be pretty strict about how we see that come to life. A lot of it is just that we want to see it the right way, and we think our developers are the ones who can bring it to life in the right way."
Scibetta pointed to Metroid Prime producer Kensuk Tanabe's work on the newly announced Metroid Prime 4 as a way of providing some "nice continuity from the history of the series, so that's the way we want to see that franchise come to life." However, when it comes to integrating enthusiastic fan creations in an official way, Scibetta emphasizes: "We are certainly open to suggestions and their ideas in terms of where they want to see the franchise go or ideas they have, but when it comes to development, that's really done in-house."